5fifteen (Alternative Metal) - Texas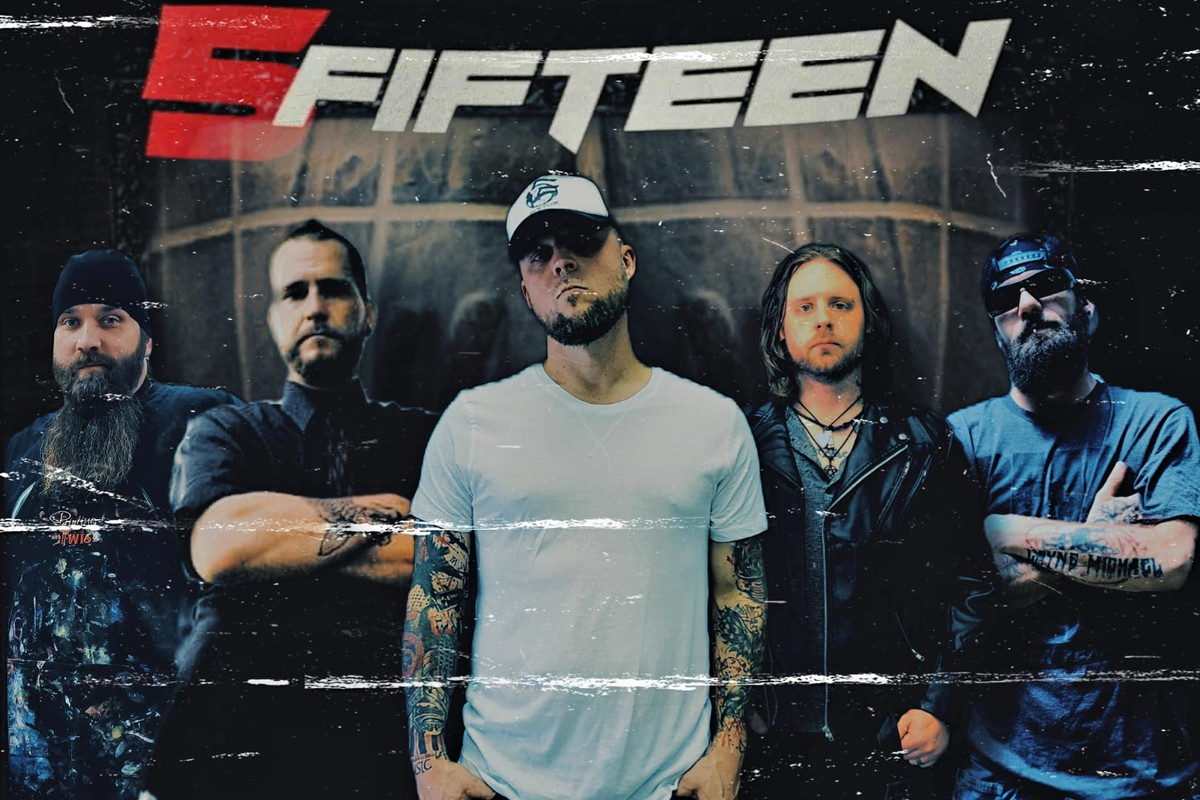 We are a high energy National alternative metal band from Houston, tx. Consisting of Randy Bailey on lead vocals, Spyro Autrey on lead guitar/backing vocals, Patrick McClosky on lead guitar, Sean Harris on bass, and Billy Elliott on drums. Starting in 2018 the band played their first show opening for national artist Saving Abel. Then went on to play local shows and other national artist such as Framing Hanley, Smile Empty Soul, powerman 5000, First Jason and others, also multiple interviews all through the US internet and Fm stations. In 2019 the band released its first ep "Dreamcatcher" produced by John Lecompt ( Evanescence, We are the Fallen, Machina, Nomara) In 2021 the band is releasing their sophomore ep "Revive" and music video for its single "Tragedy".
"Transform" Single Review
The opening of the track is a slow build of melodic tones while the vocals slowly enter the fray and build even more atmosphere with thier haunting vibes. The intensity then blasts in around the one minute mark to really get the party started. The crunch and emotion that pour out are a thing to behold as the track soars to new heights. There's a Staind ("Break the Cycle" era) like vibe throughout the track as the rollercoaster of passion and melody just overtake the track in all ways. The outstanding chorus and monster of a breakdown closes out the awesome track in style.
Verdict:
5fifteen take the listener on an emotional rollercoaster with their newest single.
"Revived" EP Review
"Unbalanced" is a two minute intro track that builds ambience with its instrumental tones. "Halogen" is five minutes of their signature sound. There's a lot packed in the run time as the guitars take center stage, the melodies hit hard and the pacing is on point. "Tragedy" is Hard Rock/Metal at its finest. The track is heavy, melodic and hits all the right chords with being radio friendly. The guitar solo later in the track is truly top notch. "Wither Away" is emotional, passionate and wear sits heart on its sleeve. The lighters will be held high and will get listeners singing along. "Cut Me Down" is incr2edible. The track screams single and the tones are reminiscent of Bullet For My Valentine's "Your Betrayal". "Parasite" opens with a crunchy breakdown to get things going. The adrenaline filled track has a bouncy chorus that will get the live crowd going crazy. There's a whirwlwind like guitar solo later in the track to help elevate it even further to help close things out on a high note.
Verdict:
5fifteen looks to breakthrough the Alternative Metal scene with their highly catchy EP.
-Interview- (8/25/21)
1. How did you get started with music and how did you develop your sound? Who thought of the name "5fifteen" and is there any meaning behind it?
Individually we started very young in the early 2000s and some of before that playing in many bands throughout the years. we all have different styles and taste in music so the sound kinda comes from thst, like one song may be balls to the wall metal to some softer melodic sound like some Alter bridge. Our first drummer actually came up with the name, the meaning means alot to us and means alot of different things, like a new beginning or to party and have fun and not let the negative get in your way. We're all about having a good time and people see that on stage at our live shows.
2. What do you want people to take away from your music?
We want people to take what they want. Alot of the songs are personal to our own lives but it can have a meaning to whatever your going through.
3. How would you describe your sound to the average listener?
We're a melodic, we're a like heavy and everything in between like breaking benjamin meets trivium.
4. Who are three bands you'd like to tour with?
Breaking benjamin would be awesome, trivium, a day to remember and many others! We just like to have a good time whoever we're touring with and put on the best show we can.
5. How has Covid affected what you do as a band?
It canceled a few tour and shows in 2020 for us but in the down time we came out with our second ep "Revived" and got to play some awesome show in and around the houston area and have had great response.
6. What's your take on the current state of Metal?
It's crazy how theirs so many genre's out there and so many talented bands coming out I think it's about to make a huge statement in in music industry.
7. What's the current music scene like there in Texas?
Theirs alot of great bands and venues in Texas. Its a huge state with hundreds of venues. You can play everyday for months and not play the same venue twice. And the scene is thriving!
8. What's your take on the royalties that streaming services pay out to artists?
Let's face it. Is it ever enough for amount of work the bands do just to do for a living? Probably not but we love entertaining people.
9. What's next for 5fifteen?
Currently recording 2 new singles and wrapping up the final shows for the year and ready to tour and and make new fans in 2022!
10. Any shoutouts?
Our friends and family and fans from all over who have been to our concerts, streamed our music and been their for us and also alot of bands we've got to share the stage with.