A Villains Neverland (Metalcore) - Saskatoon, Canada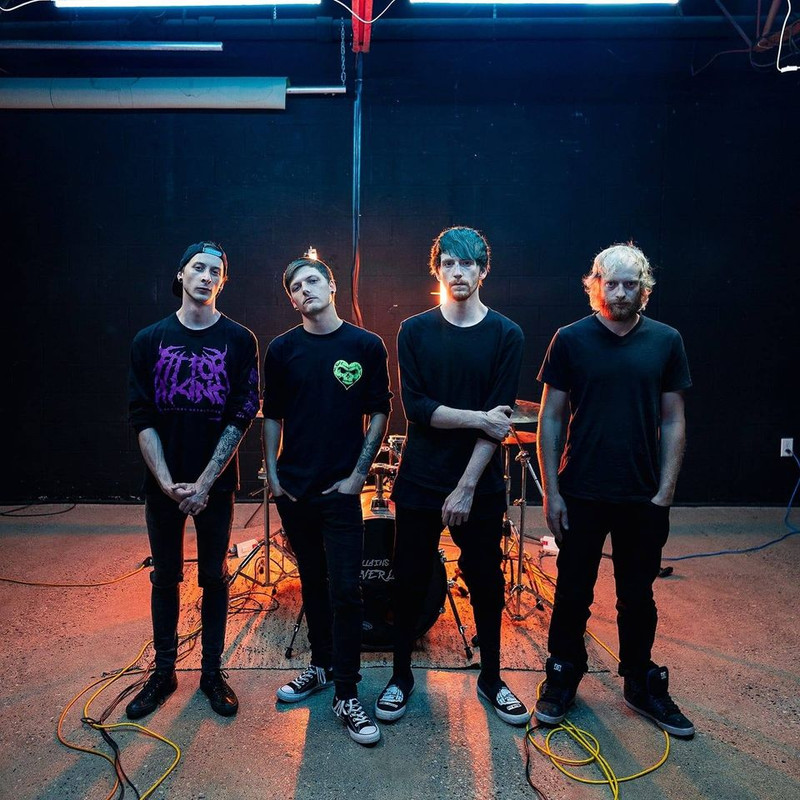 A Villains Neverland bring the perfect mend of old school metal core with new school techniques together to solidify their unique sound. Building off what was an instrumental duo, came full circle to bring a high energy sound to the scene. High-flying and dynamic guitars, fast and punchy bass riffs, hard-hitting drums, and a meaning behind it all, AVN is more than your typical metal core band. Following the release of their debut instrumental EP titled "Space & Time", the boys quickly started writing and recording new full band material. "When Broken Is Damaged Again" was the first single released as a group and will be followed with more material coming throughout the year. There's no slowing down for AVN, this is just the beginning.
Upcoming Shows:
More shows coming soon.
"Above All Else" Album Review
The album opens up with a tremendous breakdown to get things going in a chaotic way. The first half of "Lucid Feelings" is more Deathcore like and barrels full speed ahead with its aggression. The track really doesn't vary its sound much until around the 2:20 mark when clean vocals arrive and brings shades of Sea of Treachery with it. The end of the track feels incomplete and could've been more than it is. Overall, it's an extremely heavy single that packs a ton of punch. "Insecure" continues the flow laid forth by the opener. It has a touch of clean sung vocals but not too much. It's mostly straight Metalcore with some dynamic riffs here and there. "When Broken Is Damaged Again" is more atmospheric than the previous tracks. The atmosphere helps create more of a surround sound over along with its aggressive nature. "I Felt It Too" is a nice follow up to the previous track. The tracks share similar qualities overall. "Keep Me Alive" has much more melody. The track is oustanding and shows off the true range of the band. "Faint of Heart" has riffs for days from the get go. The track is heavy and unrelenting with its melodic Metalcore style. "Forever After" continues the onslaught. The breakdowns and vocals are fierce and pack that extra bite throughout. "A Place to Rest" has a bit of early Every Time I Die to it. The track goes off the rails early and often in good ways with its chaos. "Wasted Youth" is just crazy. The track goes all out with its intensity and is better off for it. The closer "Skin & Bones" opens with a nice build before breaking into a bit of melody before all chaos breaks out. The Metalcore sound has shades of Sea of Treachery in its ferocity. There's a slight dip before the clean sung chorus. The harsh vocals then take over along with a tremendous breakdown. The emotion of the vocals are passionate and make the track come out swinging with its heaviness. The end of the track goes off the rails and ends on a Dillinger Escape Plan like whirlwind of sound.
Verdict:
A Villains Neverland delivers a powerful Metalcore punch with their new album.
-Interview- (8/21/20)
1. How did you get started with music and how did you develop your sound? Who thought of the name "A Villains Neverland" and is there any meaning behind it?
We all took an interest and started playing music at a young age. We feed off each other's similarities and differences when it comes to writing music together. The band's founder and one of our guitarist's, Bailey thought of the band's name and there is no direct meaning behind it but he knew he wanted something unique and that would stick out.
2. What do you want people to take away from your music?
We are a very passionate and emotionally driven band. We hope that people can relate to our songs on a lyrical and musical level.
3. How would you describe your sound to the average listener?
A Villains Neverland bring the perfect mend of old school Metalcore with new school techniques to solidify their unique sound.
4. Who are three bands you'd like to tour with?
Fit For A King, While She Sleeps, and Wage War.
5. What are your three desert island albums that you'd never get tired of listening to?
Deathgrip (Fit For A King), Disgusting (Beartooth), and At Heart (Miss May I).
6. What's your take on the current state of Metalcore?
The Metalcore scene is very broad and wide open. There's tons of great bands to listen too but it's tough for a smaller band to cut through the noise.
7. What's the current music scene like there in Canada?
There is tons of talent and active artists in Canada but in the Metal scene specifically, local show attendance doesn't seem to be there.
8. What's your take on the royalties that streaming services pay out to artists?
We're not quite there yet with making any royalties from streaming services but it does seem like the artists should be paid more for their own work.
9. What's next for A Villains Neverland?
We're currently wrapping up album #1 and with the current global pandemic, we plan on jumping right into album #2 once we're finished!
10. Any shoutouts?
Daniel Gailey (Phineas, Fit For A King) - Mixed/Mastered on album. Drew Bender (Bender Recording) - Mixed/Mastered on album. Josh Alex (Josh Alex Photos) - Lyric video for "Skin & Bones".