Acid Claw (Rock/Metal) - South of England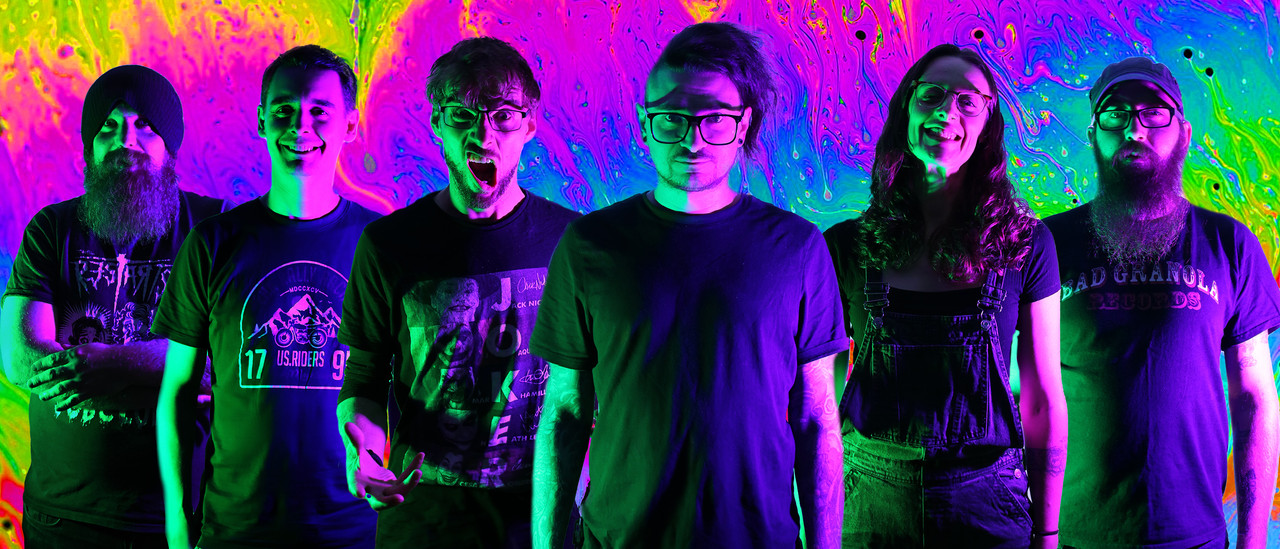 Formed in 2020, ACiD CLAW began writing music that didn't stick to conventional ideology. Their musical approach is a combination of their tenacious lust for 'out of the box' thinking alongside a mantra of 'anything goes'. With roots in metal and punk, ACiD CLAW soon found they had created their own special kind of monster; a combination of genres, a unique approach and an ambitious zeal which, when all added to the melting pot, culminated in their debut release "Horror Comic".
ACiD CLAW birthed "Horror Comic" over the Summer of 2021. Recorded at the acclaimed Old Cider Press Studio under the expert gaze of Dave Draper, their debut album has had a rapturous reception amongst their musical peers and crowds alike. This album meant something – it means everything, in fact. "Horror Comic" is an expression of the amalgamation of a year of disruption, a lifetime of inspiration and, most poignantly, it is a personal requiem for singer and guitarist David Anderson's late grandfather, who was his greatest supporter in life and music. ACiD CLAW are now firmly established. They are unleashing their creation, performing live throughout the UK and quickly gaining notoriety. ACiD CLAW are set to twist some melons and take the alternative scene by storm.
"Horror Comic" Album Review
"You Know" is a pure instrumental opener that sets the standard with the diverse sounds for the rest of the album. "iControl" doesn't waste any time in cranking right in. There's an old school Punk flair to the track mixed with a Dog Fashion Disco like heaviness. "Ghost Club" lowers the energy back down a bit. The track takes its time with its buildup as it doesn't fully erupt until the midway point. When it does though, it unleashes that fury that will drive the love crowd wild. "Meatball" is instrumental for the first minute before the upbeat nature comes out to play. The controlled chaos of it all is a splendid sound to behold as the effortless eclectic Rock tones as on full display. "Rage Thru Life" continues its circus like atmosphere in its opening before blazing a trail of heaviness. The track is another instrumental that goes well to keeps the frantic pace. "Sleepwalker" brings with it a more Enter Shikari like vibe. The track is all over the place in all the right ways and twists and turns with ease. "The Bee and the Absinthe Saga" is a five minute romp through the adventurous wilderness of theiir signature sound. The track packs a ton within its runtime and it's quite the track to get lost in. "Goodnight, Cowboy" is that good ol' Western feel to it. The track is more of a ballad and will get the lighters up on a live setting and everyone singing along in no time. That is until the two minute mark when all hell breaks loose and they release all of their pent up aggression. "Caffeinated and Fascinated" is a track that once again starts off slow but picks up steam with its energy. The track has more Progressive tones but still keeps that harder edge and rocks out. "The Ballad of Aubergine Man" closes out the album in style. The track summarizes the schizophrenic nature that the band can conjure up and blasts it up to 11.
Verdict:
Acid Claw's newest album is a glorious melting pot of different styles.
-Interview- (2/23/22)
1. How did you get started with music and how did you develop your sound? Who thought of the name "Acid Claw" and is there any meaning behind it?
I (David) have been playing in bands and writing music for 20 years, during the covid pandemic i began writing music, that would eventually become the tracks for our debut album "Horror Comic" i liked what i was writing and thought to do it justice i would approach some ex band mates and good friends to start a new band that would later become Acid Claw. The name just popped into my head because I wanted something easy to remember, would look good on merch and flyers.
2. What do you want people to take away from your music?
Hopefully a full body and mind sensory experience, i want people who wouldn't normally listen to us go away and think that was interesting. I want to write music that is fun to play, that makes people smile and become fans. I like to keep things interesting by mixing genres by taking all my favourite bands and creating one band, ACiD CLAW.
3. How would you describe your sound to the average listener?
Different, expect the unexpected. BUT, you will have a good time, I promise. OR Faith No More on Acid....
4. Who are three bands you'd like to tour with?
Mr Bungle, Redeemon, and Dog Fashion Disco.
5. How has Covid affected what you do as a band?
Thankfully it hasn't because the band was created during the pandemic, we emerged from the other side of it with an album to our name.
6. What's your take on the current state of Rock/Metal?
Exciting, lots of new music to sink your teeth into. But, sometimes you can't beat the classics.
7. What's the current music scene like locally there in South of England?
Since the pandemic and with it slowly going back to normal, we have all felt that there is a lot of passion from people to play and go to live shows, an almost renaissance happening with the music scene. A lot of good bands surfacing and great music happening. But a lot of local venues have closed down so it would be nice to have more venues.
8. What's your take on the royalties that streaming services pay out to artists?
It is what it is... You have to be honest with yourself, don't get carried away with social media and the poor pay outs, be true to yourself and your band mates, write music you are proud of, if it's good music people will listen.
9. What's next for Acid Claw?
We have just finished writing our second album, 10 new tracks. Expect Black Metal, Blast Beats, Hip Hop and Surf Rock. It's going to be WILD, we are in the studio this August with Dave Draper to make this happen. Can't wait!
10. Any shoutouts?
THMP, RG, IGG.