Across the Frostlands (Symphonic Goth Metal) - Norway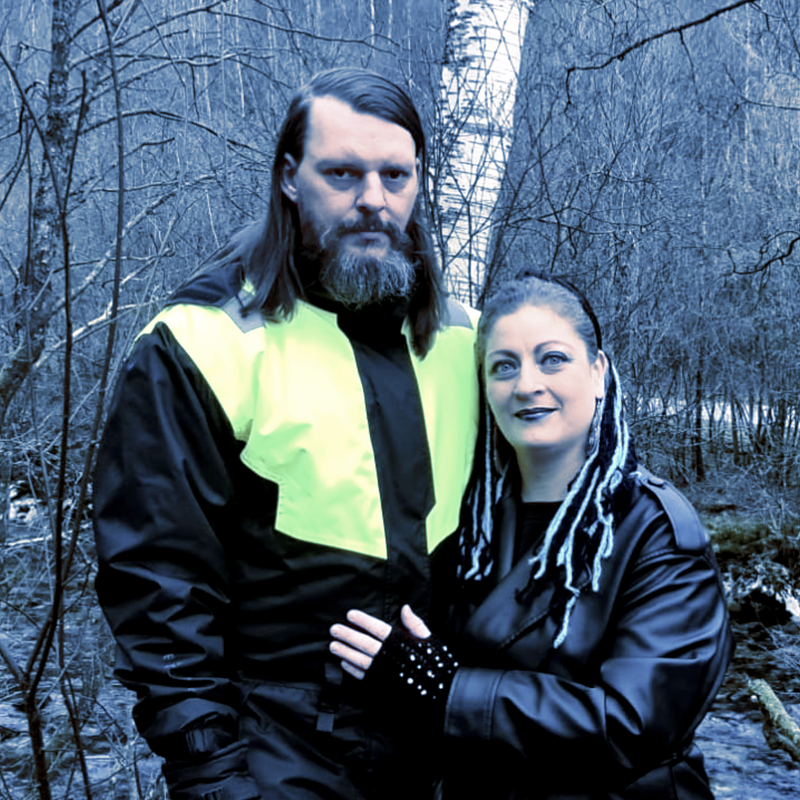 ACROSS THE FROSTLANDS
Across the Frostlands is a Norwegian/Italian Symphonic Goth Metal Band formed on March 17th, 2022. The Band consists of Lord Industrial and Miss Distortion. During the first mounts they have fused together various different genres like Metalstep, Cybermetal, Cybergoth, Electronic, Dark Wave, Indie, Melodic Rock, Heavy Metal, Gothic Metal. This has brought them to choose a more specific genre combining the atmospheres of Symphonic and Gothic Metal. Through their music they mean to fight for the innocent ones and support those who dwell in darkness and despair.
LORD INDUSTRIAL
Lord Industrial is a Norwegian producer, composer, musician and singer. He started producing and releasing his own music in 2011 and he's the creator of the musical genres Cyber Metal and Metalstep. He personally creates the sounds for the music of the Band and mixes the sounds by himself. He also creates 3D graphics and cover art.
MISS DISTORTION
Miss Distortion is a singer and composer. She also records sounds and creates special effects for the music. She creates cover art and videos. Miss Distortion started to sing in 2002 finding in Symphonic Goth the perfect genres for her voice.
-Interview- (6/8/23)
1. What's new with Across the Frostlands?
The main change is about the genre that from now on will be Symphonic Goth Metal. The consequence is that Lord Industrial will be producer, composer and musician, appearing occasionally in the vocals. Miss Distortion will be the main voice of the band, due to her experience in this genre. We are particularly excited about this change because we find it a much more attractive challenge. We are fascinated by the orchestral elements and the precision and seductive harmony of the symphonic music. Due to the use of drums and guitars especially, the interest of Lord Industrial for the field has grown. While Miss Distortion feels particularly comfortable and happy in this style because it has been her main inspiration and experience in music since she started. Now the band is ready to embark on this new journey!
2. What do you want listeners to take away from your "Drops" album?
"Drops" is an album that we created to celebrate the World Ocean's Day 2023 because the Ocean is the element that made life possible on this planet. The message of Drops transcends into both mental, supernatural and physical worlds. It's a journey through Atlantis, the depth, memories and fears, introspection and subconscious, and inevitably the ecology and the respect of our primary resource of life: the Ocean! We wish to our listeners a pleasant journey through the waves of this new album.
An important thing that we want to say about it is that it's mainly in the new genre Symphonic Goth Metal, and not completely because we consider it the gateway to the new style and the point of no return. From the next release on June 24th, with the single "The clock", you will see the transition definitely complete.
3. How has the recent genre shift been? Has it been an easy transition from your previous sound?
Suddenly we realised that the voice of Miss Distortion can't be used in Industrial Metal and that it's much more satisfactory to listen to it in the musicality of Symphonic Metal. On the other side it's kind of a dream come true for Lord Industrial too because he has ever dreamt of finding a female vocalist for his music and surprisingly for him it has happened in this genre. This is due mainly to the fact that Miss Distortion has knowledge and experience in this field. Instrumentally it has been a big change from synthesizers and sound effects to the pure use of orchestral elements. It has also been a spontaneous transition that we felt both in the composition and in the vocals like something natural and necessary.
4. What's the recording process like for your music?
The first step for us in the creation of a song is to have the lyrics, so we know what to look for in the harmony, timing and mood of the song. By this way, we also have a clear idea about the structure that the song will need and the length. After that Lord Industrial chooses all the instruments that he wants in the song and then he starts to use his magic to compose something unique and full of sentiment. In the end we add the vocals and the entire process can take maximum 3 days of planning, composing and recording.
5. Who are some of your influences now?
First of all we are inspired by Within Temptation and a little bit by Nightwish. Other artists that help us to give more colour to our music are: Dead Can Dance, Sarah Brightman, Loreena Mckennit and Symphony X.
6. What's one thing you wish you could change about your local music scenes?
We would like to have a scene. Out there we feel a forest of shadows: no recognition, no followers, no real fans, no records, no radios, no attention, no interest. At the moment we are doing music for us and our cat Putchie. It's a little bit depressive and sad. We wish there where more possibilities of expansion and recognition for one's work as an artist here, but where we live the scene is dead.
7. What do you wish to accomplish for the rest of the year?
Success, to start to see our message spread around, to have a stable community of passionate fans, to finally sell some albums, to adjust our economical situation having the possibility to invest a little bit of money in better instruments and equipment. Definitely we don't need to touch the Moon to be happy!
-Interview- (4/6/23)
1. How did you get started with music and how did you develop your sound? Who thought of the name "Across the Frostlands" and is there any meaning behind it?
Lord Industrial started playing keyboard at 13, then he started playing guitar, later to sing and in the end he learned to create his own sounds and to make the production and mastering. He's been a producer for others and himself for around 5 years. Now he works only on Across the Frostlands. He mixes styles into Industrial Metal that is both new and old.
Miss Distortion started singing at 19, with a predisposition to opera. In the moment she listened for the first time to the song "Ice Queen" by Within Temptation, her style and taste in music has changed completely. She tried for years to create a band of Gothic and Epic Metal. It has been when these two artists finally met on March 9, 2022 that they had the chance to fuse their experiences and genres to give life to the Band Across the Frostlands some day later, on March 17, 2023.
The name of the Band has been chosen by Lord Industrial, based on "The Frostlands" which was one of his earliest tracks. We'll tell you one more detail about the name of the band: in the beginning, it has been chosen by Miss Distortion and it was "The Sensuals Band". After a very short period it was time to change it!
2. What do you want people to take away from your music?
We both have a past where we experienced a lot of different forms of injustice, prejudice and abuses. We know on our own skin how much people can feel alone in this world, we mean alone in the sorrow and we want to be a hand of light to grab, a positive message. Maybe we are a little bit against a system that we don't understand or share the views of, but we have this intention to do good things, to be part of this research of something better and just, something warm and respectful. The music isn't just our highest passion, but we see it like an instrument to speak soul by soul to all those persons who feel lost and look for some kind of light in the end of the tunnel, like us!
3. How would you describe your sound to the average listener?
First and foremost it's Goth Industrial Metal, but it also contains a variety of Electronic styles, like Dubstep and Synth Wave; then you can find touches of Heavy Metal too, that is inspired by the darker side of '80s and '90s Metal. We also incorporate sounds that can be similar to Pink Floyd, Dead Can Dance and The Sisters of Mercy. Concerning our choice of Industrial Metal, we are inspired by Rammstein, Nine Inch Nails and Oomph!. For the Goth Metal we are inspired by The Sisters of Mercy and Fields of the Nephilim. Regarding the vocal style of Miss Distortion, she is mostly inspired by Within Temptation, Xandria, Sarah Brightman and Rammstein.
4. Who are three bands you'd like to tour with?
For Lord Industrial they would be: The Sisters of Mercy, Pink Floyd, Nine Inch Nails. For Miss Distortion they would be: Rammstein, Pink Floyd, Oomph!
5. How has Covid affected what you do?
We have to say that Lord Industrial had it twice and Miss Distortion once. We both have lost completely our voice for a while and now, after one year we haven't still recuperated it completely. What we are experiencing now is a reduced extension and a very difficult research of the right tones. Literally it has become a fight every time that we have to sing, but we won't let go!
6. What's your take on the current state of Industrial Metal?
We see that there is a lot of good bands out there, creating a lot of good music, but for us there is something missing, that we want to present to our listeners with a wider range of music and styles. We want to experiment with the core of Industrial music and create something new and old at the same time. The soul of our creations is more incorporated in the lyrics and music because we want people to feel understood and accepted.
7. What's the current music scene like there in Norway?
It's almost non existing for our style.
8. What's your take on the royalties that streaming services pay out to artists?
We like this question, kind of funny! What can we really say about it? It seems like their one interest is in making grow more the big artists and don't provide the minimum support to the new ones, adding a lot of limitations and obstacles. Sometimes it feels like the successful artists are standing on the less successful people and jumping on them. It's simply hard to succeed, but this will never stop us, we love to create music!
9. What's next for Across the Frostlands?
The next step, when we'll join success someday, will be to be active in the support of the persons who struggle to survive in a cold world. We don't crave to be famous and rich just to have an easy life, but we want to have the means to give new chances to people who needs it. We've seen a lot of situations where we would like to help.
10. Any shoutouts?
We would like to mention two important collaborators of ours. First Myrkvan Skald who makes Folk Viking music and has composed some tracks with us. We totally dig and respect his work as a musician. Second, but not less important, Karsten Mikkelsen, a great drummer and special friend who's occasionally adding drums to our music.