Afraid of Human (Hard Rock/Metal) - Warren, Pennsylvania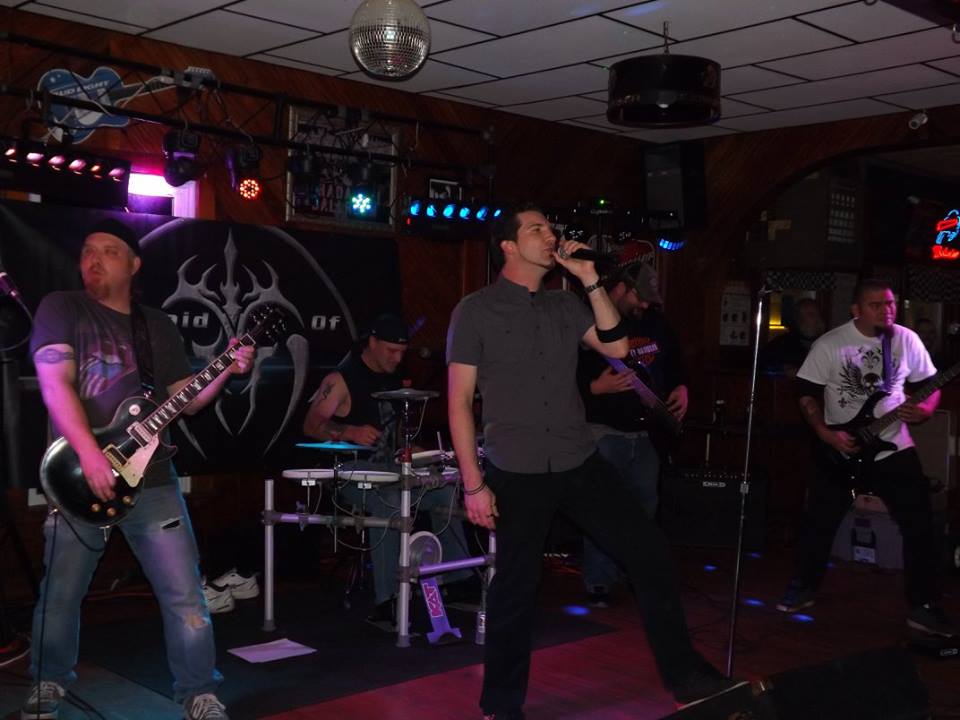 Afraid Of Human, an original Hard Rock band from Warren, PA, is steadily climbing to the top of the charts with their own brand of music characterized by its intensity and lyrical message. A unique combination of influences and musical styles come together in a distinctive sound all their own.
Formed on August 1st 2014 after the collapse of Rock band RFE(RoomforError) by Guitarist, Lyricist and Philadelphia native Brandon Kulp, Drummer, vocalist and NYC native John Grimm, and Bassist Dustin Huff. After many failed vocalist auditions, Jimmie Botto ( Former Vocalist of Blind Society) showed up to blow away any of the competition for the lead vocalist position. March 2017 saw the addition of Mike Key ( former Refuge lead guitarist ) to the line up.
The band immediately began drawing inspiration from bands the likes of 5FDP, Breaking Benjamin, Disturbed, Volbeat, Godsmack and Pantera to name a few, developing a strong bond between the four some, the band booked shows across Western and Central PA and Western NY, covering some of the best hard rock songs to date. Continuously developing their live performances, artistic abilities and their own sound. Afraid Of Human took spring of 2016 to write their debut EP. The band scheduled studio time at Graphite Sound Studios in July, 2016 and worked with producer, Anthony Brown, releasing the first single "All I Am" on July 19th 2016, onto Reverbnation.com with amazing feedback from local as well as national fans. The band currently sits at #1 on the Reverbnation local Rock chart and has been consistently climbing the national and global charts. With airplay on numerous local and regional radio stations, being added into rotation on multiple internet radio sites daily and live performances to sold out venues, Afraid of Human is quickly becoming a force in Pennsylvania's incredible original music scene!
Upcoming Shows:
4/28/18 - Grumpy's - Warren, PA
5/5/18 - West Hickory Sportsman's Bar - West Hickory, PA
5/11/18 - Bullfrog Hotel - Jamestown, NY
5/26/18 - Fat Daddy's Tap Room - Warren, PA
"The Beginning" EP Review
Afraid of Human are a Hard Rock/Metal band from Warren, PA that look to create some waves in the scene with their recent "The Beginning" EP. Let's dive in and tell you why you need to pick up this EP as quick as possible. "All I Am" kicks off the EP with a high energy via their tremendous guitar work. The Hard Rock sound on the sound brings to mind Five Finger Death Punch and Godsmack. It's a highly infectious, hard rockin' opener that's really easy to appreciate. "Now You Know" has a bit of a Southern draw to it. The Buckcherry influence comes out on the track as it could easily be played on the radio and be rocked out to. The soaring chorus is top notch and really shows off the range of the lead singer perfectly. "Repercussions Of War" is a tad heavier than the previous tracks. The track barrels full speed ahead with its more Metal stylings and really raises the bar in the level of intensity. The track brings to mind Hellyeah and the track is a testament to how heavy the band can go when they want to. "Walk With Me" slows things down a bit in the beginning before blasting full speed ahead with a high octane sound. The headbanging appeal is off the charts with the track as the riffs keep coming and the melodies are catchy as hell. The closing track "My Everything" is exhilarating and a real treat to listen to. If you want a song that encapsulates the Afraid of Human sound, this is it. The track has a lot going for it and doesn't hold back. Afraid of Human are for real and fans of Hard Rock/Metal need this EP in their lives.
Verdict:
Afraid of Human have created a hard hitting, melodic EP that's perfectly capable of attracting droves of Hard Rock fans.