Angelic Desolation (Death Metal) - Denver, Colorado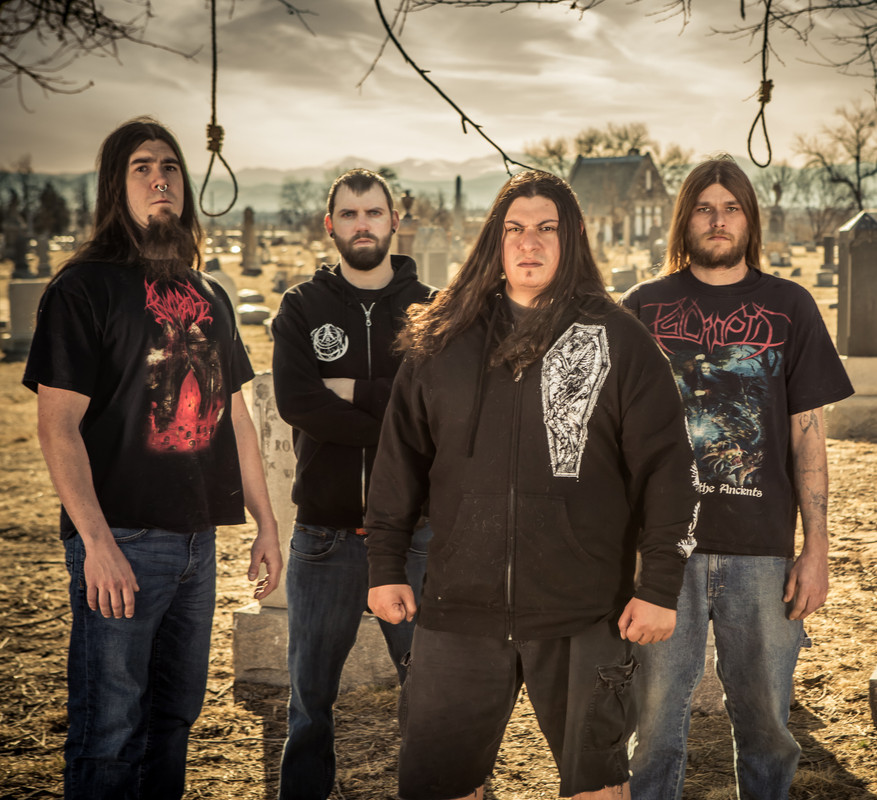 A death metal band with a full-scale sonic assault and a sound that they've carved out for themselves; unique enough to call their own: American Razorgrind
Their live shows push the envelope of what in your face means and have music that's catchy enough to be stuck in your head for weeks. Satan has bestowed upon them a 5 star rating of blasphemy due to the mayhem that ensues when their unique brand of death metal is performed.
Upcoming Shows:
More shows coming soon.
"Rumpus Time Is Over" Album Review
Back in May, Angelic Desolation unleashed their full length album upon the Death Metal world. Let's crack it open and see what they bring to the table. The opening track "The Seven Hells Of A Weed Thief" features a lengthy intro before bursting into full on riffage. The chaotic nature of the track brings to mind the early works of Lamb Of God and their intensity. "Intergalatic Alien Bastard" is all over the map. From different Metal variations such as Death, Grind and Thrash, it's all on full display on this track. It's heavy, unrelenting and leaves quite the impression. "Batshit Crazy" is just what the title suggests. The track is mosh inducing at the highest level and is Metal at its core. "Bloody Buddy" keeps the brutality churning along at a full clip. The track has the Death Metal sound down pat as it runs through everything in its path with the four minute span. "Shadow Slasher 666" features riffs for days. The guttural screams along with the runaway freight train Death Metal sound make it a track that can cause serious whiplash from headbanging so much. "Dinosaurs In Minor Chords" starts off a little Sludge like before exploding into a vicious rage of Thrash Metal. The breakdowns and riffs make it a stand out track for sure. "Cat Piss Vapor" has a bit more melodic riffs and structure than the previous tracks. The breakdowns are still brutal and technical in their delivery. "Jesus Fist" is three minutes of absolute rage. The track blasts the doors off the album and will appeal to any fan of Metal for sure. The closing track "Taboo Rendezvous" is eight and a half minutes of destruction. The track caps off the album with an epic journey into the full Angelic Desolation gamut. It's a track that has to be heard to be believed.
Verdict:
Angelic Desolation's newest album annihilates all competition with its sheer intensity.
-Interview- (7/2/18)
1. How did you get started with music and how did you develop your sound? Who thought of the name "Angelic Desolation" and is there any meaning behind it?
All of the members have come from different defunct metal groups in our home state. We've known each other since high school and over time everyone's previous projects came to an end one way or another. We've had trouble keeping a steady drummer in the past but the 3 original members (guitar, bass, vocals) never gave up. We've developed our sound by not really having any boundaries. If the newer material is harder to play than the previous songs and the riffs sound cool, we'll make a song. A love for riffs that are catchy enough to be stuck in your head while still maintaining the death metal side. As far as the name goes, when Angelic Desolation was in it's infancy, there was more of a black metal side to things. Our logo was very different and we dealt with a lot more Satanic imagery. Over time the black metal side faded away as we played faster and focused more on riffs and melody lines instead of atmosphere.
2. What do you want people to take away from your music?
We really just have a love for metal in general as a genre and we try to convey that through our music. We try not to pin ourselves in one particular sound so we don't have a lot of rules to our music. Some songs will have thrash parts, some grind, some black metal, some slam, etc. It's a love for the riff that really drives the music and is what we feel, drove the initial heavy metal wave in the first place. We're certainly not trying to please any particular group of metal listener; we're trying to have you humming our songs the day after our show because...riffs matter.
3. How would you describe your sound to the average listener?
Our sound is a combination of all metal genres from a musical perspective. Most notably though, thrash and death metal. Focusing on riffs and with our openness to the musical direction of a song, an old friend coined us with the term "American Razorgrind". We've ran with it ever since.
4. Who are three bands you'd like to tour with?
3 bands to tour with, that's a tough one. The votes would have to go to Cannibal Corpse, Decapitated and Iced Earth.
5. What are your three desert island albums that you'd never get tired of listening to?
3 albums for eternity, another tough one. Necrophagist: Epitaph, Decapitated: Nihility, Psycroptic: Scepter of the Ancients.
6. What's your take on the current state of Metal?
Metal is in a good spot we believe. There always seems to be a new band or two per year that really blows you away so it seems to be an upward trend. The only complaint really is the mainstream metal bands. Metal is about the riff. When you hear a classic heavy metal song or even classic rock for that matter, there's the riff that makes the song instantly recognizable. Typically it's found as the chorus, and it's when things really start to get heavy. THAT is metal. The mainstream formula is for the chorus to include clean singing and the song gets lighter in nature. Literally the antithesis of what made metal into a genre in the first place.
7. What's the current music scene like there in Colorado both locally and state wide?
Colorado has an immense extreme metal scene. 5 out of 7 days of the week, you can find a grind, core, death, black or thrash show somewhere in the Denver area. It's still a struggle to get people to show up on a Tuesday night but regardless, the amount of bands here is ridiculous.


8. What's your take on legal/illegal music downloading?

Nobody appreciates their music being stolen. With that said, it seems like metal is the one genre where people are still willing to support the artist and purchase physical copies. While most bands would prefer that you buy their music instead of streaming it, streaming isn't going away any time soon so to not embrace it is foolish. Just make sure you're on top of your digital earnings and register your tracks so that you get paid optimally for any air time you receive. The music modernization act passed this year so hopefully things are looking up.


9. What's next for Angelic Desolation?

We have recently been signed to Via Nocturna out of Poland. We hope to use this new relationship to hit a few towns or festivals in Europe next year. Visas and travel expenses are being accounted for as we speak so that's our next big milestone we're headed towards, playing outside of the USA.


10. Any shoutouts?

Shout outs to Trve Brewing Company and Black Sky Brewery for keeping an extreme metal presence in the heart of Denver. Also, shout outs to Swinging Noose Productions, Metal DP, Big Q Productions and Tony at TBD Booking for always booking the heaviest of the heavy and bringing killer touring bands to Denver.