Another Hot Spring (Rock) - Finland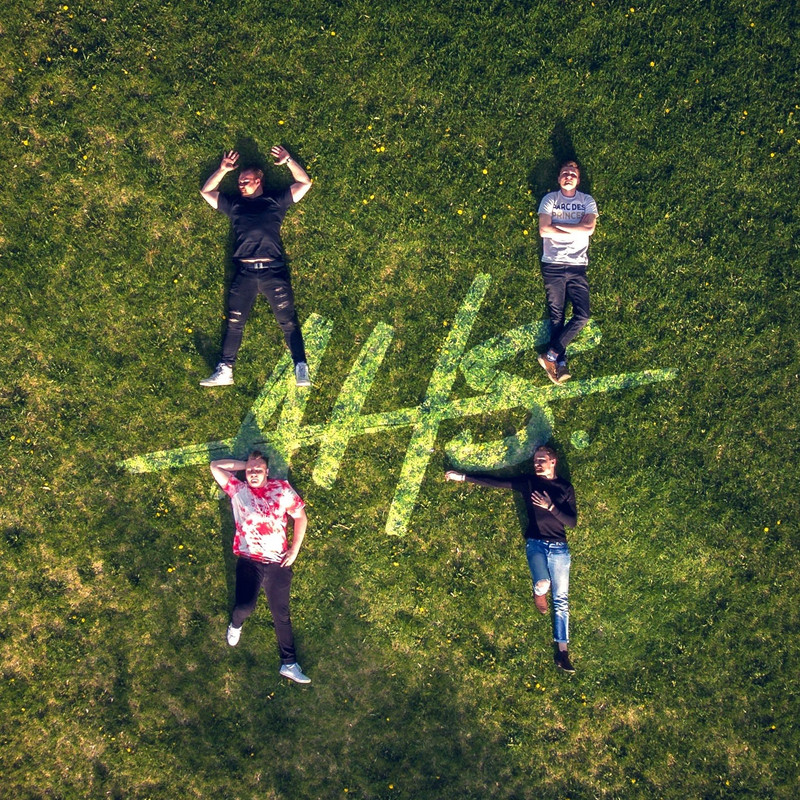 Hailing from Kouvola, Finland, Another Hot Spring has been building up their sounds since 2014 and is ready to bring you the bangers you didn't even know you needed! While taking no strict path in the world of genres, the sound of AHS takes most of its influences from pop-rock and pop-punk. Big melodies with triple vocals and catchy riffs are the main source of the fresh drive for the band. The Spring is gonna be HOT, can you stand the heat?
Starting on a clean slate, AHS released their first single of 2021, Second Best on the 27th of March. The single was released under Tone Club Records and was accompanied by a music video. More music is also on the pipeline for the near future!
"Book of the Forgotten" Single Review
The track opens with an acoustic sound that's filled with emotion and passion as it veers into a more Stick To Your Guns - "Left You Behind" path in its riffs. The track ramps up around the one minute mark that'll get the lighters waving in the air. There's a lot of depth in the soaring chorus with its dynamic tones. The track then steadies itself until the bridge, when it picks up a tad more steam and lets loose. The guitar solo that follows is out of this world! The end of the track is the chorus combined with stellar instrumentation that wraps things up nicely.
Verdict:
Another Hot Spring give another healthy dose of their signature Rock sound via their newest single.
"Second Best" Single Review
The track starts with an infectious riff that transitions into more driving instrumentation to get the first verse going. The vocals join in the fray and create a Pop/Rock type sound that's perfect for Summer. The chorus is upbeat, bouncy and eays to sing along to. The second verse keeps the upbeat pace going. The bridge continues the audio onslaught of catchy Pop/Rock and cranks it up even higher with a section that'll have the crown clapping and jumping along. The instrumentation takes over and gradually the chorus comes back and caps off the track perfectly.
Verdict:
Another Hot Spring unleash a super catchy single that is surely to invade radio everywhere.
-Interview- (5/7/21)
1. How did you get started with music and how did you develop your sound? Who thought of the name "Another Hot Spring" and is there any meaning behind it?
Music is something that has always been a part of our journey throughout our lives and we formed our first "band" as early as in elementary school. But, with the current band we started out in the spring of 2014 by playing in the basement of our school. Early on we were influenced by heavier bands as well as some classic rock acts. Later on as we were trying to figure out what our true sound was, we ended up taking influences from the likes of A Day To Remember and Biffy Clyro. The name of the band has been a running joke among us for quite a while and one local news outlet went as far as throwing the thought of it being a statement about the ever warming springs due to climate change. To be honest, it is NOT a statement and just a random name we came up with as edgy teenagers.
2. What do you want people to take away from your music?
Our goal whenever making music is that you as a listener are free to interpret the song and its lyrics as you want. Make our music personal. We also realise that being a band is more than just making music and we have tried to document as many events as possible so people finding us can feel as they were on journey with us.
3. How would you describe your sound to the average listener?
Our sound is a mix of old school and modern day rock with catchy popish vocals. We try to keep it simple but so that it doesn't get boring.
4. Who are three bands you'd like to tour with?
This is coming from the singer's point of view, A Day To Remember, State Champs and I Prevail would be an epic lineup to be a part of for sure!
5. How has Covid affected what you do as a band?
Well the obvious lack of gigs is a symptom of this pandemic. In addition we haven't spent as much time practicing and recording as we would like to. On the flipside we've had time to write new music for future projects.
6. What's your take on the current state of Rock?
The state of rock has been for long a tricky one as its popularity has been declining over the years. Although there have been various brilliant new acts emerging over the last years rock still hasn't made its way back to the mainstream. The fact is that the young generation is dictating what's trending at any given time and rock hasn't been popular among young people the way for example Rap and HipHop has been over the last decade or so. That being said rock is slightly raising its head with somewhat unconventional artists like Machine Gun Kelly, Yungblud just to name a few. Rock is evolving whether we like it or not and we have to decide as rock artists how to evolve with it.
7. What's the current music scene like there in Finland?
Finland is well known around the world for our metal bands and our rich heavy metal music culture though the domestic charts do not reflect it. To be a rock artist performing in english in Finland isn't easy and most of the time you have to find success outside the borders. Pop music and finnish pop music, "Iskelmä" are the predominant genres here.
8. What's your take on the royalties that streaming services pay out to artists?
Well we all know as artists that streaming royalties don't bring you any mansions or fast cars to your driveways. It's ridiculous really. Music is art, art should be appreciated accordingly. Being a musician/artist/band is a job like any other so you should get paid for a job well done, right? There has been an increasing amount of dissatisfaction towards the royalties among the industry, maybe someday there'll be a change. You can only hope.
9. What's next for Another Hot Spring?
Currently we have scheduled to release three new singles. During those releases we will be heading to the studio to record new material for our upcoming EP and hopefully we will be able to play at a festival here in Finland in mid-August. It's still to be organised but you'll never know what COVID will force upon us.
10. Any shoutouts?
Two names come to mind instantly. Juska Salminen first off all. The ex-member of HIM / To/Die/For has been with us for many years now and with his knowlegde and experience we have learned a lot from the industry. We were a part of this program in Finland called "Rock Academy" which gives bands support for a couple of years in the form of studio time, gig opportunities and lessons from the music industry experts etc. We just "graduated" from it and none of it would have happened without Juska. Also when talking about Juska we gotta bring up "Ekku" Lintunen, our studio coach that we got to know of during Rock Academy and like Juska, he's become a good friend of ours, a family member of sorts. So we wanna thank both of them for believing in us and guiding us to the point that we are in now!