Augystine (Rock) - Mahopac, New York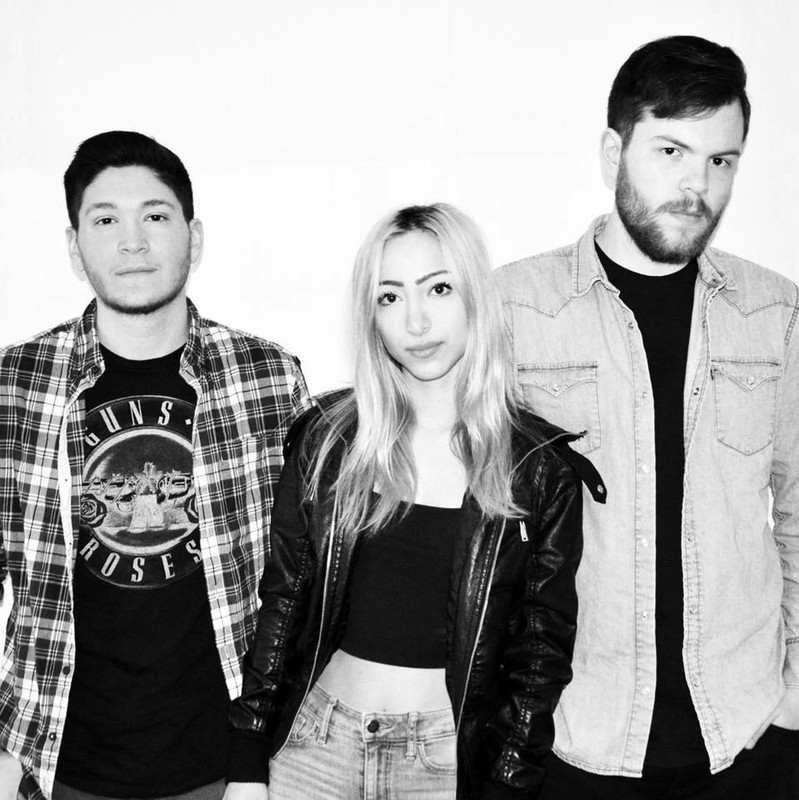 Augystine is a female fronted, five piece hard rock band out of Mahopac, NY.
Upcoming Shows:
More shows coming soon.
-Review- Fiction - "Fiction" EP
Fiction from Mahopac, NY are a female fronted band that have just released their debut EP. Included in this EP are six original tracks with one cover. Let's dive in and see what Fiction are all about. "Gasoline Rainbows" opens up the EP with a hard rock sound that sets the tone early. The track is a monster of an opener and hits hard just like all of the natural disasters featured in the lyrics. The track The guitar solo towards the end of the track is amazing. "GSI" was their most recent single and has more of a dirty rock draw to it. The track draws similarities to a modern day Heart while having a certain unique edge. "Wishful Thinking" features Nick Sochan of Reckless Serenade who also recorded, produced and mastered the EP. The track is an upbeat number that really showcases the vocal range of Britney DiTocco to perfection. The track screams "single in the making". It's an incredible track. "Matches" is quite bouncy of a track. When the track breaks into the super chill melodic chorus, it adds that element of depth. It's quite the track to hear since it's so unpredictable. "Black Widow" is a cover of the Iggy Azalea track. The track is a nice change of pace and really erupts with the Fiction emotion and style. It's a damn fine track that takes the heaviness up quite a few notches. "The Game" was the very first single off the EP. The track stuns the listener with some high quality rock that is well deserving of it being single worthy. "At World's End" closes out the EP in epic fashion. The five and a half minute track does not disappoint. The track bursts at the seams with passion and emotion that is rarely seen nowadays on a closing track.
Verdict:
Fiction have surged into the rock music scene with their debut EP. It's chock full of astounding rock music that has different elements that any and all rock music fans should enjoy for some time to come.
-Interview- (4/4/18)
1. How have things been with Fiction?
Things have been going well for us. We are starting 2018 strong focusing on a new release. We have taken a short break from shows to focus on that release, but we are sure to be back out playing very soon.
2. You guys are in the studio now, how's that going? Who is producing/mastering?
The recording process has been going great. Right now, we are all finished with drums, bass, and guitars. We were very honored to have our friend Matt Ruggiero from the band Reckless Serenade play drums for us on these songs, and he really blew us all away. He brought all of these songs to a new level and brought in many fresh ideas. Our friend Nick Sochan is recording, producing, mixing and mastering. Nick worked with us on our last release and he never fails to surprise us with what he brings to the table. He really pushes us all to play our best and brings out many ideas that we would have never thought of that just make all of these songs sound even more exciting.
3. What can you tell us about the comparison between this release and your previous material?
This upcoming release is going to be different stylistically than our previous material. There are a couple songs that root closer to our older material, but we have evolved since our last EP. We have included some blues influences, as well as some classic influences. This is due to the fact that we feel that we relate to this sound more than the sound of our previous material, and we feel that this sound brings out the best of all of us. If we had written another release that sounded like our old material, we feel that it would have sounded a little forced because it's not what we all genuinely wanted to write.
4. Your last EP had a cover of "Black Widow", will there be any new covers?
We have decided not to include any covers. Even though we had a lot of fun reworking a song such as Black Widow and making it our own, we had even more fun writing these new songs and are incredibly excited to share them.
5. What have you learned as musicians in the past few years that you didn't know starting out?
We have learned that you may experience a change of heart musically as the time goes by. When we first started out, the mindset that we had about what type of band we wanted to be is much different than our mindset is now, and even what our mindset may be when we start writing for future releases. This is okay, because you never want to be stuck doing something that your heart isn't into, because it could be heard in the music.
6. Who are some acts you're jamming out to that you'd recommend that people check out?
We have been listening to bands such as Royal Blood, Nothing But Thieves, and King Gizzard and the Wizard Lizard. Aside from rock music, we have also been actually listening to some classical music lately. Mozart has been a frequent listen as of lately, because of Britney's love for the film, Amadeus. A lot of inspiration can come out of classical music into the rock realm.
7. Has the writing process with this release been the same as the other releases?
The writing process has definitely been different than the previous release. During this process, our motto was that you shouldn't be afraid to do something weird or different, and that your first idea may not be the best that could come out of you. There were definitely times where the first idea that we had for a part or song may have been decent, but the more we let the song be and the more we came back to it the better ideas we ended up thinking of. We also demoed and planned the songs out more carefully than the process that went into the previous release.
8. If you could change one thing about the Rock music scene, either locally or nation wide, what would it be and why?
We would change the competition aspect that many artists still seem to have. Music isn't about being better than one another. It's about appreciating each other's art and encouraging each other to keep up the good work. We are musicians, but first and foremost we are music lovers, so people in the rock music scene should just learn that it's not all about being better than someone, but rather about building off of others.
9. What do you want listeners to take away from your upcoming release?
We would want listeners to be inspired by the music, and hopefully make them want to pick up an instrument, play along to the songs, or just inspire them to write their own music. We are very proud of these songs and a lot of inspiration came upon us to write them. If we can translate that to our listeners that would be a gratifying feeling.
10. What do you wish you accomplish in the next six months?
We hope to be back out doing shows once the album is released. Hopefully it will be out in the summer. We just hope that people listen to what we are about to release and take something away from it. We certainly are going to be back at a fast-paced speed very soon.
-Interview- (4/17/17)
1. Your "Fiction" EP has been out for a little while now. What do you want listeners to take away from it?
This first EP is very special to us because it's our first foray into the music world. We know how important first impressions are so we put a lot of thought in to the track listing to find which songs we'd like to introduce ourselves with. We're happy to say that we think we found 7 songs that really capture the true essence of Fiction. We really wanted listeners to take this EP as our greeting to the world, a little taste of who we are, where we came from and where we're going with an invitation to join us for the ride!
2. What's the word on new music?
The songwriting process for our next release is well underway! We've even played a few new songs live! The plan is to get back in the studio sometime in the latter half of the year and release our follow up in 2018.
3. Is there any new cover songs you play live or want to record on the next release?
Our go to cover song at the moment is "Still of the Night" by Whitesnake. On top of it being such a great and iconic track, we feel it offers us a chance to really highlight ourselves both musically and as performers. As of now we aren't thinking about recording any covers for the next release but this would be a very fun song to record for a single, b-side or social media promo, so the door is always open!
4. How would you describe your sound to the average listener?
This is a tough one because we all bring our unique qualities and influences to the table and our influences span decades and genres. The consensus among us is that we are a Hard Rock/Alternative Metal hybrid.
5. What artists are you currently listening to? Any acts you recommend that people should check out?
A few artists we are listening to right now Citizen Zero, Future Villains, Mastodon, Highly Suspect, Delain, Amaranthe and Dreamcar.
6. What was the last concert you went to as a fan?
We go to a lot of concerts individually or in a pair, the last show we were all at together was Guns N' Roses last summer! They are probably Fiction's favorite band and biggest collective influence because amongst our wide range of influences, we can all agree on our love of GN'R. We're hoping to catch them again this year!
7. As an artist, what's your take on the streaming sites (Spotify, Tidal, Apple Music, etc.) and how they pay royalties to bands?
There are pros and cons to streaming services and the dwindling royalties is obviously a bummer but it's 2017 and it's something that bands and artists need to adapt to. These services are great for finding new music because there's no financial penalty for searching and sampling new music. At this stage, we can't be too picky about how people hear our music, we just want them to hear it!
8. Has there been any favorite show that has stuck out in the past year? If so, which one and why?
Last year, we opened shows for Sonata Arctica and Diamond Head in a matter of a week which was really awesome! Sonata is Tyler's favorite band and Diamond Head has been a big influence on Matt so it was an unforgettable experience to play those shows! Plus, we had great crowds both nights which we always love!
9. What's next for Fiction?
Our goal is to keep writing new songs, head in the studio and play a lot of shows. We are expanding our shows in the northeast a bit more this year so follow our social media @fictionbandny to keep up with us.
10. What do you want to achieve in the next year?
We'd love to have our follow up release out in the next year. Stay tuned!
Interview (4/15/16)
1. How did you get started with music and how did you develop your sound? Who thought of the name "Fiction" and is there any meaning behind it?
We had all been playing music in bands and circling the local music scene for a few years already, and all had a really early start with playing live music. Jason, our bassist, even started his first band when he was about 11 years old, and Britney and Jason have been playing together since they were 13 and 14. Eventually we were all in between projects and came together to play a charity event, but we all had so much chemistry and decided to get serious. As far as creating a sound goes, we just started writing music as soon as we created the band. We cranked out original after original until our sound pretty much developed itself. We ended up grabbing the name "Fiction" from an Avenged Sevenfold song! Just being honest.
2. What do you want listeners to take away from your "The Game" single?
What we want people to take away from our single is that not all music is simply manufactured now. We write whatever comes to us and don't give too much thought as to what genre it fits or if it's a style of music that is popular right now. We write songs because we want to be musicians, not popular, and we're sure there are other artists that feel the same way. You just have to find them.
3. What can people expect from your live show?
Energy, and lots of it.
4. What's your favorite track to play live?
Our favorite original to play would probably be "Wishful Thinking", since it's very high energy. As far as cover songs go, it's between "You Could Be Mine" by Guns n' Roses and "Still of the Night" by Whitesnake. We love the reaction we get playing these. People always tell us that they didn't expect such a young band to play older music.
5. Who are three bands you'd like to tour with?
Guns n' Roses, Volbeat, and Halestorm.
6. Any crazy show stories?
Yes but if we told you about them we'd be sure to lose some friends!
7. What's your take on the current state of Rock?
We think that there is a lot of great Rock music out there today! There is music and a scene out there for everyone, you just have to be willing to dig around for it.
8. What's the current music scene like there in New York both locally and state wide?
Right now there is a huge pop-punk scene locally and state wide. We're based in Mahopac, New York, which surprisingly has a pretty big music scene and a lot of talent.
9. What's your take on legal/illegal music downloading?
Our opinion of illegal music downloading is that it's wrong, you wouldn't go into a record store and steal all the CDs off the shelves. But, we also realize that we are unable to compete with this illegal downloading. That's why we put our music up for the "Name Your Price" option, this gives people the opportunity to download our music for free and doing so legally, and it also allows the generous to give a greatly appreciated donation.
10. What's next for Fiction?
The release of our self titled EP, and hopefully a number of shows throughout the Northeast this summer!
11. Any shoutouts?
Big shoutout to Nick Sochan for engineering and producing our EP and to anyone who downloaded our single or has come out to our shows!