Avanti (Female Fronted Melodic Metalcore) - Cincinnati, Ohio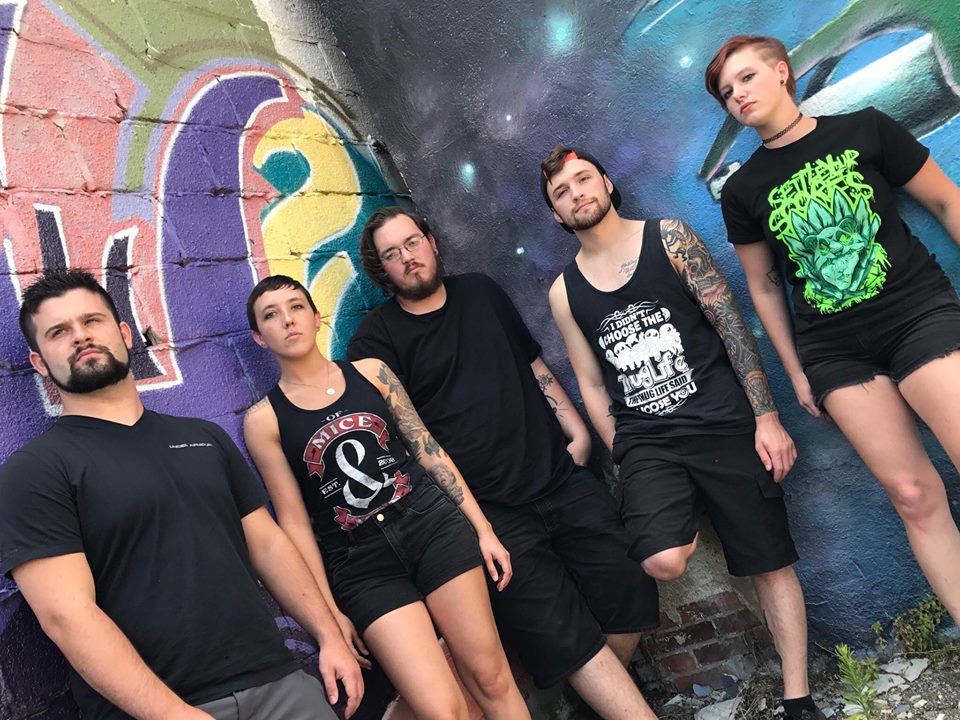 We are Avanti, a female fronted melodic metalcore band out of Cincinnati, Ohio.
Avanti started in Ripley, OH in spring of 2014. Recently, we independently released our new 6-song EP, "Convictions", followed by a tour through Tennessee, Arkansas, and Texas. Convictions can be found on all online markets, including iTunes, Google Play, Amazon, Spotify, and so forth. Our sound features clean and harsh vocals, clean and distorted instrumentals, breakdowns, guitar solos, and a blend of new and older school sounds. We pull a lot of influences from bands like Killswitch Engage, Breaking Benjamin, and Atreyu.
We work hard; playing local and regional shows regularly throughout the Midwest, averaging 3-4 shows per month in Cincinnati, Louisville, Columbus, Indianapolis, Huntington, and all areas in between. Our EP release party was held at Madison Live, in Covington, Kentucky, to 200 local fans.
Every year for the past 3 years, we host a multi-day, multi-city charity festival called Forward Fest. Using our own sound and light systems, we set up our own events in various cities, gathering local bands from each area with a common goal of raising money for charity and unifying the Ohio music scene. This year, in 2017, we raised almost $1500 for a Cincinnati local charity called 'A Voice for the Innocent' over the course of 5 DIY events on two consecutive weekends. These shows included college campus and ended with a 2-stage event in the center of Cincinnati.
In addition to Forward Fest, we are also often involved in many community fundraisers and charities including Portsmouth Renaissance and St. Jude's Children's Hospital. Our name Avanti comes from the phrase sempre avanti, meaning "Always Forward." We believe that through bringing our scene and our community together for a common cause, we can move forward together, as a scene and as a society.
Upcoming Shows:
6/9/18 - Thompson House - Newport, KY (EP Release Show)
6/15/18 - Cafe 611 - Frederick, MD
6/16/18 - Chameleon Club (Lizard Lounge) - Lancaster, PA
6/17/18 - Vapez Cloud House - Gainesville, VA
6/21/18 - Halftime Pizza Music Room - Powell, TN
6/22/18 - Drunk Horse Pub - Fayetteville, NC
6/23/18 - Taphouse Live - Norfolk, VA
6/24/18 - Somewhere Else Tavern - Greensboro, NC
"Convictions" EP Review
Avanti are a band that are a bit of an anomaly. They mix styles such as Post Hardcore, Metalcore and even Hard Rock into a melting pot that helps them stick out as a band who can bring a different sound to the table. "Tell Me" opens up the EP in style as the opening breakdown is quite outstanding in its delivery. The track then slows down before picking itself back up with a building crunchy verse. The anticipation for the Eyes Set To Kill type chorus is unrelenting and when it finally hits, it succeeds in its intent. The heaviness on the track is definitely there but it still maintains enough melody for easy accessibility. The breakdown later in the track is absolutely bonkers. "Damage" brings the riffs to the forefront. The track is heavier than the previous track for sure as it glides along the Melodic Metalcore landscape effortlessly. The soaring chorus is outstanding and the back and forth vocals between clean and harsh works wonders. Halfway through the track it slows things down and focuses solely on melody. As it picks up, the instrumentation builds and builds before erupting into a phenomenal guitar solo. "Pretense" is a high energy track that is as heavy as is it fast. The track treads the Hard Rock/Metal line perfectly and should be a hit with fans looking for an upbeat banger of a track. "Sanctuary" is the shortest track on the EP, clocking in at three minutes but there's so much contained within that its so hard not to hit the repeat button after. The track is ferocious while still having the signature Avanti sound to it. The track is extremely catchy and will bring the mosh and sing alongs to the live crowd for sure. "Against Me" has a more Rock element to it. The track screams single and it's extremely infectious. You need to hear this track right now, it's so good! The closing track "Better Off Without" is bouncy and heavy in all the right places. The guitar solo is amazing and the melody is off the charts. The track has enough punch to it that when it's over, the listener will be disappointed that the EP is only six tracks long.
Verdict:
Avanti's newest EP packs more than enough punch needed to break through in the Post Hardcore/Metalcore genres.
-Interview- (12/7/17)
1. How did you get started with music and how did you develop your sound? Who thought of the name "Avanti" and is there any meaning behind it?
We started when our drummer Cody moved up from Texas and met with guitar player Cameron. We started writing songs instantly and existed through a few months and a few member changes before we collectively settled on the name Avanti. It comes from the Italian phrase, "Sempre Avanti", meaning always forward. The band's core values are centered around that message and it's a motto we all live and work by.
2. What do you want people to take away from your "Convictions" EP?
"Convictions" is a collection of songs we wrote together and felt were the right way to express who we are as a band. It's a launchpad and a starting point. We want people to listen to it and enjoy it, because it's only the beginning.
3. How would you describe your sound to the average listener?
We always seem to get, "Somewhere between Killswitch Engage and Breaking Benjamin." Melodic metal with elements of post-hardcore and hard rock.
4. Who are three bands you'd like to tour with?
Barring the bands mentioned in the last question, I'm pretty sure we could all agree on Atreyu, Ice Nine Kills, and probably Of Mice & Men.
5. What are your three desert island albums that you'd never get tired of listening to?
As a band? Once again, I'm sure we could probably agree on "Lead Sails" by Atreyu, "The White Album" by Avenged Sevenfold, and maybe some Bullet For My Valentine.
6. What's your take on the current state of Post Hardcore?
I (Cody) personally think the bands are as good and as numerous as ever, and that people should be more open to new ideas and new bands. A lot of people reject the words "metalcore" and "post hardcore" because they pigeonhole them into very specific sounds. There's always going to be great new music coming out. It's just gotta find it's way to the right ears.
7. What's the current music scene like there in Ohio both locally and state wide?
Cincinnati is coming off a huge upswing lately! Things have slowed down for the Christmas season, but this year has been fantastic for attendance at local shows. Our EP release packed the house back in March, on a night where there were several other shows. There are new bands popping up everywhere and the vets are as good as ever.
8. What's your take on legal/illegal music downloading?
At the stage we are at, we'd just be glad that people are listening to us. However, it would be super nice if artists across the board could get paid fairly for their art. And illegal downloading really hurts that.
9. What's next for Avanti?
We're recording! Songs that are bigger, better, harder, softer, and everything inbetween. We have a mountain of new material. No further spoilers on our plans for the next release though. ;)
10. Any shoutouts?
Big shouts to all of our friends and anyone who comes to our shows or likes local shows in general.