Blackcat Manor (Punk/Metal) - Freeport, Illinois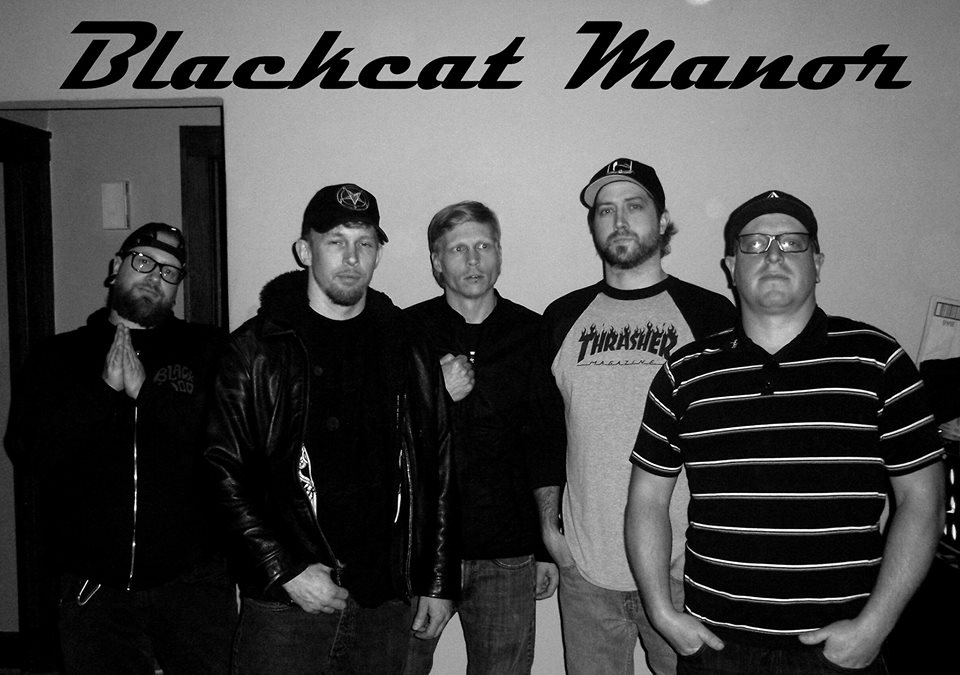 Blackcat Manor are a Progressive Punk Rock/Metal band hailing from the mighty Midwest.
Upcoming Shows:
6/21/19 - WSUM Radio Stage (University of Wisconsin-Madison) - Madison, WI
"From Here On Out" EP Review
Blackcat Manor are back with the follow up to their critically acclaimed "Relentless" EP. Let's dive in with our newest review. The opener "Sun To The Shore" shifts into high gear right away. After the first thirty seconds, the melodic Punk vocals kick in and keep the track on pace with its high energy. The track really takes off 3/4 through as it explodes into a chaotic wall of fury, guitar solo included. "Evidence To Burn" keeps up the energy from the opening track nicely. The track is hard as nails and brings to mind their previous "Hellfire" single. The single "Hats Off To You" really sinks its teeth into the signature Blackcat Manor sound and takes it to a new level. The track starts off fast with some fierce Punk riffs and doesn't let up. The circle pit appeal of the track is off the charts. When the track settles down with a smooth chorus, it becomes melodic, technical and even that much better. The guitar solo that follows is out of this world and helps set up the ending nicely. The track is three minutes of all out Blackcat Manor rage. "Conflict Resolution" features some off the hook drumming. The sound has a Melodic Hardcore feel to it. It's fast, heavy and pretty dang catchy. The closer "Hammerclaw" churns up memories of the band Shortie. It blends multiple genres with ease and closes out the EP on quite the high note.
Verdict:
Blackcat Manor up the ante on their blend of Punk and Metal with their newest offering.
"Relentless" EP Review
Blackcat Manor are a band from Illinois that mixes together Punk and Metal into a melting pot of goodness in their most recent "Relentless" EP. Let's dive in and tell you why you need this in your collection. "Hellfire" is the opener and lead single off the EP (it was also featured on this past season of American Horror Story: Cult). The track is pure adrenaline and shines bright with a fierce edge. The guitar solos on the track are brilliant and they really adds layers of awesomeness. "Miss Used" takes the energy up a few more notches as it barrels ahead full speed. The only slow down comes by way of the track going for a knockout with a guitar solo/breakdown which pulverizes the listener. It's such an incredible track to jam out to! "Look Inside" brings the sing along from the get go and it goes for a controlled chaos of a sound. It has a Hard Rock/Metal sound to it that brings to mind Iron Maiden or Avenged Sevenfold. The track is very radio friendly and has a lot going for it. "An Old Friend" is a fun track to just get lost in. The high octane sound combined with the infectious vocals make it a stand out track. The guitar solo on the track is simply out of this world. The closing track "Forcibly Yours" is Blackcat Manor at their finest. The track is fast, unapologetic and as the title of the EP suggests, Relentless. Do yourself a favor and pick up this EP right now!
Verdict:
Blackcat Manor's newest EP will get you jacked up with its high energy sound.
-Interview- (1/9/18)
1. How did you get started with music and how did you develop your sound? Who thought of the name "Blackcat Manor" and is there any meaning behind it?
Blackcat Manor was formed out of the ashes of previous musical endeavors. This is where Blackcat Manor received their musical influences and developed their unique sound. The name Blackcat Manor was inspired by a little show called Meerkat Manor. Blackcat Manor's drummer Justin changed Meerkat to Blackcat and the rest is history. Blackcat Manor represents metaphorically a mansion full of bad luck and fireworks.
2. What do you want people to take away from your music?
Be excellent to one another.
3. How would you describe your sound to the average listener?
Blackcat Manor sound can be described as 90's scape punk with a dash of 80's Thrash.
4. Who are three bands you'd like to tour with?
Any band willing to take us with them.
5. What are your three desert island albums that you'd never get tired of listening to?
There are five members of Blackcat Manor so we have five picks. Glassjaw's (Everything you've ever wanted to know about silence), Strung Out's (Twisted by design), 311's (Transistor), Faith no More's (the real thing), and Metallica's (and justice for all).
6. What's your take on the current state of Metal?
The current state of Metal music can be described as a saturated underground melting pot of anti-society ideals.
7. What's the current music scene like there in Illinois both locally and state wide?
Northern Illinois Provides a wide variety of venues. Theaters holding five hundred plus people, to underground house shows for only twenty people and everything in between with Chicago at the center of it all. In order to succeed in this market, you need persistence, dedication, judgement.
8. What's your take on legal/illegal music downloading?
No Comment (pirate our shit please).
9. What's next for Blackcat Manor?
Blackcat Manor just released a music video for our song "Hellfire". "Hellfire" was featured on the season seven premiere of American Horror Story on FX network. They're planning on hitting the studio in late winter early spring, and playing as many shows as they can in 2018.
10. Any shoutouts?
All of the People and Places listed here have made extraordinary contributions to the success of Blackcat Manor. Adam Burd, Dan Barr, Scott Miller, Mitch, Tree Martin, Josh Elliot, Kevin Bressler, Dave and Greg, Road manager AL, Anthony Rosc, Danielle Wang, Scott Dunham, The Mutiny in Chicago IL, our Best Friend VLAD, Every band we have ever had the pleasure of sharing a stage or nonstage with. Every person who goes out and enjoys live music no matter what genre. All of Blackcat Manor's Past and Present Fans, nothing would be possible without you.