Bleed the Fifth (Metal) - United Kingdom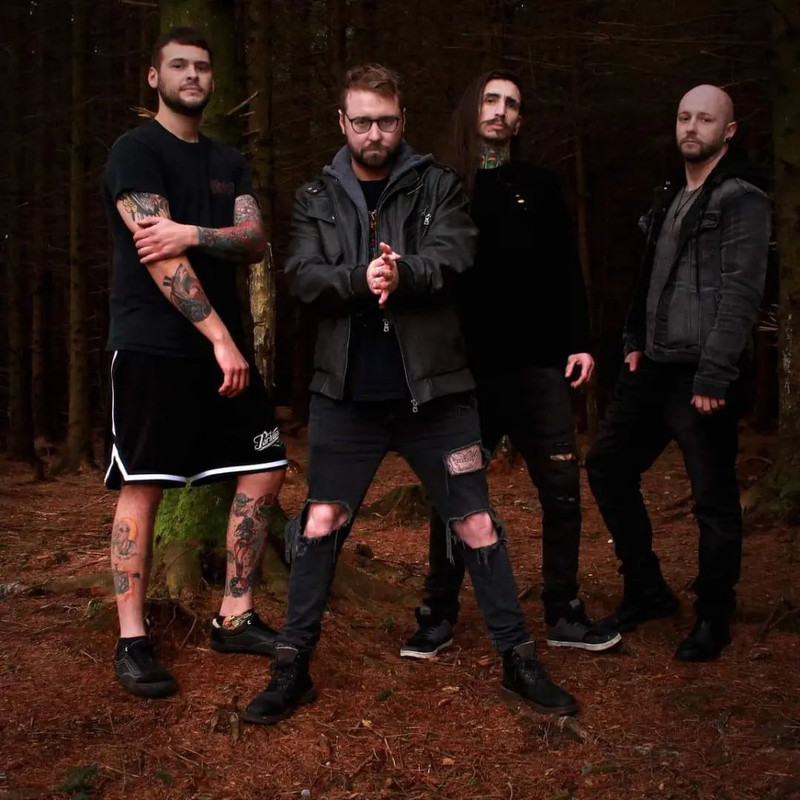 Instagram Page
Bleed the Fifth are a metal band hailing from South Wales (UK). We take inspiration from bands such as Machine Head, Trivium, Devildriver, Killswitch Engage, to name a few. We started writing during the pandemic lockdown of 2020 but didn't start recording our first EP until early 2021 - but with energetic riffs, soaring melodies and pounding bass it will melt your face off with a nostalgic, but fresh feel to what metal really is about. Keep it heavy, keep it metal.
"World Eater" EP Review
The title track opens up the EP with an eruption of Metalcore sound. The breakneck pace sets the tone early as it barrels full speed ahead with the Melodic Metalcore path akin to As I Lay Dying. The circle pit intensity is off the charts even before the second verse starts. The clean sung chorus isn't too much as it stays within the early days of Melodic Metalcore vibes. There's a slight guitar solo around the two minute mark that gives way to a bridge that punishes the listeners with a thunderous breakdown that takes it towards the three minute mark. The last minute of the track features the chorus, a swirling guitar riff and an all out chaotic Metal ending to cap things off. "Empires" keeps the Metal party churning along at a full clip. The devastating riffs and breakdown lead into a clean sung chorus that takes the track to greater heights. The breakdown that ensues after is heavy and unrelenting. The circle pit riffage comes out to play around the two minute mark that sets up a bouncy breakdown before the chorus kicks back in before the track really lets loose at the ending. "Nature of Blood" opens with a Parkway Drive "Ire" era like riff before exploding into a more controlled chaos Metal sound. The near five minute track is more showcases the more methodical heaviness that the band has to offer as it bares its teeth. "Terra Firma" caps things off with a more bouncy Metal sound and brings with it a more melody. There's shades of All That Remains, Bullet For My Valentine and Atreyu within the riffs and melodies. The radio friendly track still has the edge and breakdowns galore but is more clean sung than previous tracks. The EP is a fantastic offering of four tracks and we can't wait to hear more!
Verdict:
Bleed the Fifth brings back the early 00's Melodic Metalcore sound and gives it a modern twist via their new EP.
-Interview- (6/7/22)
1. How did you get started with music and how did you develop your sound? Who thought of the name "Bleed the Fifth" and is there any meaning behind it?
We all grew up listening to metal bands such as Killswitch Engage, Trivium, Machinehead etc, so it would only make sense to grab an instrument or mic and emulate that sound yanno? But our band name was all a collective creation. It's a play on words, and "Bleed the Fifth" has been mentioned in numerous bands such as Iron Reagan or Divine Heresy which were also bands we grew up listening to.
2. What do you want people to take away from your music?
We want them to take away a sense of purpose and an idea. Music brings everyone together, but it can also convey a message that is, and will always will be, personal to that person.
3. How would you describe your sound to the average listener?
Heavy fu&%ing metal.
4. Who are three bands you'd like to tour with?
Trivium, Killswitch Engage and Lamb of God for sure.
5. How has Covid affected what you do?
Covid was actually a blessing for us. We had time to sit and write, and send each other ideas. It gave us the drive to get something started so we really did make the best of what was an uncertain time.
6. What's your take on the current state of Metal?
Not enough of it. There are some bands our there like Orbit Culture or Upon a Burning Body etc, but it just seems to have all gone down the rock route and, while you we can understand that progression, it just seems a bit dire.
7. What's the current music scene like locally there in the UK?
The music scene from Cardiff in Wales (UK) seems to be thriving a bit more. From when we were in bands previously it was pretty good so it'll be interesting for sure to get back into it.
8. What's your take on the royalties that streaming services pay out to artists?
Absolute garbage. More royalties for the artists plain and simple. Modern day slavery.
9. What's next for Bleed the Fifth?
Our next steps are to release our first single (out June 20th) then release another single shortly after before finally getting our EP out into the world.
10. Any shoutouts?
Yes! We'd like to mention our friends in Delour and Valhalla Awaits! And also Loki Films for smashing our first video (out June 20th).