Blud Red Roses (Hard Rock) - New Jersey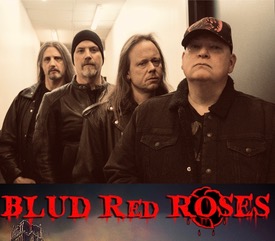 Central New Jersey based BLUD RED ROSES came together in October of 2016 when former Judge Drain band mates Matthew Goida, Pete Vee and Dave Dusenbery decided to get together to form a new band. Initially the plan was to create a different type of hard rock / heavy metal hybrid. As Veterans of the fabled tri-state music scene, the individual members of the band, by now dubbed BLUD RED ROSES, started writing and performing in the clubs in the Tri-State area (NJ, NY, PA) , and knew they were working towards something special. They recorded a three song self-titled Ep as a 3 piece in early 2017.
While it was apparent that the band had a unique chemistry that can only be found within a brotherhood.... all 3 band members knew that one piece of the puzzle was missing. Looking to move towards a heavier and thicker sound the band knew a second guitarist was needed. Matthew had previously played and recorded music with his college roommate, David Hill and the band inquired if David would be interested in auditioning for the band. Within a single band practice with David, it was obvious that David, with his unique and sophisticated approach to the guitar, and how he was interpreting the music was the missing piece the band was looking for. "It was obvious pretty quickly after David started practicing with us that he brought something different and great to our sound. That really excited me as a songwriter because I could envision the great ideas David would bring to my songs; and he has! Not to mention the energy he brings to live performances! It really lit a fire in us as a band!
In 2021 the quartet traveled to North Carolina to play the popular Blue Ridge Rock Fest alongside such powerhouse bands as Shinedown, Megadeth, Rob Zombie and others. "Playing Blue Ridge is a huge adrenaline rush. Playing with so many heavy aggressive bands was motivation to write heavier and faster songs. For me it's give 200% energy or get off the stage."
In early 2022 BLUD RED ROSES entered Barbershop Recording Studios in (Lake Hopatcong, NJ to begin working on their new album, Fall to the Hate with producer Mike Ferretti, who has worked with Sevendust and Breaking Benjamin. The addition of David Hill to the lineup was immediately evident as the band was inspired to "up their game" in the songwriting department. The material became more mature and fluid, never leaving the heaviness behind but adding a groove element that wasn't in the mix previously. "We knew we wanted to head towards a more, 'pure metal' sound and we we knew we had the right material and band to make that happen in a way that we couldn't do before. We figured out who we were as a band and what we wanted to sound like.'
Fall to the Hate, scheduled for full physical and digital release in March 2023, opens with the albums first single; the forceful, "Inside Of Me" which speaks of the grip of a toxic relationship and the need to breakaway. The albums title track, "Fall to The Hate" closes the album and is a cautionary tale of the destruction that occurs in a person's mind and life when they can't overcome the hate they feel. The song opens with a twin lead guitar attack washed in melody before turning to attack mode and leaving you in a puddle of blood and sweat.