Blue Clutch (Progressive/Alternative Metal) - Pittsburgh, Pennsylvania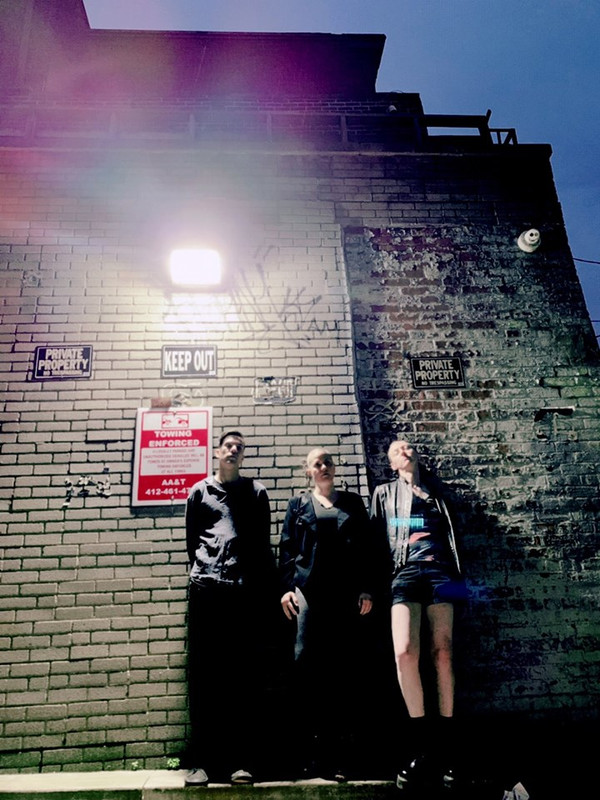 Blue Clutch was originally founded by Sarah Halter and Lia Silverbeams in January of 2016, following their shared vision of forming a band with a heavy sound that truly stands out not only in their local music scene but also in rock and metal scenes worldwide. Blue Clutch burst onto the Pittsburgh music scene with an unabashed passion to represent a progressive, unique sound and image that had rarely been seen and heard in local venues.
After evolving and finalizing into a power trio with Sarah Halter on guitar and vocals, Lia Silverbeams on drums, and Rich Kastory on bass, they began truly solidifying their unique overall sound in 2017. Blue Clutch takes the stage and the airwaves with a heavy, yet refined amalgam of layered drum and bass precision, multi-tonal melodic and rhythmic guitar riffs, powerful and refined vocal melodies, and pure, raw, progressive experimentation. They have been compared to a fusion of Tool, Evanescence, and Black Sabbath.
Since their inception, Blue Clutch has really upped the ante to captivate listeners with their craft, energy, musicianship, and unique approach to the progressive and alternative metal genres. They have played in a multitude of live shows in various Pittsburgh rock venues, including premier stages Mr. Small's Main Stage, The Funhouse at Mr. Smalls, and The Rex Theatre in support of local and touring acts. They also have been selected to appear on major stages in Millvale Music Festival and Deutschtown Music Festival.
Their debut album, Silent Oblivion, recorded at Tonic Recording Studios with audio engineer Douglas Kasper and producer Bryan Cole, was released on all major platforms on October 4, 2019.
Upcoming Shows:
More shows coming soon.
"Silent Oblivion" Album Review
The opener "Silent Reckoning" is a nice opener that sets the tone for the rest of the album. It's heavy, melodic and perfect to pull in the listener with ease. "Sabotage Syndicate" is a minute long interlude that sets up the next track. "Munchhausen Syndrome" twists and turns with riffs for days and melody that's off the charts. It's ultra catchy and any fan of Melodic Metal should feel right at home. "Echoed" is another interlude that gives the listener a breather. "Tha Cheet" cranks back in with some sludge like riffs and melodies that'll get you singing along in no time. It has a bite to it along its near six minute path that has some long lasting effects. "Interval of a Deathwish" is a Rock ballad. The track is emotional, passionate and shows off the bands depth when they want to delve deep and pour out emotion. "Clarion Call" is everything that the band is all about. The guitar work is top notch, melodies that soar with ease, and a melting pot of Metal that is easily digestible. "Skywars" is an upbeat interlude that keeps things amped up throughout its short runtime. The closer and title track, "Silent Oblivion" complements the opener as it pulls everything together in a nice bow. The sky is the limit for Blue Clutch and this is album is their first step towards something really special.
Verdict:
Blue Clutch showcase their Progressive/Alternative Metal skills to the max via their new album.
-Interview- (2/4/20)
1. What's new with the band?
The latest news is that we released our debut album, "Silent Oblivion" on October 4, 2019.
2. What can you tell us about the new music?
The new music that we have been working on still has our original sound in our debut album. We've just been working to take things up a notch in all areas of musicianship, songwriting, song arrangements, and complexity.
3. Do you have any pre-show rituals? If so, what are they?
Not any in particular, we just try to prepare ourselves physically and mentally as best as we can.
4. What's one highlight in the past year for the band?
Definitely our album release!.
5. What's one thing you'd change about the local music scene?
I think the scene as a whole needs to integrate different acts with different sounds in lineups regardless of genre at times, as same/similar-genre lineups over and over again can attribute to making scenes within the scene insular. Of course we love being a a part of hard rock/metal show lineups with bands that have a similar sound to us, but if we are setting up a show DIY style, we sometimes like to include some genre variety. In the past, we have shared stages with a variety of acts featuring indie bands, hip-hop acts, alternative rock, acoustic duos, etc. We feel this is truly beneficial for the scene community because it can open new connections and experiences for bands and their fans.
6. What are you currently listening to?
We listen to a variety of music from rock/metal genres to funk to hip hop to classical.
7. What do you think about streaming services and how they pay out royalties to artists?
There are definitely pros and cons. It's really difficult to make a living or get a lot of money at all with streaming as a new or up-and-coming band. One benefit is that streaming also eases promotion and widely sharing your own or others' music through playlists, curators, etc.
8. What do you wish to accomplish in the next year?
In addition to recording more music and eventually touring, we basically to continue expanding and leveling up in all areas! We really want to expand our overall fan base/reach, get more funding and investment resources to put into what we do, and let the world hear us beyond our local scene.