Break Out Day (Pop Punk) - Roslyn, New York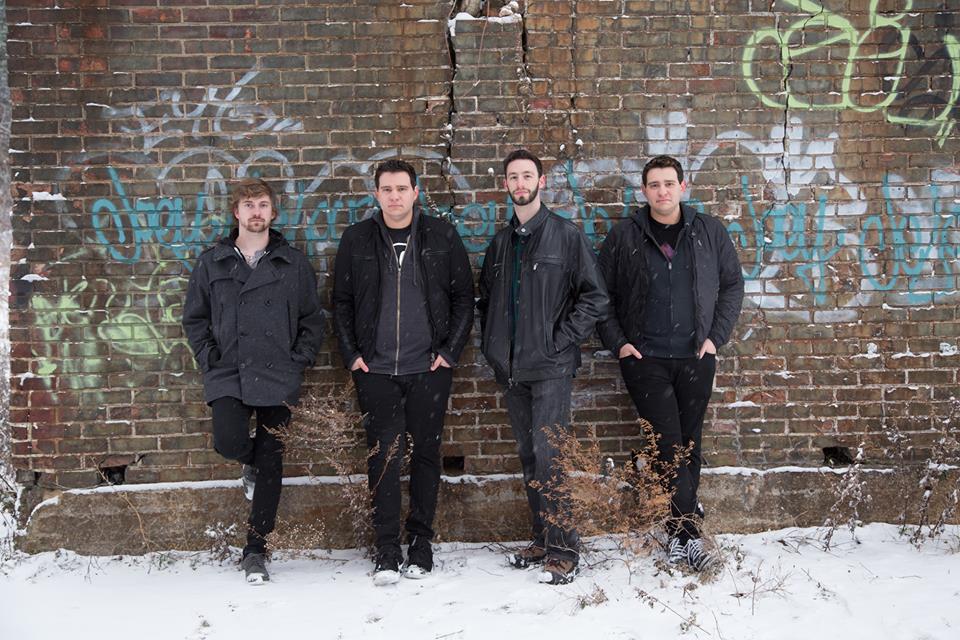 Break Out Day was started by identical twin brothers Andrew and Jason Weisbein in the summer of 2009. The band is based out of Roslyn, New York, a town on Long Island. Influenced by artists such as blink-182, All Time Low, Fall Out Boy, Simple Plan, and Angels & Airwaves, Andrew and Jason spent the next few years writing original music and playing local shows. In May of 2013, Perry Dornbush joined the band as their full-time drummer. They performed as a three-piece group for a while, but were eager to acquire a fourth member to serve as a permanent lead vocalist and rhythm guitarist. After adding a new member to fill that slot, the band hit the studio that summer to record their first official release. In September of 2013, the band unleashed its sound in the debut EP "The Nights That Made It." After the departure of that 4th member, the band spent three years searching and auditioning several candidates to fill that role. The band officially added Brandon Wimberly as its fourth member in November of 2016. Now with a solid, four-member lineup, Break Out Day has been performing consistently and is currently working on new material for its next release.
Upcoming Shows:
4/28/19 - Amityville Music Hall - Amityville, NY
"Echoes Of The Past" EP Review
Break Out Day are an up and coming Pop Punk band that want to prove that their sound has grown exponentially since their previous "The Nights That Made It" EP. First up on the new EP is the single, "The Party's Over". The track starts off with an explosive sound that draws comparisons To Blink 182. The verse and build to the upbeat, high energy chorus is top notch. The infectious chorus is easy to sing along to and will have the live crowd jumping along. The guitar solo/breakdown near the end of the track adds another layer of awesome before heading back into the chorus to close things out. The track is three minutes of Pop Punk fun. "Deleted Imagery" has a nice instrumental opening which features some nice riffs. The opening verse picks up steam and barrels full speed ahead. The pace on the track doesn't really let up. The melody on the track is simply incredible and irresistible. "One More Night" takes a bit to build up but when it does, it really carries some weight. The track has a different sound to it than the previous tracks. It's more emotional, more passionate, slower but just as powerful. An acoustic version of their previous single "Too Bad You're Lying" closes out the EP. They put a different spin on the track and it really works well. They put a nice little bow on an already spectacular Pop Punk EP.
Verdict:
Break Out Day pull out all the stops in creating a highly memorable Pop Punk EP.
"The Nights That Made It" EP Review
Break Out Day are an up and coming band from Roslyn, NY who blend together Alternative Rock and Pop Punk to create their own sound that's very easy to listen to. Let's check out their recent "The Nights That Made It" EP and see what they're all about. "Too Bad You're Lying" opens up the EP with an awesome high energy sound that'll immediately get stuck in your head. The track is sure to be a fan favorite in no time. The guitar solo on the track is a real treat to listen to. "Endless Fall" has a Blink 182 feel to it as it moves forward with a highly infectious Pop Punk sound. The driving track is outstanding and keeps things at a high pace. It's so easy to sing along and rock out to. "Better For You" simply rocks. The track is more early Fall Out Boy sounding but still has that Break Out Day flair to it. The guitar work on the track is top notch. This is a track that should be on the radio right now. "Your Halo" cranks it up a couple notches with its more high intensity Rock sound. It's a bouncy track that'll get the live crowd jumping up and down. The track hits all the right places and has an anthem vibe to it. The closer "Bittersweet Memory" ends the EP on a high note. The track is incredible all throughout its three minute span. The only knock on the EP is that it's only five songs long. The band definitely has a knack for making catchy as hell Pop Punk songs. All of the tracks on this EP are extremely radio friendly. Get on it and check these out right away, you won't regret it.
Verdict:
Break Out Day have arrived on the Pop Punk scene with their remarkable "The Nights That Made It" EP.
-Interview- (6/29/18)
1. First off, what's new with the band?
We just wrapped up our two-month long mini-tour of Brooklyn, Manhattan, and Long Island in support of our new EP "Echoes of the Past," which was released on March 30, 2018. We played five killer shows and are now in the process of working on a music video idea for one of the songs as well as new music we hope to put out later on this year.
2. How was your recent record release show?
It was a blast! We played Arlene's Grocery on the Lower East Side of Manhattan with two bands from New Jersey (21 Kings and The Fuzz) and Shiffley from Long Island / Queens. We were excited to play with those bands because we've all played together before and we get along really well. Having the show in New York City was great because we were able to get a solid crowd from all of those neighboring areas where our bands come from.
3. What's your favorite place to play and why?
Arlene's Grocery was an amazing venue and we hope to be back there again. We also love performing at both Gold Sounds and The Kingsland whenever we're in Brooklyn.
4. What are you currently listening to?
Perry: Dance Gavin Dance, Plini, and some of our older stuff. Since I'm working on writing new drum parts, I like to go back and listen to previous songs so I can see how I can go about coming up with interesting and inventive rhythms.
Jason: I go in phases of bands that I'm into and recently I've been listening to a lot of Panic! At The Disco. I've been listening to "A Fever You Can't Sweat Out" a lot recently and it's such a great album front to back. In terms of their newer material, I've been rocking their song "Don't Threaten Me With a Good Time" quite a bit too.
Andrew: Recently I've been listening to a lot of Panic! At the Disco again. Their first album in particular, is what I've been listening to the most. I've also been listening to Boys Like Girls a lot too. They were one of the first bands I got into when I got into music back in 2006.
Brandon: Dream On Dreamer, I See Stars, and In Her Own Words have been frequently on my playlists lately.
5. How's the reception been so far for the new EP?
The feedback has been overwhelmingly positive, which was such a relief initially. When you don't put out new music for 4-5 years because of lineup changes and members finishing up with school, a lot of doubt can set in and screw up your mindset. Each of the four tracks highlights a point in time within the past several years each of us chose to reflect on, so seeing our systematic approach yield beneficial results is incredibly satisfying. It's also been great to hear that each track on the new EP has been called a favorite by a lot of different people. We love hearing that because we do think each of the new songs bring something different to the table and it's cool to know that our music resonates with all kinds of people. These are similar to the reactions and responses we received to our first EP as well and that's something we're immensely proud of.
6. What are some things in the near future that you're looking forward to?
We always love performing at new venues, especially ones with major historical significance in the local music scene. Other than that, we're very much looking forward to shooting our next music video(s), playing more shows, and writing new music.
7. If there's one thing you could change about the Pop Punk music scene in general what would it be and why?
Since this upcoming summer will be Warped Tour's last run, it'd be nice to see another pop punk/alternative rock-themed touring festival pick up where it's leaving off. Bring back Bamboozle too!
8. What do you wish to accomplish in the next year with Break Out Day?
New music, new venues, new content, new merch, and new fans!
-Interview- (6/7/17)
1. How did you get started with music and how did you develop your sound? Who thought of the name "Break Out Day" and is there any meaning behind it?
Andrew and Jason: We were introduced to most of the music we listen to through our older brother, Jeff. When we were 13 years old, he showed us Angels & Airwaves' album We Don't Need to Whisper and it changed our lives. From that point on we started getting into a lot of pop-punk/rock bands. The band that had the most influence was blink-182. They made us want to play guitar, be in a band, and live that lifestyle.
Perry: Music has been a major component of my upbringing since I was about 4 years old. My mom would tape PBS concerts for me on VHS and my grandma would take me to see symphony orchestras at Queens College. I started taking formal lessons when I was 5 and got my first drum set when I turned 6. Since then, I've developed an appreciation for all musical styles and genres, having played in numerous jazz, funk, rock, and metal groups.
Brandon: Growing up in Wisconsin, I've been going to Summerfest for as long as I can remember. My parents started taking me when I was very little so music has been a part of my life since the beginning. Seeing so many artists perform made me want to become one myself. From there I knew that someday I would be playing guitar for a rock band and now I'm even singing in one.
Band: Our band's sound was greatly inspired by blink-182 and other similar bands. As we began writing, we developed our own sound that incorporated ideas sparked from listening to major pop-punk bands. The name "Break Out Day" was thought of when Jason noticed a song titled "Break Out! Break Out!" by All Time Low and thought that was something we could play off of. While Jason and Andrew were discussing the name and potential use of "Break Out" in it, Andrew experimented with adding another word to it and thus "Break Out Day" was born. There isn't necessarily a special meaning to the name, but we knew we wanted a name that could be taken seriously and have some "star power".
2. What do you want listeners to take away from your "The Nights That Made It" EP? What's the word on new music?
Band: There are a lot of things we want listeners to take away from our debut EP "The Nights That Made It." We wanted to release something that showed people we were a legitimate band that wants to be taken seriously. Because it was our first release, we wanted to make an everlasting first impression on the listeners. With that in mind, we pushed ourselves to write the best songs possible. The songs are fun, fast, and relatable. It was also important to us to show some diversity on the album and let people know that we can take our music in different directions while still remaining true to our sound. New music is coming very soon! We have a new single titled "The Party's Over" that is just about ready to be released to the public and we are working on a music video for the new track as well.
3. What can people expect from your live show?
Band: We like to show our personalities and have a great time while on the stage. Moving around, interacting with the crowd, interacting with each other, and just being ourselves. Our goal with every show is to put on the best performance we can and give the crowd something to remember.
4. What's your favorite track to play live?
Andrew: Bittersweet Memory – It's the last song we play in our set. It's an energetic and fun closing song.
Jason: Bittersweet Memory – This song has some very fun guitar parts to play and I especially love when we get to the bridge of this song because it has such power to it. The outro we add to this song because it's our closer makes it even more enjoyable.
Perry: Your Halo – Not only is it an absolutely rocking head-banger throughout, but it has arguably the catchiest chorus out of all of our originals. It's gotten to the point where our friends have made a habit of singing parody versions of it (i.e. "You might think you're an angle, soon you're gonna be obtuse") at our shows.
Brandon: Too Bad You're Lying – It's generally our opening song that I really enjoy playing and singing. To me, it sets the tempo for the rest of our performance.
5. Who are three bands you'd like to tour with?
Andrew: blink-182, All Time Low, and Fall Out Boy.
Jason: blink-182, All Time Low, and Simple Plan.
Perry: A Day to Remember, Balance and Composure, and PVRIS.
Brandon: Sum 41, A Day to Remember, and PVRIS.
6. Any crazy show stories?
Andrew: In July of 2012, we played the Amityville Music Hall, which at the time was called the Broadway Bar, for the first time. For much of our set, the stage lights weren't on all the way. We looked like shadowy figures moving around on stage because of how dark it was on there. Eventually, they made the right adjustments and we could play our last three songs with the proper lighting.
Jason: There are times during our shows that Andrew and I will do the same rock moves during a song without planning it. I guess it's because we have "twintuition". Afterward, we give each other a look and start laughing about it.
Perry: Before Brandon joined the band, we played a show at The Revolution down in Amityville in which the lead singer of the band who performed right after us (who bore a striking resemblance to the late Kurt Cobain) proceeded to smash his guitar onstage at the conclusion of their set. His mother didn't seem too pleased with him afterwards. Brandon and the twins have also been mildly electrocuted by their microphones numerous times onstage, which, as the only non-singing member of the band, is something I suppose I've taken for granted.
Brandon: Not really a crazy story but my very first show with Break Out Day was actually my first time ever singing/playing in a band on stage. I also once stopped playing mid-bridge of a song to cheers with the crowd and have a shot before rejoining with the band.
7. What's your take on the current state of Pop Punk?
Band: It's pretty interesting to see the wide variety of what's considered "Pop-Punk." From bands like In Her Own Words to blink-182 to Modern Baseball to even A Day to Remember (some may consider). It has a lot to offer and blends many different genres into this overall theme we see as "Pop-Punk" today. It has always been a growing genre but now it seems to be even more revitalized with Pop-Punk giants blink-182, Good Charlotte, and others returning. However, there also seems to be a trend of some "Pop-Punk" bands using more "Pop" themed music styles. Guitars are starting to lack sound as a more electronic emphasis takes over.
8. What's the current music scene like there in New York both locally and state wide?
Band: The music scene on Long Island is fairly diverse. Geographically, the north shore of Nassau County, Long Island hasn't been a live music hub since the 70s and 80s. Back in those days, Roslyn was a stopping over point between Queens and Huntington where up and coming artists would perform primarily in clubs and other small venues like My Father's Place and Fern's. Nowadays as the north shore became increasingly more residential, most of those shows have shifted further south starting in Brooklyn and then extending out on the island across towns like Amityville, Long Beach, Patchogue, and then out into The Hamptons. We'd love to bring live original music back to the north shore because we all know how powerful and influential of a force it can be. Obviously New York City attracts major artists and there's never a week where we don't see a band we'd like to see come through. Statewide, there seems to be a lot of bands to check out.
9. What's your take on legal/illegal music downloading?
Band: As great as it would be for us for people to still buy music the way they used to, it's not realistic. As a young band, it's important to get your music heard by as many people as possible. The music will speak for itself and hopefully that translates to more fans who are loyal, dedicated, and passionate. Exposure is huge for a young band and we don't mind that people illegally get music. You just hope that the listeners come out to your shows and support your band in other ways as well.
10. What's next for Break Out Day?
Band: Soon we will be releasing our new single titled "The Party's Over" as well as a music video to accompany it. We have new ideas for merchandise that we will be getting ready to roll out too. We've been writing a lot and have plans to record our second EP sometime this summer. The new EP will consist of "The Party's Over," two other brand new tracks, and an acoustic rendition of "Too Bad You're Lying" from our debut EP "The Nights That Made It." Another main priority of ours is to continue playing shows and we would like to some touring in local areas/neighboring states, and grow our fan base.
11. Any shout outs?
Andrew: I'd like to give a shout out to my family who have been supportive of Jason and myself since we started. Also, thank you to my close group of college friends who truly support the band and believe in us.
Jason: To every person who has ever given us a chance.
Perry: I'd like to give a shout-out to all of our parents who've put up with us making loud noises in their basements over the years (and through the nights) as well as to all of our other family members and friends who've been coming to our shows to see us play since the very beginning.
Brandon: I would like to give a big shout out to all my friends and family back in Wisconsin; especially my parents Jeff and Elaine. They all supported my decision to move to New York and pursue my dreams. I would also like to extend a special thank you to my bandmates and their parents for housing me when I first moved and was still searching for a job. I would not have been able to make this possible without any of them.