Burning Dame (Metal) - Hungary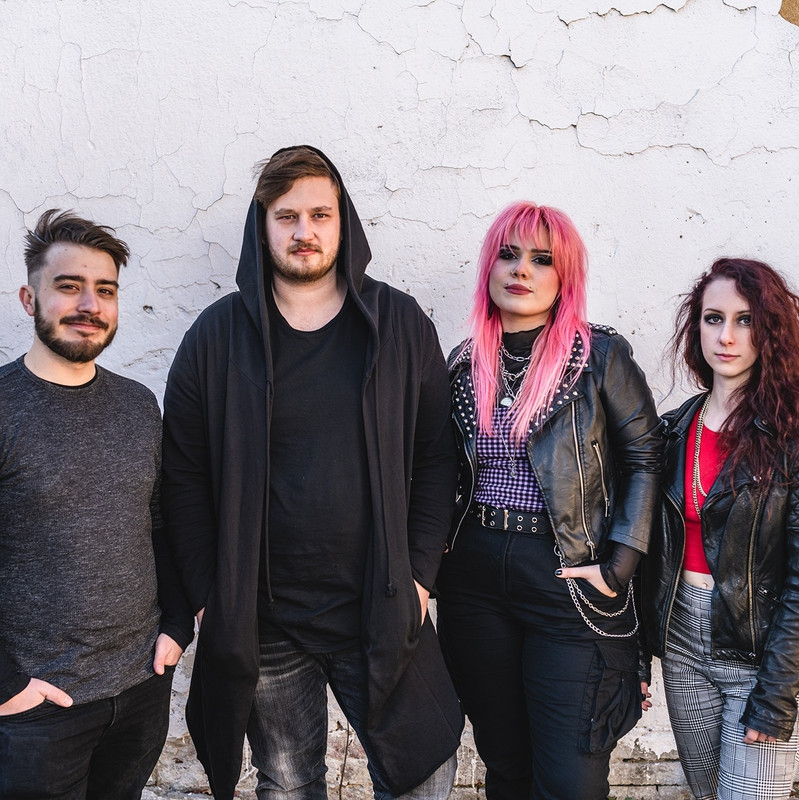 Burning Dame is a Hungarian band based in Budapest, founded in 2019. In the beginning Luca and Livi started to write songs then Tupi jonined in. After months of searching they found Andris and the band was born. Their first release was the song FAKE with a video from the Beautiful Monotony EP. FAKE is one of the four songs from the EP. Their debute concert would have been in the spring of 2020 in one of the biggest clubs of Budapest as a guest of famous hungarian metal bands (Down for Whatever, Fatal Error) but because of the pandemic this gig was canceled. Due to the covid restrictions they had to cancel several booked concerts in the fall of 2020 and in the beginning of 2021. Their first concert finally managed to take place in October 2020 at Székesfehérvár. They recorded their first LP called Beware the Dame in the second half of 2020. It was recorded at NewSkool Sound Studio and in Y Sound Studio in Budapest. They worked with sound engineer and producer Dániel Kökényes and sound engineer Bence Brucker from the band AWS. As a forerunner of the LP, Lines & Lies debuted with a throwback video in March 2021. The video is made of homemade footages of the making of Beware the Dame and the band's rehearsals, everydays and parties. The video was cut and edited by the singer, Luca. Beware the Dame is an independent release and debuted on the 9th of April, 2021.
"Beware the Dame" Album Review
The intro track "Prologue" is a two minute instrumental that builds atmosphere for the upcoming rest of the album. "Beware the Queen" blasts in but then tones things down for a bit as the melodic vocals take hold. The track ramps up during the chorus and creates chaos with its Melodic Metal sound overall. "Lines and Lies" has a Southern Metal feel to it. The track is more high energy and the chorus is easy to sing along to. There's a guitar solo later in the track that shreds like crazy. "Love/Deathwish" is more methodical in its delivery. The track features ups and downs of melody and crunchy instrumentation that hits on all cylinders. "The One" is worthy of being a single. The track is more Hard Rock than Metal but it's catchy as hell and would be perfect on Hard Rock radio. "Brave New World" sways to and fro with a more Nightwish, Lacuna Coil like sound. The melodic swings and crunch of the guitars make it moshabale but also very melodic. "Sell Your Body, Sell Your Soul" is two and a half minutes of fast, heavy and no holds barred Burning Dame. The band doesn't hold back and it's filled with sheer force of their signature sound. "Terms and Conditions" is pretty epic. The track features some tremendous depth and layers of sound that will keep the listener on edge during its five minute span. The closer "Tears of Us" is an emotional acoustic track that lays everything out and closes out the album in grand fashion.
-Interview- (5/25/21)
1. How did you get started with music and how did you develop your sound? Who thought of the name "Burning Dame" and is there any meaning behind it?
Lusy: Livi and I started the band together as we went to the same music school for years. After a few months of practicing and writing songs together Tupi joined the band and we found Andris through a mutual friend. The main idea for the band is that we do not want to conform to one style. We mix all of our favourite genres and hope for the best. We all have different fave bands and artists so we try to write our music in a way that it combines all of our personal sounds. Finding our name is kind of a funny story. We couldn't really choose a name for months but finally I wrote "Burning Dame" in our group chat and everyone agreed that it should be our name.
2. What do you want people to take away from your music?
Lusy: Personally, I would love to help people with my music and lyrics. It is the most important thing for me as a musician.
Livi: We want people to not be afraid to feel things even if it is negative. Our music tries to emphasise that it is okay to feel sad, angry and basically everything.
Tupi: Yeah, same. I think as most musicians we just want people to feel the emotions of our music.
Andris: Same.
3. How would you describe your sound to the average listener?
Livi: It's good! *laughs*
Tupi: A female fronted Black Sabbath trying to make modern metal music.
4. Who are three bands you'd like to tour with?
Andris: BABYMETAL!!!
Lusy: Probably Halestorm, Ghost and Babymetal.
5. How has Covid affected what you do as a band?
Lusy: Unfortunately, we could only play one show during the past one and a half years. But we try to remain positive. We released our first album and just waiting to finally play our album release show.
6. What's your take on the current state of Metal?
Livi: More and more people start to listen to metal in Hungary which is a really good thing.
Tupi: Honestly it is really sad that most of the people only listen to music via streaming platforms and do not buy albums anymore.
7. What's the current music scene like there in Hungary?
Tupi: Sometimes it can be elitist, but the underground scene is better.
Livi: Yeah, the underground scene is really supportive. Most of us try to help each other.
8. What's your take on the royalties that streaming services pay out to artists?
Lusy: *laughs* Well...It's not much for us.
Livi: It's good that they exist, but we don't see much of the money.
Tupi: I think Spotify, as the leading streaming platform, should show an example. Smaller services like Tidal and Apple Music pay more for their artists, even though Spotify is the most popular.
9. What's next for Burning Dame?
Andris: We hope that we can play some shows in the near future. We are already writing new music, even though we just released our first LP, so Covid can't stop us.
Tupi: Yeah, we are so ready for playing live, so I think now that is to plan for the next year or so.
10. Any shoutouts?
Lusy: We would like to thank our fantastic producer Dani Kökényes. Without his help we couldn't have finished our album. And also thanks to everyone who listens to our music.