Carrying Torches (Pop/Alternative Rock) - Chicago, Illinois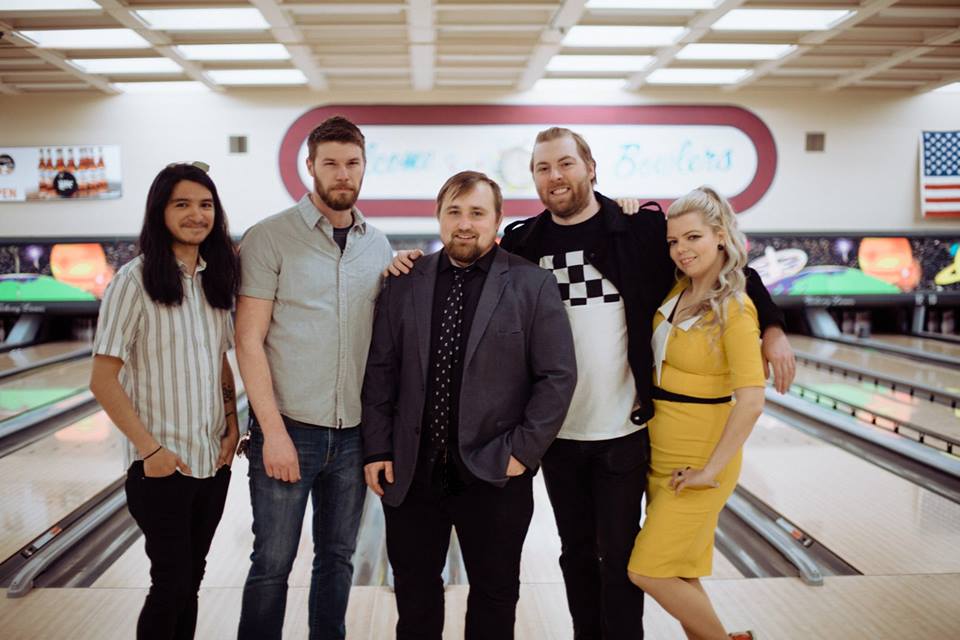 Carrying Torches was born just south of Chicago where suburban life meets farm country. The roots were seeded when singer/guitarist Justin Daniel of Dischord combined musical efforts with Jon Paul Gray from former pop punk group, Pilgrims. Mike Bass, punk metal bassist from The Unlawful joined the duo along with lead guitarist, Alex Jaskula. Later, Misty Okroi, formerly associated with Lighttribe was brought in on synthesizer. Carrying Torches released their six song EP "Ace of Wands" on May 19, 2017. "Sinking" was released as a single along with music video on May 1, 2017 followed by "Wishing Well" on May 29, 2017. "Trust Me Now" the third single, had a video release on August 7, 2017. In September 2017, Carrying Torches was elected as Chicago's rising artist of the month by "The Deli" magazine. The band is a unique blend of dark pop, alternative, electronica, indie and heartland rock. Carrying Torches entered the recording studio in November 2017. The project also won first place in a Kankakee sponsored "Battle of the Bands-Winter Edition" to benefit the Anthony Rizzo foundation in January 2018. Mike Bass left the project in March 2018, and the band is currently featuring Brennen Chouinard, formerly of Vaudevileins, Plains, and Poundcake, on bass. "STRANGERS" EP was released on June 15, 2018, it was recorded at Comatose Studios and produced by Michael McGinnis. "Holding Back" was released as the first single and video from "STRANGERS" on June 11, 2018.
On November 9, 2018 "My Fav Part" was released as the second single from the EP along with video. On January 7, 2019, it was announced that the band received an award for best song "Strangers" from the STRANGERS EP, in the Kankakee Area Music Awards, which will be held April 19, 2019. The band is currently busy working on writing their third record and playing shows throughout the Midwest.
Upcoming Shows:
2/27/20 - Cubby Bear Wrigleyville - Chicago, IL
"Strangers" EP Review
The Chicago based upstart act Carrying Torches released their blistering "Strangers" EP over this past Summer. Let's take a gander and see why people are talking about how they're due to breakthrough with this release. The EP opens up with "S.S.S.A". Right from the get go the guitars are on full display with their incredible melodic riffs. The vocals kick in and keeps up with the upbeat instrumentation as it helps guide everything along at a nice steady pace. "My Fav Part" is a nice dance-able track that brings to mind Portugal The Man and their form of Rock. The Indie Rock sound is on point and extremely catchy. It's no wonder why it was a single. The title track "Strangers" is up next. The track kicks things up a few notches. The high energy in conjunction with its New Wave sound make it quite the stunner of a track to just get lost in. "Holding Back" is a Chvrches vibe to it. Anyone into them will surely dig this track. The track does dip down during the verses but the synth breakdowns is where it really will grabs the listener. "Unraveling" lets go and unleashes Rock fury upon the listener. The Alternative Rock sound is upbeat and fantastic. The catchy appeal is off the charts! The closing track "Anymore" is haunting in all the right ways. The moody track shows off layers of depth that very few acts can pull off. This is an EP that you need to get your hands on as soon as possible.
Verdict:
Carrying Torches have an EP that'll keep you listening for weeks on end.
-Interview- (2/8/19)
1. How did you get started with music and how did you develop your sound? Who thought of the name "Carrying Torches" and is there any meaning behind it?
Carrying Torches came together at the end of the summer in '16 when Jon filled in for the drummer of Justin's primary band, Dischord. It was a meeting of musical minds that strived to be different than anything they had previously done. Our first bassist, Mike Bass and guitarist, Alex Jaskula were discovered in the local music scene. A fifth element was found to be desired for a more sophisticated sound and our synth player, Misty Okroi was added. In March 2018, Mike Bass left and we were able to recruit Brennen Chouinard rather seamlessly into the band. Our band name "Carrying Torches" was actually a title of one of the first songs we wrote. The first band name we worked under was "Makeup Sex" but Misty felt it was too risqué. We now embrace "Carrying Torches" to signify workload, pioneering, or the old expression pertaining to holding onto someone in your heart.
2. What do you want people to take away from your music?
The most valuable takeaway our audience could have would be relatability. The music we write is inspired by the people and places around us and hopefully they can find a way to vibe with it.
3. How would you describe your sound to the average listener?
Dark pop, electronic heartland rock, and indie.
4. Who are three bands you'd like to tour with?
Alkaline Trio, Royal Blood, and Into it Over It.
5. What are your three desert island albums that you'd never get tired of listening to?
Arctic Monkeys-AM, Saves the Day-In Reverie, and Kings of Leon- Come Around Sundown.
6. What's your take on the current state of Rock?
People will always love rock. It may not be the majority rule, but a kid is picking up a guitar for the first time everyday. As long as bands continue to write authentically and keep going it will be here to stay.
7. What's the current music scene like there in Illinois both locally and state wide?
We were just discussing this as a band, and sadly, on our local level, a lot of the bands that came out of the gates with us have met an early expiration date. It's a lot of work, time and money to keep a band going. Locally, the Kankakee area is very supportive of the arts on the whole and displays all genres. Chicago is a more difficult nut to crack. The Mutiny, Quenchers, and Red Line Tap all closed their doors in 2018, and those were venues our band cut our teeth on.
8. What's your take on legal/illegal music downloading?
It seems to me the modern music listener is likely subscribed to a streaming service so illegal downloads aren't necessary. Our music videos are available to watch for free and a trip to our website has a SoundCloud free song player available.
9. What's next for Carrying Torches?
We plan to release more video bolster for "STRANGERS" EP and the songwriting for the third record will continue. We hope to play quite a few Midwest shows this summer as well and introduce new merchandise.