Ceres (Hard Rock/Metal) - Missoula, Montana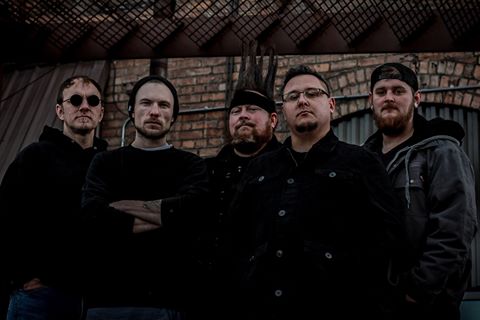 Ceres - heavy metal from the mountains of western Montana. This is not your daddy's rock and roll. Hard hitting rhythms, driving riffs and a mix of melodic with aggressive vocals.
Upcoming Shows:
More shows coming soon.
"Ceres" EP Review
Ceres are a band from the very underrated Montana music scene and are looking to make a dent in the Hard Rock/Metal scene. Let's take a dive into their recent EP and see what they bring to the table. The opener "Trigger Warning" starts things off with a whirlwind of riffs to help set the vicious tone of what's to come. The melodic chorus brings to mind Staind, but the guitar solo that follows takes it to an entirely different level. The intensity of the opener really sets the bar high for the rest of the tracks. "Break Free" has a touch of Nu Metal to it. The crunch mixes with melody perfectly and will get the live crowd moshing and singing along in no time. "Secrets" takes almost a Progressive Metal approach with soaring guitar solos and a more moody vibe. It's a different sound but really shows that the band is capable of a different side of things. "Red Skies" kicks right into the action with a nice melodic riff. The Killswitch Engage vibes are strong on the track and should be very easy to get into for fans of Melodic Metal. The closer "With You" holds nothing back. It goes full speed ahead with a ferocity rarely heard from an up and coming act. Clocking in at only five tracks, it's a nice appetizer but you'll definitely be going back more and more.
Verdict:
If this EP from Ceres is any indication of what's to come, they're bound to breakthrough sooner rather than later.
-Interview- (7/25/19)
1. How did you get started with music and how did you develop your sound? Who thought of the name "Ceres" and is there any meaning behind it?
We started out initially as a studio project, and grew steadily from there! As we started amassing material for an EP, we all came to the realization that the tunes were solid, and it was worth taking out on the road. Our sound came about as a result of writing the initial EP, and on boarding band members during that process as we shifted focus from the studio to the stage. We've got a wide range of influences among us- from Slipknot, to Iron Maiden, Amon Amarth and even stuff like Oingo Boingo. Killswitch is huge for us as well. So we're just an amalgamation of all of those things.
The name came about serendipitously- we had settled on a planetary/solar theme and frankly it just sounded awesome. Ceres is also the Greek goddess of agriculture, so without her we wouldn't have the beer that we love so much.
2. What do you want people to take away from your music?
We try not to write fluff and filler songs. Our material is about the real world, and real world issues. We write a lot about dealing with mental health issues and the stigma that surrounds them, and I think the biggest takeaway for people would be this; don't be afraid to be genuine. Difficult stuff happens in life, whether it be with relationships, work, loss of life, or mental illness. People out there care about you and there is no shame in seeking help.
3. How would you describe your sound to the average listener?
We pull from a lot of places, but we're most often compared to bands like Killswitch Engage. We're a blend between hard rock and metal, with both sung and screamed vocals. We incorporate heavy guitar riffs with electronic elements and even orchestral pieces.
4. Who are three bands you'd like to tour with?
Killswitch Engage, Slipknot, and Periphery.
5. What are your three desert island albums that you'd never get tired of listening to?
Opeth - Black Water Park, Avenged Sevenfold - Waking The Fallen, and Van Halen - 1.
6. What's your take on the current state of Metal?
We live in a truly amazing time for music. Making music and being in a band has never been more accessible, and as a result there is no shortage of awesome stuff to listen to. We think metal is in a good place, and the future looks bright!
7. What's the current music scene like there in Montana both locally and state wide?
Metal in Montana is alive and well! We're lucky to be a part of a scene that is booming with other metal bands that are chomping at the bit to play shows. Missoula is off the charts right now, and our brothers up north in Kalispell are kicking butt too. The scene continues to grow, and we're thankful to be a part of it!
8. What's your take on legal/illegal music downloading?
If you like your favorite band and want them to be able to continue making music, buy their album. Whether that's a digital download or a CD or even vinyl, it all adds up. With streaming taking the market over it almost seems like illegal downloads are a thing of the past. The music industry continues to evolve, so you have to keep up and adapt or just get lost in the noise.
9. What's next for Ceres?
As always, we're tracking more tunes and shooting more music videos. We've got a lot of shows coming up in the future, and we're focusing on spreading our wings a little to push to the further reaches of Montana and beyond!
10. Any shoutouts?
We can't thank Matt Erickson enough- he's a huge part of the Ceres team and helps with a lot of our back end IT stuff. We'd also like to give a shout out to some friends and local business who have helped us get our merch off the ground, including Patriot Glassware and Anthony Heflin of H&H Custom Shirts!