Clay (Progressive Metal) - Sweden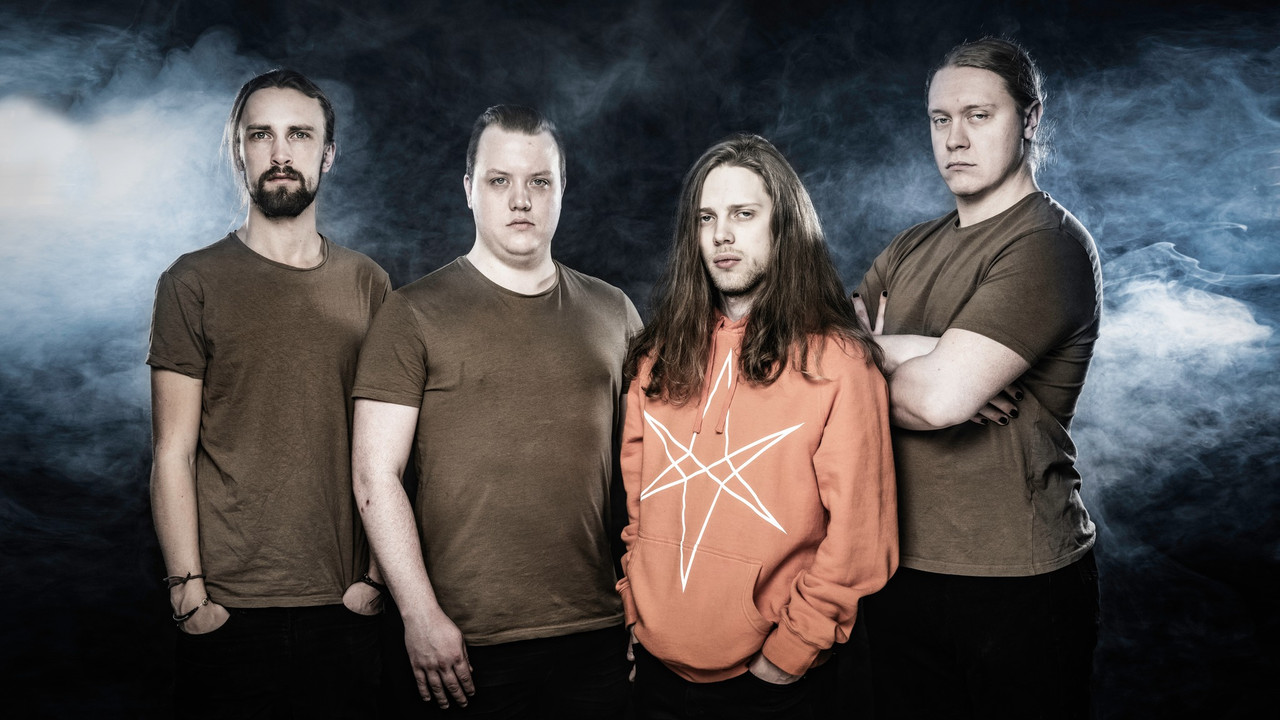 CLAY is a progressive metal/rock band from Piteå in the north of Sweden. The band consists of 4 members Tom Kristoffersson(Vocals), Daniel Fröjd - Wasberg(Bass/back vocals), Daniel "Danken" Nordström(Guitar/Backing Vocals) and Jonathan Fjällström(Drums). Tom and Daniel F are both educated sound engineers while Jonathan and Daniel N are both educated musicians that have all graduated from Luleå Technical University. CLAY aims to write music that will make the listener join in with the musicians and indulge in the stories being told. CLAY wants their audience to delve deep into the story, to unravel the mysteries and find the hidden plots hidden deep within the music, lyrics and art. CLAY released their Debut EP "Plague" in April of 2021 and released the single "Hegemonize" in March of 2022.
"Hegemonize" Single Review
The track begins with somber, moody instrumentation for the first minute before the vocals kick in. The stern Rock vocals kick in and meshes well with the A Perfect Circle like atmosphere. The pacing picks up steam around the two minute mark as it kicks into a higher gear for the chorus. The melodies are on point and the guitars riff like crazy. The pacing comes to a screeching halt as the three minute mark shifts its focus to a more laid back, almost hypnotic like Progressive Rock bridge. The bridge lasts for almost a minute and a half as the vocals enter back in and the track gradually moves forward and more upbeat with a stellar guitar solo taking over shortly after. The guitar solo leans in hard until the last minute where the chorus then takes over and hits on all cylinders to close things out with a nice heavy bite.
Verdict:
Clay crank out an epic seven and a half minute Progressive Metal gem.
-Interview- (4/25/22)
1. How did you get started with music and how did you develop your sound? Who thought of the name "Clay" and is there any meaning behind it?
Well we all come from slightly different music backgrounds. Daniel FW was raised with lots of classic rock and metal at home like Queen, Iron maiden, judas priest, and so forth. In the beginning he wanted to be a gitarrist and singer, but when it was time to choose a musical direction for the Swedish Gymnasium, he choose to play the bass, largely because of the influence of Steve Harris from Iron maiden. From there it has been to improve and create his own sound.
Tom Kristoffersson grew up in a family that encouraged music and his dad put him in for guitar lessons by the age of 8. He played for a few years, but really fell in love with music when listening to dubstep at around 12. A few years after that he found metal and rock, the he liked to learn to sing and play on the guitar. Bands like periphery.
Our Drummer Jonathan Fjällström grew up in a music family where everyone plays an instrument. He has been playing music as long as he can remember. Around the age of nine, he started playing drums and just a few years after that he discovered rock and metal. Music has always existed in the life of Daniel Nordström since his birth. Grew up on his father's love for 70's and 80's rock/metal. Particularly with bands like Iron Maiden, Judas Priest and Metallica. He started playing guitar when he was 13 and when he started community college, he fell right into the world of progressive rock/metal, particularly with bands like Dream Theater and Rush
The bands sound was developed through us just combining our different individual sounds. We already knew in which direction we wanted our musical creations to go, and moulded the sound from there. Letting the different instruments build on their strengths and letting our fellow bandmembers to lean on each other.
The band name clay was a United decision. We wanted a quick and easy name that kinda describes our music and philosophy. We don't want to constrict ourselves to one specific genre, to set boundaries we can't cross. Instead we write the music that we feel sounds good and pp00000eable to take the shape and form we want.
2. What do you want people to take away from your music?
We want people to listen to our music and its lyrics to discover either thier own meaning, or find the meaning that we put behind the music. Our latest single Hegemonize is the only song we will actually tell everyone what it's about before hand. For the rest of our music like the Plague EP, we want the audience to study the cover art, listen to the music and lyrics as well as the song names to discover the meaning behind. Sort of like a pussle.
3. How would you describe your sound to the average listener?
Our sound has roots in the progressive rock/metal scene, though yet not fully formed, We are willing to mix and to try different sounds and melodies to find our own spot in this ocean of noise. Our sound as of now is influenced by bands like TOOL and Porcupine Tree.
4. Who are three bands you'd like to tour with?
The three bands we would like to tour with is Gojira, Venegence and raised fist.
5. How has Covid affected what you do as a band?
Covid hit just a year after we had our first rehearsal. So just when we were going to start booking gigs, none were to be found. So instead we opted on writing our first EP and record that.
6. What's your take on the current state of Progressive Metal?
We have mixed emotions about the current state. We feel that there are some really good music out there, the bands are good with technique and proficient with thier instruments. But there is also a heavy focus, we feel at the moment towards progressive metal being all about technically advanced licks and a little to much "riff salad".
7. What's the current music scene like locally there in Sweden?
The local music scene in sweden is highly dependent on where you live. In cities like Stockholm, Gutenberg and Umeå there are diverse scenes and a few places to gig. But the smaller the city becomes, it seems there less venues to play at. Though some small towns have a real hunger for music, there are to many cities where a smaller band like us have trouble even getting 20 people to come and watch and hear us play.
8. What's your take on the royalties that streaming services pay out to artists?
The payout for music streaming is bullshit, the Industry as of now is almost dependent on musicians having a regular full time job, while simultaneously working full time as a musician. And with the streaming services being controlled by algorithms, musicians just have to stream their own song for 30 seconds and repeat. Eventually getting added to Spotify playlists and the like, to gain more streams. Aka "stream trolling".
9. What's next for Clay?
At moment we're focusing on writing music for an upcoming album. Hopefully hitting studios next year.
10. Any shoutouts?
We could shout out spiritual space, since our drummer has also joined that band. We also shout out blessed by iron, our bassists other band. Lastly a shout out to faith in failure for the support they have shown us!