Condemn The World (Metal) - Red Valley, Arizona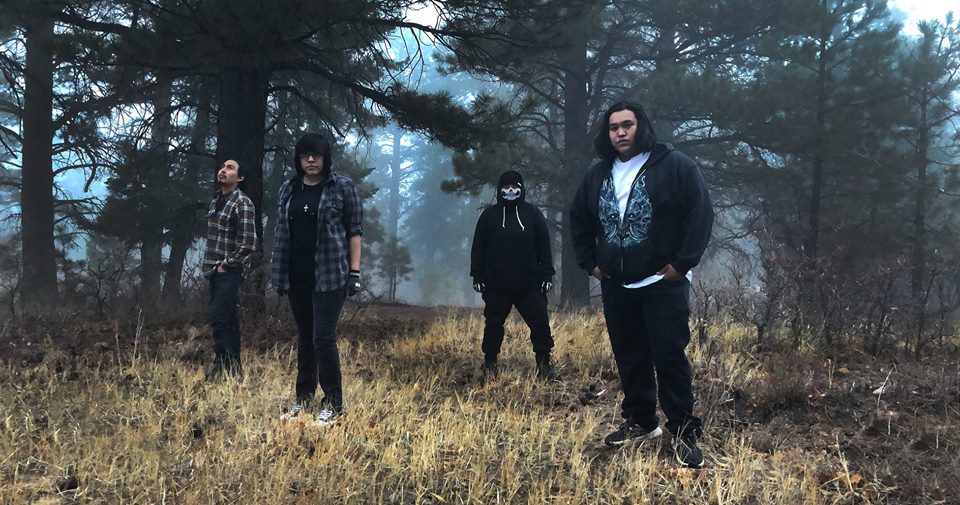 We are a 4 piece metal band from Red Valley, Arizona. We started off as cousins jamming until 2015 we decided to form a band and get our music out there and start our musical career as CTW. Our first album Condemned was released in 2016.
Upcoming Shows:
3/23/19 - Pinon Unified School District #4 - Pinon, AZ
"Sweet Lies Honest Hate" Album Review
Condemn The World are a young up and coming act from Arizona looking to leave their mark in the ever evolving Metal scene. Let;s dive in to their new full length album and let you know what they're all about. The opening "Intro" track is just that. It's an atmospheric track that sets the mood for the storm that's about to hit. "Breaking Free" comes in like a wrecking ball. From the opening riffs to the end chaos, the track is non stop excitement. "Us Against The World" is nearly Thrash Metal in its delivery. It's fast and unrelenting. There are shades of clean sung melody but it doesn't overtake the overall sound of the track. "Into The Storm" keeps the riffs and mosh inducing Metal sound coming. The track will surely churn up some circle pits with a whirlwind like riffs and explosive vocals. "Hold Me Close" (featuring Michael Begay) is a track that has a bit more melody than the previous tracks. The track overall veers more into the Melodic Metal section than anything else. "Secrets" is extremely heavy and will be a fan favorite for sure. It goes all out and doesn't hold anything back during its four and a half minute span. The single "Shape Shifter" is next. The track obliterates everything in its path with vicious vocals, crushing breakdowns and riffs for days. "Deception" closes out the album before an acoustic version of "Hold Me Close" kicks in. The track itself is a wonderful representation of what the band is all about. It's rare to hear an upcoming band as on point with their heaviness as this band is. If you're into the heavier spectrum of music, you need to check this band out as soon as possible.
Verdict:
Condemn The World's newest album is a vicious, hard hitting album that needs to be heard.
-Interview- (5/7/18)
1. How did you get started with music and how did you develop your sound? Who thought of the name "Condemn The World" and is there any meaning behind it?
We got started with music because where we come from we're the first metal band out of all country bands in Red Valley. We wanted to start our metal scene out here because country music is big and there was no place for metal scene happening. All the youth in the Four Corners are metalheads and we have shows time to time but we want to make it grow here in Red Valley. We developed our sound when we kept experimenting with different guitarist. Than we found our guitarist Triton, he gave us the sound we wanted and what we're going for which is that metal/metalcore feeling that gets you going! Our drummer Bonez actually came up with the name, the meaning behind the name is that we want to condemn the world of all the hate, evil and bullying.
2. What do you want people to take away from your music?
Sometimes life hits you in the face and you have to face it. We're hoping the songs that we wrote gets you through the rough times as it did/is for us because music heals!
3. How would you describe your sound to the average listener?
Metalcore with catchy choruses with aggression and electricity that leave you coming back for more!!
4. Who are three bands you'd like to tour with?
Skylit (Vocalist) – Arch Enemy, Butcher Babies, Evanescence
Triton (Guitarist) – All That Remain, Crown the Empire and Asking Alexandria
Chad (Bassist) – Killswitch Engage, Arch Enemy and Bring Me The Horizon
Bonez (Drummer) – Avenged Sevenfold, Bad Omens, Bullet for My Valentine
5. What are your three desert island albums that you'd never get tired of listening to?
Skylit – Joan Jett's Up Your Ally, Lacuna Coil's Delirium and The Pretty Reckless Light Me Up
Triton – All That Remain's The Fall of Ideals, Miss May I's Apologies Are for the Weak, Oceans Ate Alaska's Hikari
Chad – The Ghost Inside's Returners, Of Mice & Men's Restoring Force, The Devil Wears Prada's With Roots Above and Branches Below
Bonez – Bad Omens Self-Titled Album, twenty øne piløts Blurry Face, Bullet for my Valentine's Venom
6. What's your take on the current state of Metal?
Our current take on the state of metal right now is that there's so many versions and more pop sounding to them that we want to keep it to the roots of rock n roll in our music! Not enough aggression and energy in today's metal.
7. What's the current music scene like there in Arizona both locally and state wide?
The music scene locally is very small but bearable but the state in general is more metal based because blessthefall is from Phoenix and same as Message to the Masses.
8. What's your take on legal/illegal music downloading?
Illegal downloading of music makes it hard for musicians to have a living. It's killing the music scenes and it's not giving the artist the full potential they deserve.
9. What's next for Condemn the World?
New album releasing this year, more merch and maybe a couple small tours!
10. Any shoutouts?
We'd like to thank our family members who support us and help us with anything we need. Brandon from Studio 18 in Bloomfield, NM for being our show host all the time and giving us our first show, the gang at Dulce Rocks, Robb and Brent from Decapitation of a New Day, the band Testify, Robert Ortiz of Rezolution Radio KSUT 91.3, Manny from Native Metal Festivals, Peavey Amplifiers, Fender Amplifiers, Shure microphones, Yamaha Drums, Zildjian Cymbals and Sticks, Evans Drumheads! And most importantly the fans!