Count Vanni (Hip Hop) - Nassau County, New York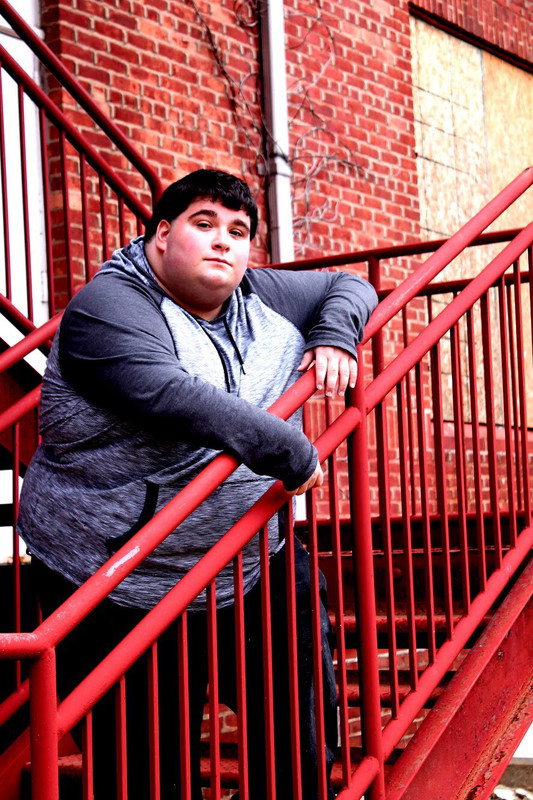 Count Vanni is a diverse rapper from Baldwin, NY. He began working on the skill at the age of 9 as an outlet for the anger and hopelessness he felt as a child. Between relentless bullying, a broken home and pent up rage and depression, he turned to the art form under the moniker Planet 946. After 4 years of trying to perfect it, he took a break at the age of 13 and started Complicated Arrangement in 2012 with his best friend Johnathan Espinosa AKA Doctor Noza. The band went on to release Plug It In, Crank It Up in 2015 and Indecisive in 2016.
While Indecisive was in the conceptual stages, Vanni befriended Buz Bomb, diverse artist who is the former guitarist of 80's band Violent Aggression. Buz encouraged Vanni to work on his original art form, hip-hop. Vanni used what he had learn as a punk artist to fill in the blanks of what he was doing as a hip-hop artist. The two started a group called Tha Hive, with Vanni going by Tha Nugget. They produced a small number of demos, and had a performance at the pour house in Spring 2016.
Complicated Arrangement released their second album Indecisive later that year on November 12th. The album contained elements of rap that had not been used in the bands earlier content, most notably in the single "14th & 8th". Since then, CA has been on an indefinite hiatus, with all the members doing their own separate projects. Count Vanni is set to release their very first solo album, "Psych Assessment" in spring of 2018.
Upcoming Shows:
More shows coming soon.
-Interview (3/7/18)
1. What's new? How did this project come about?
This is a project I've always wanted to do, but was too nervous to do my own thing, always felt the need to have my band be my safety net. So it's scary, but it's a breath of fresh air that I desperately needed.
2. How is the writing and recording process different than it was with Complicated Arrangement?
Well I'm no producer, and this is very new so I'm testing the waters with a free non-profit album. My secret is that I keep track of every rhyme and lyric that runs through my head in an app called Songwriters pad. Eventually everything comes together, unless I know what I want to write, then it's virtually the same as writing for CA.
3. What made you choose "The Hills" as a track to remix?
After my last breakup, I was a fuckin wreck man. Like, crying, drinking, breaking shit...I was in a constant state of breaking down until I passed out for a month. I went to sleep one of those nights with my Eminem playlist on shuffle. Woke up to his remix of The Hills. It just kinda clicked. I wrote my remix after taking some phrases from his and flipping them to mean completely different things. It was the first step to recovering from that mess that I was.
4. What do you want your live show to consist of?
I haven't decided that, but I want it to be an exciting and memorable experience. Maybe shooting some water guns, maybe some props, balloons, audience participation, all that good stuff.
5. Your original single "Selvaggio" features Second Nature. How did you hook up with him?
We met through Buz Bomb. Kane's a cool dude. Similar influence as me, unique voice, intricate flow...but yeah. I was working on this posse cut that Buz wanted me to drop a verse on called Little Do You Know, a remix of Alex & Sierra. He ultimately made 3 or 4 different versions all with different people on the final verse. I did one, so did Kane. The final version of it was MJ Holliday, Nicky Scarz, Buz Bomb and EZ Blues, cause Nicky didn't want anyone else on the official. On my upcoming album I have my own version, with features from Second Nature, MJ Holliday and Buz Bomb.
6. What are you currently listening to?
I'm listening to Eminem and his other projects, you know, D12, Soul Intent, Bad Meets Evil, that shit. Hopsin's new album is dope. Been bumping a lot of P!nk, Camila Cabello, Linkin Park, Motionless in White...I'm also getting into the Gin Blossoms. Radio shit that I don't really know the names of as well.
7. What's one thing you wish you could change about the current landscape of Hip Hop?
I don't wanna change anything, cause it's not my place to do. But if I could choose something that I think needs to change is the lack of variety, which is why I don't listen to that much rap. On my album, just like I did with CA, Is multiple different styles and sounds. This time with rap instead of punk as my primary.
8. Who are some of your influences?
I've gotten to the point where I can't really pinpoint what influences me. I think every time I hear something that resonates me it gets absorbed in. I will definitely credit lots of the artists mentioned in the previous answer.
9. Is there a release date in mind for more songs? Any music videos?
As of right now, I'm in the recording process of the album. When more songs are completed more decisions will be made.
10. What do you wish to accomplish in the next six months?
I'm releasing my rap debut Psych Assessment hopefully this spring, in the meantime I'm looking to play out a few times and get my name tossed around.
--------------------------------------------------------------------------------------
Complicated Arrangement
"Indecisive" Album Review
This three piece band from Nassau County, New York have drawn influences from Green Day, Bowling For Soup, and Simple Plan to name a few. "Our Call To Arms" kicks off the album with a piano intro before heading into a bass riff and some excellent drum work. The slow build of the track is on point and when it picks up, it's a force to be reckoned with. "March Through Hell" is a crushing track that has some metal influences to it. The gang chants, breakdowns and fast paced nature will surely appease fans of both punk and metal. "The Story Of Jade & James" brings things back to the punk side. There's an almost Green Day influence to the track as it perfectly melds both rock, pop and punk together in a catchy way. The dual vocals make it have even more depth to it. "Heartless" is a hard hitting track that'll get the live crowd moving and the circle pits started. It's raw, heavy and really takes the album up a notch in its intensity. "Sober" brings a crunchy rock (almost grunge) sound to the forefront. The track doesn't let up and keeps the listener well engaged in its catchy riffs and easy to sing along chorus. "I Can't Take" hits right away with an almost White Stripes bass riff. The track then features some stellar guitar work mixed with melodic verses combined with a chorus that also adds some harsh vocals. The track overall has a dynamic of metal and rock that is rarely seen or done this well. "It's The End" is an incredibly short, fast punk track clocking in at 38 seconds. It's something different and shows they can shred fast if they wanted to. "14th & 8th" is an extremely catchy rock track that has that California beach sound. The track has hit written all over it. "Judgement Day" brings the pace back up and gets things back up in the heavy realm of sound. The track has that early 80's metal sound to it and shows that they still have a few tricks up their sleeve even this far into the album. "Requiem Aeternum" is an organ filled interlude which sets up the next track "Forever". Their single "Forever" features some harsh screaming, passionate vocals combined with the slower melodic punk rock instrumentation make this a standout track. The production is top notch as the breakdowns and lyrics are as hard as ever. As The lyrics go: "you'll be sorry" if you don't check out this track from this promising three piece punk band. "Epiclogue" is a 25 second track that has to be heard to be believed. "Rebirth" is the bonus hidden track that is a medley of their previous offering. It shows the progression of what their older material and the evolution of their signature sound. We're pleased to say that their new full length is extremely polished, well produced and should be in every punk and rock fans collection.
Verdict:
Complicated Arrangement has something for everyone to enjoy with their new full length album.
-Interview- (9/17/17)
1. Your "Indecisive" album has been out for a little bit now, what do you want people to take away from it?
CV. I'm very proud of that record and it'll take a lot of branching out and beating myself up to compete with it. That being said, art is interpretive and I believe that it's up to the listener to take whatever is relevant to them or what they're feeling and what they believe in, that's the beauty of music and art. There's no 2 people who hear it the same. I've actually had people tell me that "Forever" helped them while they were contemplating suicide and that "I Can't Take" got them through the toughest breakups of their life. None of them know exactly what I was feeling when I wrote what I did, but they take what they need and I love that. Even I take different things from the record as I grow and mature.
2. What's the word on new music?
CV. There's a lot of kinks we need to work out, considering we're pretty much a brand new band again. We're going to most likely be demoing before we get started on an album. There is talk of a new record, and the only reason Complicated Arrangement got back together is because of the death of Chester. He was always a huge inspiration to me as an artist and when I heard the news the world stopped for me. That being said, we are really taking our time to make this album. Ideas are being thrown around from every corner of the room but we are making this a very collaborative effort and as of right now the record is shaping up to be very heavy but we never know what may come our way. Stay tuned.
3. You guys have always been playing lots of live shows. What's a show memory that always sticks out?
CV. One of the best memories I have is when we played that summer show at Shakers in 2016. We put on the best show we ever have and got amazing feedback, but the best was the crowd response. It was very intimate and cooperative...I called Lucas Santora (ex-Bailout 42) Daddy because of something involving Free Bird, then everyone moshed. We actually got complaints because of everyone throwing each other into the wall...but nobody got hurt, everyone had fun and this was before "Indecisive" was finished. And we had a small wall of death during "Judgement Day".
4. What's new with you guys?
CV. Noza and I made the decision to reform Complicated Arrangement after the death of Bennington and brought on a brand new member. We don't have a real name for him yet so we've been calling him Drummy McDrummerface in the meantime. We also made a last minute decision to bring in a new bassist so I could stop playing guitar and be the frontman I always wanted to be. We call him Buff. As I said before. Working shit out.
5. What's a trend in the Punk genre that you wish would just go away?
CV. The need of a "scene". What fucks up bands more than anything is the fact that when bands try new things they are labeled as fake or sellouts. We've had fans of "Forever" tell us they don't support us because "after Forever you made "14th & 8th" for more success" saying we're being untrue to ourselves. Yo dumbfuck 14th & 8th came out first and both songs had an equal amount of praise. But that's the issue. I'm okay with it if you like one song and not the other, but nobody's selling out. Literally we are semi-known on the Island for our diversity and stage banter. But I'm not going to apologize to the Pop Punk Scene that every song can't be about angsty relationships and fucking my cat. Get over it and stop whining, if you only like one genre we were never meant for you.
6. Are there any bands you'd recommend people check out?
CV. I love Obelisk, I've been rocking out to their demo a lot lately. I also like Nexus Canvas. But check out Obelisk. Really. Like now.
7. What's a pre-show ritual you have?
CV. I usually get really bad stage fright before a show, sometimes even end up throwing up. Noza normally just gets lost minutes before the show and finds his way to the stage at the last possible second.
8. Out of all of the tracks on the "Indecisive" album, which are your favorites to play live? Which get the best crowd response?
CV. "Heartless" is a real crowd pleaser even though I'm really not a fan of playing it live. Same thing with "Judgement Day". My favorite live song off "Indecisive" is "Forever" which we only started playing recently because of the bad memories it harbors. I break down every time I play it but try not to make it obvious. I love it because it's the most real to me.
9. What's next for Complicated Arrangement?
CV. Anything and everything. We never know what's next until it happens.
10. Any shoutouts?
CV. The Dirty Shovels for not kicking my ass and our former drummer Stix for his work on "Indecisive".