Crawling Manifest (Metal) - Greensboro, Maryland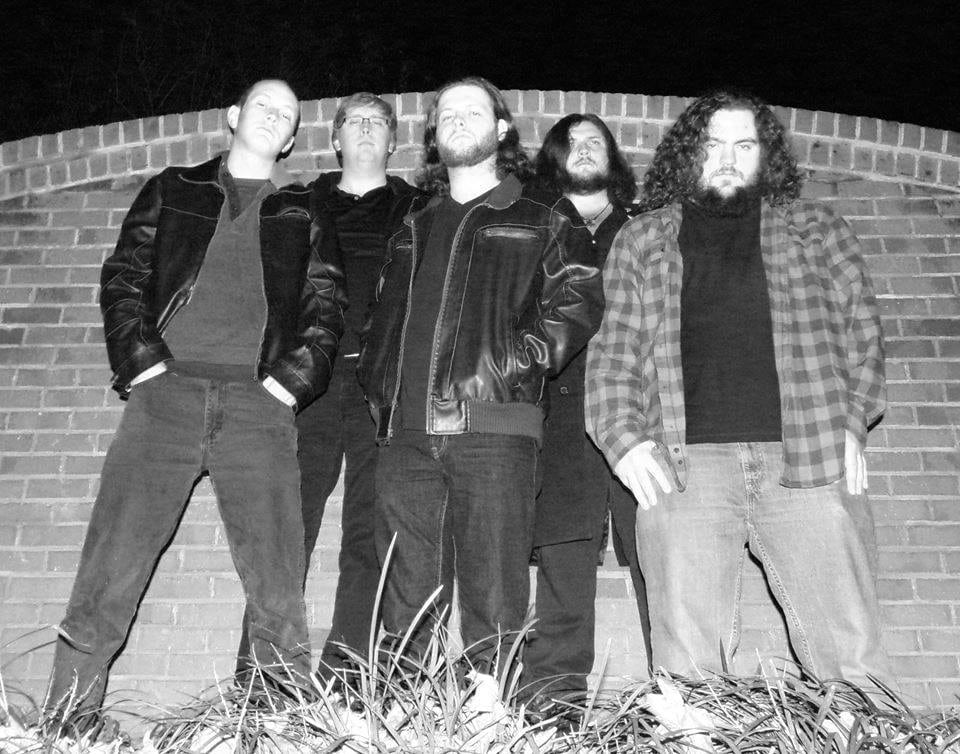 Crawling Manifest is a band that prides itself upon the ideals of brotherhood, life's lessons and believing in one another. Growing up in numerous areas with many different musical influences ranging from a great number of metal genre's including power metal, metalcore, speed metal, thrash metal, post-hardcore, punk rock and even folk and pagan metal. Dueling guitar solos, catchy choruses and fast as hell drum beats all come together to rock the house and keep audiences on their feet and their ears bleeding. Something big enough to stand the test of time, forevermore!
Upcoming Shows:
5/14/18 - Skid Row Garage - York, PA w/ Dead Atlantic
5/15/18 - New York Pizza - Greensboro, NC w/ Dead Atlantic
5/16/18 - Championship Bar & Grill - Trenton, NJ w/ Dead Atlantic
5/17/18 - Great Arrow - Pittsburgh, PA w/ Dead Atlantic
5/18/18 - Mum's Bar - Federal Hill, MD w/ Dead Atlantic
5/19/18 - VFW Post 9274 - Fall's Church, VA w/ Dead Atlantic
"Hall of the Gods" Single Review
Crawling Manifest just released their newest single, so let's not waste any time and get right into what their new music is all about. The track starts off in high octane fashion. The Thrash like tendencies are on full display as the riffs and vocals drive full speed ahead. The clean sung chorus brings to mind Iron Maiden as it simply soars into the atmosphere. The riffs keep coming in the next verse and transitions naturally into the super catchy chorus. Halfway through the track, the guitar takes over for a powerful guitar solo which simply shreds. The ending of the track is bonkers and somehow kicks things even up faster, louder and more melodic. It's another awesome track by an incredible band who keeps maturing and evolving.
Verdict:
Crawling Manifest's new single proves that they're are a force to be reckoned with.
"Still Waiting" Single Review
Crawling Manifest are a Metal band from Maryland who just came out with this single as a follow up to their critically acclaimed "Forevermore" EP. Let's dive in and see what the new single brings to the table. Right from the get go the single blasts full speed ahead with no frills Metal. Once the verse kicks in, it gets even heavier sounding as it takes flight into the upper echelon of the genre. There are some clean sung vocals in the chorus along with the harsh ones to help make it even more intense. There's a slight In Flames feel to the track as it glides along and doesn't slow down. Later in the track, it goes off the rails and comes with a guitar solo that'll knock your socks off. The track sloes off with the controlled Metal chaos that Crawling Manifest is known for. It's four minutes of Metal awesomeness.
Verdict:
This new single from Crawling Manifest pulls out all the stops to create a top tier Metal track.
"Forevermore" EP Review
Crawling Manifest has been coming up through the ranks of the metal scene for a bit now. Their brand new "Forevermore" EP is out now and for fans of metal, this is a release you do not want to miss. "At The Gates" opens things up with a fast and heavy. The track goes full throttle and incorporates some clean vocals which brings to mind Iron Maiden. It's a furious melodic metal track that sets the tone perfectly from the get go. "Speed Demon" is exactly as the song suggests. The track has shades of Megadeth and will get the circle pits moving in full force. The breakdown halfway through the track is glorious as well as the guitar work is top notch. "Blistering Inside" is more melodic than the previous tracks but by no means does that make it soft. The track seems to have more of a Gothenburg metal influence to it in which makes it truly shine. Everything about the track is outstanding. "Undying" is tough as nails. The track is more Children Of Bodom in its ferocity and sound. It once again shows the depth and talent of what the band is capable of. "From Afar" is the first single off the EP and it doesn't disappoint. The signature sound of Crawling Manifest is on full display on the track. It's melodic, heavy, fast and knows how to hit all the right buttons with a listener of metal music. The guitar solo on the track is out of this world. The closer "Tabula Rasa" just as with the rest of the EP, doesn't hold anything back. The track is tour de force of metal and really closes things out perfectly.
Verdict:
Fans of metal will love this new EP from Crawling Manifest.
-Interview- (8/16/17)
1. Your "Still Waiting" single has been out for a little bit now. What do you want listeners to take away from it?
"Still Waiting" is very much a song about being at your lowest of low points. Every single one of us have hit that point in some part of our lives, and this song was basically a shout out saying, "Hey, you're not alone. We feel like that sometimes soon."
2. How does "Still Waiting" compare to your previous material?
It's completely different from our previous material, but we did our best to stick with what we do and who we are. We feel like we really did that with this single, something fresh, but familiar.
3. You've played with quite a few national acts in the past year. What were some live highlights?
Andrew Mimms: For me, Starkill was amazing. I have been a fan of the band for a while now and it was cool to play with them. Spellcaster who also played that show was amazing for me as well.
Andrew Gladu: Fleshgod Apocalypse was definitely my favorite. There is nothing quite like playing a completely sold out show, and hearing that huge group of people all cheering for you is a feeling I will never forget.
Trevor Layton: Fleshgod Apocalypse, Soulfly, and Goatwhore would probably be my highlights from what we've played so far.
4. What are you currently listening to?
Andrew Mimms: A lot of Power Metal and 80's style metal. Spellcaster, Battle Beast, Ascension, that kind of stuff. Also Melodic Death stuff like Insomnium.
Andrew Gladu: Lately I have been getting back to my roots with Metal. Classic bands like Iron Maiden, Judas Priest and Queensryche. On the more present side of things, I have been listening to a lot of Battlecross, Shattered Sun, and Helloween.
Trevor Layton: A solid mixture of Queensryche, Psychobilly, and Death Metal.
5. What are your top three albums you could be stuck on a desert island with and never get sick of?
Andrew Mimms: Dragonforce - "Maximum Overload", Coheed and Cambria - "No World For Tomorrow", and Sonic Syndicate - "Love and Other Disasters".
Andrew Gladu: Shattered Sun - "Hope Within Hatred", Metallica - "Master Of Puppets", and Killswitch Engage - "When Daylight Dies"
Trevor Layton: "Empire" - Queensryche, "The Blessed Hellride" - Black Label Society, "Glad Rags & Body Bags" - Zombie Ghost Train
6. Is there more music coming after the "Still Waiting" single? Will there be a music video shot for the track?
We don't want to reveal too much just yet, but there is definitely more music on the horizon. Maybe a new Album? *Hint Hint*
7. What's your take on streaming services and the royalties they pay out to artists?
Streaming services are an excellent way to bring music to literally everyone. The royalties they pay out to bands suck, but they make sense. They have already started to take over the industry, so we either have to go with the flow, or get left behind.
8. What do you want to achieve in the next year with Crawling Manifest?
Over the next year, our main focus is new music. We are working on some killer tracks that are sure to impress, and cannot wait to let you all hear them!
-Interview- (7/22/16)
1. How did you get started with music and how did you develop your sound? Who thought of the name "Crawling Manifest" and is there any meaning behind it?
In the Fall of 2013 we started this band for our love and passion for music. Since then we have grown as musicians and friends to create what Crawling Manifest is today. As for the name, the longer we spend as a band together, the more our sound has progressed, slowly but surely over time. Over time we also mature as people and musicians, thus the name Crawling Manifest.
2. What do you want listeners to take away from the "From Afar" single?
We would like people to have a taste of one of the many sides of the band, and look forward to what is to come.
3. What can people expect from your live show?
A hard hitting, high energy, heavy metal experience.
4. What's your favorite track to play live?
"Speed Demon".
5. Who are three bands you'd like to tour with?
Amon Amarth, Children of Bodom, and Iced Earth.
6. Any crazy show stories?
Back in February, we played a sold out show with Fleshgod Apocalypse and had a mosh pit that spanned the entire venue throughout the set.
7. What's your take on the current state of metal?
Heavy Metal is definitely alive and well, however it is getting harder and harder for bands to reach out to fanbases and get heard.
8. What's the current music scene like there in Maryland both locally and state wide?
Maryland is know for Maryland Deathfest, which is a music festival that people come from around the world to see. Baltimore itself is a well known stop for metal, with bands worldwide looking forward to that stop.
9. What's your take on legal/illegal music downloading?
Obviously, stealing is wrong. However, as musicians our only hope is for people to hear our music, and if they can only do that by downloading, then so be it.
10. What's next for Crawling Manifest?
Throughout 2016, we have shows lined up with Nervosa (Thrash Metal), Kataklysm and Carach Angran, as well as releasing our debut EP "Forevermore."
11. Any shoutouts?
Marcus Leal of Shattered Sun for giving us the confidence to pursue bigger opportunities.
Daniel Hill and Alchemical Records for giving us an opportunity with their label.
Zachary Ohler for booking us onto many of his shows throughout the past year.