Dawn Vally (Metal) - Toronto, Canada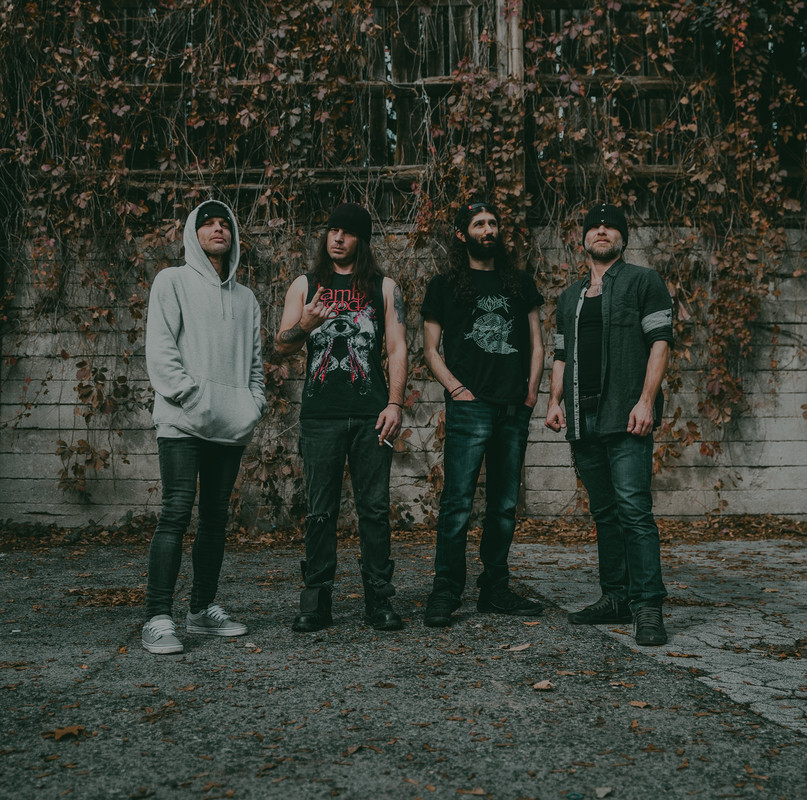 Dawn Vally was formed late 2007 and have made their mark through high energy shows an heavy sound. Since then they have released 2 demos, 1 E.P. They recently put out their first album "Just Pleaser" in November 2013. Currently Dawn Vally is working on a new E.P slated to be announced 2015.
The mainstream is getting heavier. The people are getting angrier. Dawn Vally is a band that reflects this. They don't believe in being silent because Metal is an "underground" genre. It is not and they aim to make sure everybody knows it with headbanging, body rattling music that incorporates many different musical influences from progressive to southern rock!
Upcoming Shows:
More shows coming soon.
"Gardens" Single Review
The track kicks right in with a Vein like breakdown that goes bonkers to get the carnage started. The first verse continues the audio onslaught as the Deathcore vibes creep in. The track brings with it early Bring Me the Horizon vibes as it veers towards a monster of a breakdown halfway in. There's a build to a guitar solo at the two minute mark that help close out the last minute of the track in style.
Verdict:
Dawn Vally go for the jugular with their new chaotic single.
"Still Bleeding" EP Review
Dawn Vally are a young band that have finally unleashed their new four track EP. Intending on leaving their mark on the Metal scene, it's dive in and see what they're all about. "It's Like, Getting A Rabbit Off Your Back" kicks things off right away with breakdowns galore and harsh vocals that mix near Deathcore vocals with a more modern Metalcore instrumentation. It's an awesome sound and keeps things sounding different from other bands in the scene. The guitar solo on the track comes out of nowhere and really adds a flair to the track. The earth shattering end breakdown is enormous. "Diluted" has a Southern guitar riff thoughout and really shows diversity in its sound. The Hardcore breakdowns mesh with the traditional Rock sound and the growling vocals surprisingly well. The guitar solos on the track are stellar and keeps the rapid face pace moving along without a hitch. "That Sloppy Girl You Once Knew" is the single off the EP and even had a music video shot for it. The track will surely induce head banging with its heart pounding guitar riffs and out of this world drumming. It's such a powerful track to get the adrenaline flowing. The closing track "Fake Lashes" elevates the sound and incorporates more breakdowns. The track brings to mind early Parkway drive with its intensity. It's a top notch closer to a fantastic EP. Metal fans should check out this EP right away.
Verdict:
Dawn Vally deliver a punishing EP that is sure to attract fans looking for a Metal band ahead of the curve.
-Interview- (8/29/18)
1. First off, what's new with Dawn Vally?
Well some might not be excited to hear this but we are in the process of getting a new guitarist on board. Again lol.
2. What's the word on new music?
We are actually currently in the studio quickly trying to finish up our re-recordings of our some old tracks. We had a little bump in the road with loading our guitarist. Won't hold us back though.
3. What were some highlights in the past year for Dawn Vally?
We've actually had a pretty good run this past year, for starters "Still Bleeding" is not even a year old yet and has already over 100,000 streams on Spotify which we think is pretty cool. Joe Nail our drummer got a cymbal endorsement by the lovely people over Murat Diril Cymbals Canada, go check them out (shameless promo) Which we're excited he's apart of their team. We've also joined forces with the guys over at The Foundation Agency to help us out with shows, they're cool people helping us out with things. And Sycrote's baby girl Tallulah turned 3 recently. But ya generally just thought it was a pretty killer year for us.
4. You guys have always played tons of shows. What makes you crave playing live as much as you do?
That's actually a funny question, never really thought about that lol. I guess it's like a drug you always need to get that live fix lol.
5. If someone listens to just one of your tracks, which one best represents you?
For me I would say and I believe the band would say "That Sloppy Girl You Once Knew" or even maybe "All Pussies Get Eaten".
6. What's your take on the genres of Metal, Metalcore and Deathcore?
They're fun still. I see a lot of people trying to do the Metal Instrumental Metal thing which is cool but I feel like nothing beats a really tight band kicking you in the face so to speak. There seems to be a major interest in Deathcore again these days same with Hardcore. I think it's going to be interesting to see what kind of music come out in the future.
7. You've had some tremendous music videos for your last EP. Any word on any new videos coming out?
Thank you, yea actually we got one last video coming out for "Fake Lashes" the last track off our "Still Bleeding" e.p. It's going to be a live music video thing lol, basically just recorded at our last Toronto gig.
8. What's next for Dawn Vally?
We are planning on putting out our re-recordings in a new e.p called "Bleed Through Your Ears" HD Remaster and soon after that we will also be releasing a fresh new e.p currently untitled. It's going to be a pretty fun year for us for sure, all of that includes new merch, videos, tours, promos blah blah blah oh and a new guitarist.
9. What do you want to accomplish in the next year?
We wanna stretch our reach for shows, maybe start crossing some borders but we will have to see for that.
-Interview- (9/15/17)
1. Your new music video for "Diluted" just came out, tell us a little about how the music video concept came about.
Thank you, we're actually really proud of this one but we honestly didn't have a clue as to what to do for the video. So when it came to the concept we took what the song was about and the guys over in Trenches went to the races, so to speak.
2. What was the music video shoot like and who directed it?
Honestly really tough, had some bumps in the road but we got back on track quick time and killed the shoot. Like for example when we first got to the rehearsal space, we booked the wrong size room so we had to work with it. You can give all the thanks to Alex McFarland and his crew in Trenches Media Inc. they are the shit.
3. You guys have always been playing lots of live shows. What's a show memory that always sticks out?
Here's 2 both involving our drummer Joe Nail and both within a year. First we're headlining, last song last breakdown killing it people loving us and right at the end of the song he pukes all over the kit and stage and someones else's kit, was pretty metal to say the least. Second, same deal headlining last song last breakdown, he catches his knuckle or the inner finger part close to the knuckle on the side of his snare and gashes himself all huge like and starts bleeding all over the place.. We go hard in Toronto lol.
4. Is there new music on the horizon for you guys?
Yes most definitely!!
5. What's a trend in the Metal genre that you wish would just go away?
Auto tune singing, I mean grow some balls.
6. Are there any bands you'd recommend people check out?
Reflections, not local but amazing. More local, Drag The Lake, Die Hex, Falsifier and CREATURES.
7. What's a pre-show ritual you have?
Coffee, stretching and weed lots and lots of weed lol.
8. Out of all of the tracks on the "Still Bleeding" EP, which are your favorites to play live? Which get the best crowd response?
"That Sloppy Girl You Once Knew" because people always go nuts and "It's Like, Getting A Rabbit Off Your Back", just got that bounce.
9. What's next for Dawn Vally?
Well you didn't hear it from me but you might see another music video around the corner.
10. Any shoutouts?
Hell yea, go show some love to Atomic Tomb.
-Interview- (2/17/17)
1. Your new "Still Bleeding" EP is about to be released. What do you want listeners to take away from it?
A good time hopefully, we try not to take ourselves to seriously and put out music that could express many types of emotions.
2. How was the "Sloppy Girl" music video like while shooting? What was the inspiration for the video?
For us we just wanted to get ourselves in a video. We knew wanted to keep it simple so we just decided to shoot it at our jam space, which turned out pretty good.
3. What's the music scene like there in Toronto?
All over the place as in we have many types of metal going on in the city. You could have yourself a Death metal show right down the street from a hairy metal show and everyone supports everyone so it's always a good time no matter what you decide to do. Not to mention all the other types of music in the city.
4. What's your favorite track to play live?
Mine personally is "Chunkafunkalis". As a bassist I feel it's very fun to play and it to me has a couple different styles which are fun to play live.
5. What artists are you currently listening to? Any acts you recommend that people should check out?
Well there are many but on the local as always we love Drag The Lake they always kick ass and put on solid performances. Another bunch of guys in the scene called Falsifier are a force to be reckoned with. But on a more larger scale I'm listening to alot of Reflections and Chance The Rapper.
6. What was the last concert you went to as a fan?
I would have to say that Falsifier show, they kick ass, also Black Tongue where amazing live.
7. As an artist, what's your take on the streaming sites (Spotify, Tidal, Apple Music, etc.) and how they pay royalties to bands?
I look at it more as a way to get our music out there as to making money. Maybe when we're making the big bucks my thoughts will change lol.
8. How would you describe your music to the average person?
I would say we got a groove southern Metalcore thing going on with some high energy shows and don't forget the solos lol.
9. What's next for Dawn Vally?
Well we wanna go right back into the studio and put out a new single as we got 2 guitarists now and wanna get his flair out there as well. But for the more present site of things we wanna go out and play everywhere can pushing our new EP "Still Bleeding" out to everyone.
10. What do you want to achieve in the next year?
3 more videos, a couple new singles and to play in tons of new places reaching new faces.
Interview (9/22/15):
1. How did you get started with music and how did you develop your sound? Who thought of the name "Dawn Vally" and is there any meaning behind it?
Me (Joe Nail) and Jeff Period have been jamming together wanting to play in a band since we were kids and then when we entered high school we started playing with random bands with friends until we finally decided that we needed to play metal. So after high school me and my brother just played and wrote together for a year till we thought about asking our younger brother Nick (Sycrote) to try screaming for us which worked out really well he has a natural talent for it and it doesn't really bother his throat to much to do it. Our sound has developed over the years mostly due to the fact that we have had four very different guitar players and mostly tend to write the songs between the three of us while using the other players around for influences.
As for our name we where just brainstorming band names on the way to work one morning on the Don Valley Parkway (dvp) and we thought Change Don to Dawn and leave the "e" out of valley so its easy to search online and that's a great band name. So we went with it and loved it.
2. What do you want listeners to take away from your music?
We want our listeners to always remeber that you don't need to change yourself to be cool, we are all cool! Unless your an asshole, which is why we try to write with many different styles within our songs so people will see that there is more to metal then just heavy.
3. What can people expect from your live show?
A great time with lots of energy on stage and four sweaty guys!
4. How has the response been to the "The Sloppy Girl You Once Knew" single remastered thus far? What's your favorite track to play live?
The response has been great on our the latest release for us and we can't wait to show the rest of the album to everybody. We have a music video in the works and we are very excited about that too. Our favorite song live, well, we all have different ones but mine (Joe Nail) is "All Pussies Get Eaten". I love the words to that song and its just so heavy. Jeff Period loves to play "Just Pleaser" because it's a party. Sycrote loves to play "Shotguns Gone South".
5. Who are three bands you'd like to tour with?
Parkway Drive, Refused and Lamb Of God.
6. Any crazy show stories?
One time after a set we were just moshing out and I (Joe) got punched by a couple guys and ended up having to go get 7 stitches over the eyebrow but not before we tore that place up looking for those guys. Sycrote ended up throwing a guy through a table and our guitar player at the time bitched slapped a dude in front of some people which was pretty funny.
7. What's your take on the current state of metal?
We believe metal has come a very long way from where it started and that's great but the mainstream needs to realize it's wanted. I hate how it's denied mainstream attention cause people just say its not wanted.
8. What's the current music scene like there in Canada both locally and country wide?
It seems to be doing well. We have a lot of Canadian bands getting attention from record labess and even Wacken Open Air has done well. We had two winners of the event from Canada in the past little bit so that's great.
9. What's your take on legal/illegal music downloading?
Do it! Get our stuff every where. Make sure to spread the word and if you like the band. Buy the album and see them play live.
10. What's next for Dawn Vally?
We are gonna get our new EP out called "Still Bleeding" and you can check the latest single called "That Sloppy Girl You Once Knew" up online on all our sites. We are gonna pump out that music video and get our butts on the road for some shows. We also have a 10 year anniversary of our first CD called "Pigeon" coming so that's gonna be fun to plan for.
11. Any shoutouts?
Intervals, Drag The Lake, Afterimage, The Contortionist and our boy's in The Dead Sexy's.