Death Gravity (Metal) - Texas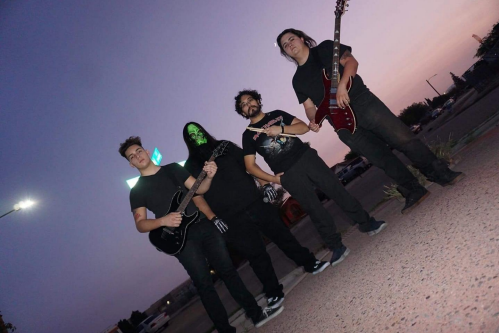 In the Spring of 2020, after an unsuccessful musical venture, Death Gravity was formed by Cristian Ponce and Joe Gusano. Originally consisting of only 2 members, Death Gravity quickly recruited Alex Ogaz on lead guitar after he, too, left the previous band. Alex, Cris and Joe began working on the first iteration of Death Gravity's first single Midnight Flare. Still in need of a drummer and bass player, Death Gravity was running out of options when ex drummer, Carlos Magallanes, needing to pick up gear from Cris, learned about Death Gravity and eagerly volunteered to fill the drummer position. With an almost full roster, the band continued work but received it's first blow when Joe stepped away.
In dire need of another guitar player, Alex suggested an old friend. A few weeks later, Dustin Wagnon joined as an official member. Just as the band was preparing to start playing live shows, the COVID-19 pandemic brought all prospects of shows to a temporary halt. Undaunted, Death Gravity continued to work and decided to enter the studio and on Halloween of 2020, Midnight Flare was officially released as the band's first single. After great reception, the band continued to work on their first EP, The Void. The band has continued to work, not only in the studio, but has built a sizable social media platform. In the summer of 2021, Death Gravity will start their first tour, forgoing any previous live shows, to bring the world power that only a Black Hole could match.
"Lost" Single Review
The track begins with a somber vibe as the riffs build a melodic, gentle setting. The vocals join in with a smooth melody as it glides along the first verse and guitars swirl effortlessly around. At little after the two minute mark, the track takes a turn and cranks up its intensity and emotion even more. The pacing dips back down with the next verse and hits the heavy chords in its chorus. The guitar solo around the four minute mark blasts the track into the stratosphere. The subtle guitar work in the background when the chorus hits back in after is stellar in its delivery. The instrumentation mostly takes over in the last minute to close things out.
Verdict:
Death Gravity's newest single is filled to the brim with passion and emotion.
-Interview- (11/18/21)
1. How did you get started with music and how did you develop your sound? Who thought of the name "Death Gravity" and is there any meaning behind it?
Most of the members of Death Gravity met in a previous band and decided to continue playing after that previous band failed. We developed our sound from our current ethos, everything is allowed. We all take influences from a wide variety of different other genres. Ranging from metal, thrash, death metal and power metal to jazz, reggae, funk and classical.
2. What do you want people to take away from your music?
We would like people to feel the freedom of expression we bring. No idea is too far fetched, no emotion forbidden. We want our fans to connect with us but at the same time allow them to interpret our songs in their own way, to find their own meaning and share with us, it's incredible how drastically and beautifully different everyone's perception is.
3. How would you describe your sound to the average listener?
An aggressive and powerful sound that simply makes one want to bang their head and move along. Not dissimilar to bands such as Avenged Sevenfold, Killswitch Engage, Lamb of God and Bullet for my Valentine.
4. Who are three bands you'd like to tour with?
Avenged Sevenfold, Bullet For My Valentine and Black Dahlia Murder.
5. How has Covid affected what you do as a band?
The COVID pandemic really did not stop us. Even though we couldn't play live shows, it gave us the opportunity to lock ourselves in the studio and record our material as well as to give us the opportunity to get to really know each other's musical direction which allowed us to polish our sound even further.
6. What's your take on the current state of Metal?
Metal and Rock in general are, unfortunately, not what it used to and should be. Despite there being loads of talent, it seems that the 2010's saw a very small demand for metal compared to the previous decade. But it seems that the COVID lockdown has given people the need for an outlet for pent up emotions and a new demand for Metal is on the rise. A demand that Death Gravity is more than ready to meet and exceed.
7. What's the current music scene like locally there in Texas?
The music scene in Texas is currently booming again, many old and new bands coming out from lockdown ready to put themselves out there. One problem, in our opinion, is that most bands go unnoticed namely due for the huge amount of competition but also from bad promotion or lack thereof. Social media is more important than ever and a lack of such is akin to being in social darkness.
8. What's your take on the royalties that streaming services pay out to artists?
There is no way to say this politely so we will just be honest. Royalties from streaming services are just plain and simply bad. We have had tens of thousands of plays on all streaming platforms yet have only seen less than $20 in profit. Wen understand that there is a cost for distribution, but all artists, us included, are also self produced and recorded. To see all that work be devalued in such a way can be very disheartening.
9. What's next for Death Gravity?
The next step for us is to begin touring, we have songs that are ready to be released and many more on the way. We would like to get our sound to as many people and places as possible in order to get fans ready for our debut album. We never stop working and we give our fans what they want, honesty and passion.
10. Any shoutouts?
We would like to give a shout-out to...