Eglaf (Metal) - Pennsylvania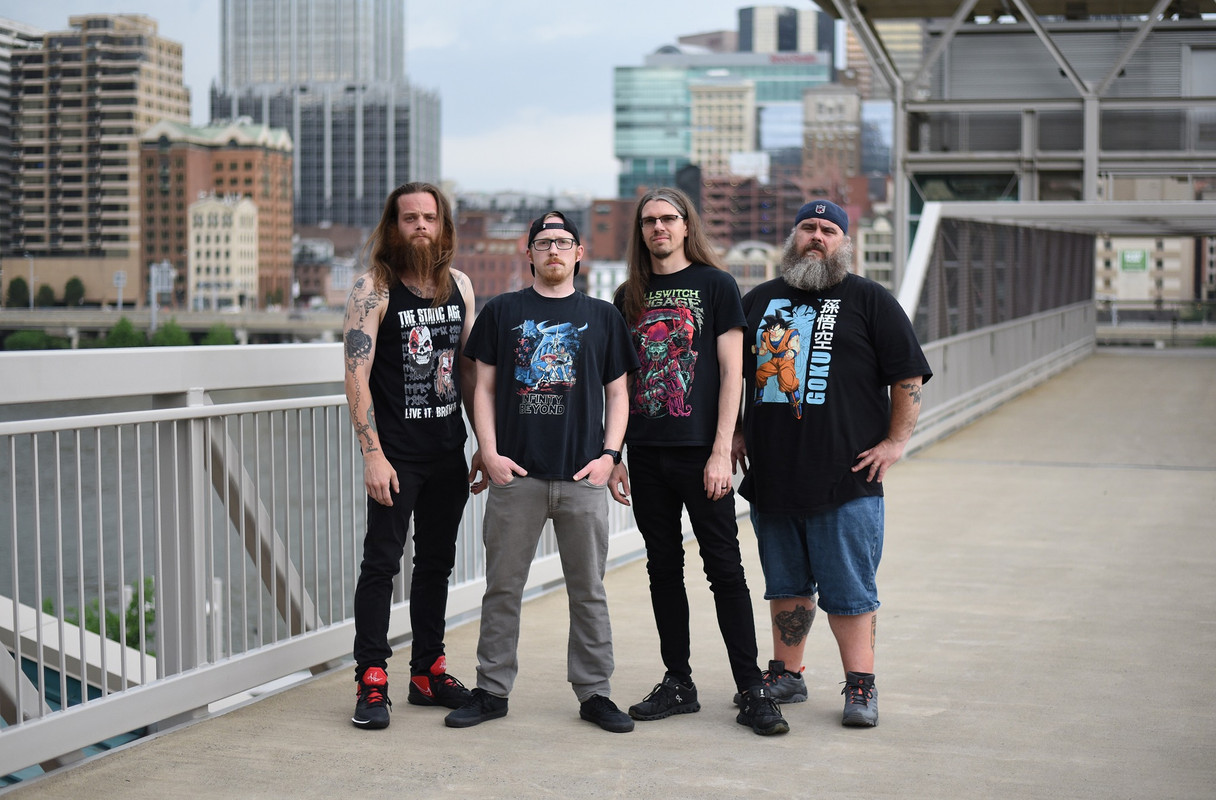 Proudly hailing from Pittsburgh, Pennsylvania, Eglaf is a 4 piece metal band comprising of River Nuzzi, Tom Benoit, Chris Knepp, and the Drumslayer himself, Carl Criss. With their powers and influences combined, Eglaf are out here creating an aggressive and melodic blend of riffs and rhythms that are aimed to be something that any genre of metalhead can appreciate. Whether you're into the classics such as Metallica and Pantera or someone who enjoys the occasional odd time signature à la Misery Signals and Counterparts, Eglaf will blast your ears with melodies and licks so catchy that you can't help but move along to them.
While they do wear some of their influences on their sleeves, they're also attempting to break out of the mold and just create music that they themselves enjoy playing. This philosophy led to their decision to forego a bass player and to utilize additional hardware in order to create a unique sound. In their live performances, you can see the passion that is put into the writing process. Since forming in the early days of 2020, they have released two self-produced E.P.s and continue to write and perform, putting out a new song roughly every 3 or 4 months.
"Breached" Single Review
The track starts off a little slow before picking up steam with its aggression. The first verse blazes a scorching path moving forward with its intensity and melodic riffs. The chorus harkens back to the days of Melodic Hardcore in its delivery. Ths second verse continues the onslaught of Metal as the riffs are more prevalent in their approach. The track overall brings to mind shades of Nodes of Ranvier (Victory era) in its ferocity. The end of the track sees it go off the rails in all the best ways that'll make the live crowd move and mosh alongside it.
Verdict:
Eglaf aren't messing around with their destructive new single.
-Interview- (3/26/23)
1. How did you get started with music and how did you develop your sound? Who thought of the name "Eglaf" and is there any meaning behind it?
We all started making music together in 2020. Over the course of our three EP's, we developed our unique sound. It took a little trial and error to figure it out but it has been an exciting journey so far and we can't wait to see what happens next. We all came up with the name Eglaf one day at practice. The word itself is a term that the internet states can take the place of any other word. It's kind of a nonsense word but it sounds cool so we went with it.
2. What do you want people to take away from your music?
A good time. We want to provide people the same level of escapism that we ourselves feel and appreciate when we listen to music. We want to jam out and hit you in the feels through some of our lyrics and musicianship.
3. How would you describe your sound to the average listener?
A blend of newer and older styles of metal. Our influences range from bands like Periphery to Metallica, Pantera, and Misery Signals. We also get a unique tone at our live shows and upcoming releases from how we process the two guitarists in the band.
4. Who are three bands you'd like to tour with?
Periphery, Eluveitie, and Tenacious D.
5. How has Covid affected what you do?
Covid actually was a catalyst for the creation of the band. We all had some extra time on our hands and decided that we'd play music over that time. Since we were just starting we didn't need to worry about shows but it is nice to see everything opening up. There is nothing like playing a live show.
6. What's your take on the current state of Metal?
Honestly, there's not a better time than now to be a metal fan. There's almost too many amazing bands to listen to these days. It feels like I can't go more than a month without hearing of a new band. Doesn't matter if you like old school metal, progressive metal, 80's metal, there's tons of bands out there making music.
7. What's the current music scene like there in Pennsylvania?
From our perspective, it seems to be a growing scene. There's a lot of good bands in the area and since Covid is over for the most part, every band is back out on the road.
8. What's your take on the royalties that streaming services pay out to artists?
It's not something we rely on as a band. It's always nice to get a couple bucks every few months though.
9. What's next for Eglaf?
We are releasing our third EP this year and continuing on our typical release schedule. We like to put out a song and accompanying video roughly every three months. This year is planned out and we are already starting to prepare for next year. It's always interesting seeing some of the changes to the projects once they reach their final phase.
10. Any shoutouts?
We'd like to shout out our family and friends who support us and encourage us to be ourselves. Eglaf would not exist without them.