Fate Will Come (Hard Rock/Metal) - USA/Canada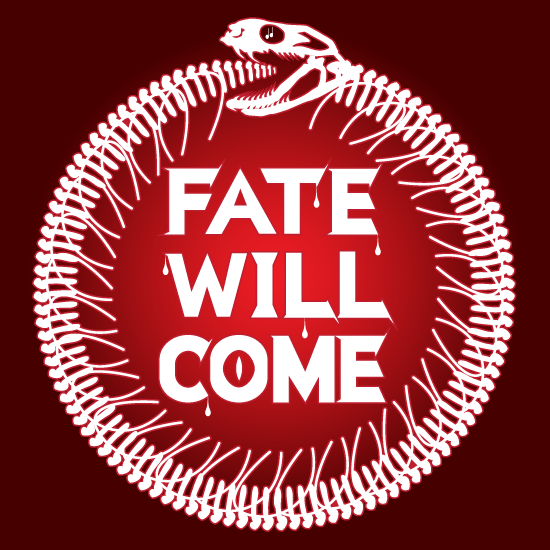 Fate Will Come
"Creating Hard Rock Songs on Both Sides of the Border"
They are a US/Canada band collaboration inspired by the Hard Rock Sounds of the 80's (Metallica, Zakk Wylde, Joan Jett, Heart)
Fate Will Come is a band that is driven by passion, energy, nostalgia and the unpredictable!
Every song and every lyric is kindled by real-life events that share a common universal emotion.
The band is a long-awaited dream collaboration between Renita Zintel and Matt Kirschner.
It was formed over a meeting on a musicians website "Drooble" in Aug 2019 .
Their unique collaboration spans two countries as Renita lives in Canada and all the other band members live in the USA.
This collaboration has morphed into 100 songs in 2 years!
Matt Kirschner plays acoustic and electric guitar, lyrics and production. He is joined by: Renita Zintel, vocals and guitar, lyrics), Michael Joe Deal (bassist, guitarist, vocalist, keyboard), and Richard Groce (drums and percussion, vocals.
They released their Heavy Heart EP in March 2021, where the single "Charger" reached #12 top 100 Euro Indie Music Charts - Digital Radio Tracker.
They have just released a single 'Bitch" to Radio late Oct 2021 from their forthcoming album "Fate Will Come".
All press/radio and links at
www.fatewillcome.com
"The Maiden" Single Review
The track doesn't hold anything back in its beginning. The track blazes full speed ahead into the first verse. The Hard Rock riffs and melodies are top notch and it's easy to sing along to. The heavy instrumentation takes hold after the verse and a guitar solo hits center stage before the second verse creeps in. There's oddly enough, a slight Iron Maiden sound to it all. The end of the track sees it take off into the stratosphere and really let loose.
Verdict:
Fate Will Come blasts their Hard Rock/Metal sound to the fullest via their newest single.
-Interview- (11/2/21)
1. How did you get started with music and how did you develop your sound? Who thought of the name "Fate Will Come" and is there any meaning behind it?
Renita: I have been singing all my life, started playing guitar then in bands, rock, blues, country rock and original bands. Persistence and work has made me who I am today. I love rock and metal both new and old from Bon Jovi to Metallica to Halestorm as it is very stress release. Music is freedom! Matt's music he sends to me allows me to write strong lyrics with meaning and arrange the songs by feel. Matt and Michael Came up with the name Fate Will Come. It is the perfect name cause that is what happened!
Matt: For me, I started when I was 13, got my first guitar. My sound is mainly overdrive and compression.. then eq'd in the mix. I threw out the name 'Fate of the Willing' and Michael came back with 'Fate Will Come' and we all agreed that was a good name! 'Fate of the Willing' ended up being a song title.
2. What do you want people to take away from your music?
Renita: Joy, Tears, Reflection, Pain, Stress release, however they interpret the lyrics and feel of the song. I put my love into every song, no matter what the message is!
Matt: Excitement, and the want to listen again!!
3. How would you describe your sound to the average listener?
Renita: Hard driving melodic rock with a flavor of the 80's inspiration.
Matt: Riff driven Rock and Roll.
4. Who are three bands you'd like to tour with?
Renita: Halestorm, Metallica, and the Foo Fighters.
Matt: The Pretty Reckless, In this Moment, and of course Black Label Society.
5. How has Covid affected what you do as a band?
Renita: It has not affected us at all, We started the band before covid hit and we will keep on doing what we are doing. We are apart still together and we love what we do!
Matt: It hasn't at all, we do everything through email, we have never even played in the same room!!
6. What's your take on the current state of Metal?
Renita: There are so many new bands, just check out some sites on spotify, it's alive and well in our crazy world
Matt: I think it's starting to turn to more original sounds.. as far as everyone using the same snare sample. Metal has been stuck in a rut as far as the overall sounds.
7. What's the current music scene like there locally?
Renita: Because of covid I have not been to one Jam where I live now for 2 years! I am in the process of connecting with musicians where I live. I have been consumed with my work writing and social media/radio contacts for Fate Will Come since we formed as this is my dream collaboration that came true. Nothing happens if you don't work your butt off!!
Matt: No where near where it should be, I haven't been to a show in years.
8. What's your take on the royalties that streaming services pay out to artists?
Renita: Horrible, they are stealing from hard working artists!
Matt: I'll let you know when we start getting them, lol.
9. What's next for Fate Will Come?
Renita: Keep on writing and doing what we are doing, expanding fanbase, radio airplay in Canada and the world. Putting out more Albums and to find musicians to form a band to promote Fate Will Come in Canada then come to the US.
Matt: We are working on material for our 2nd album now, hope to have it out by spring '22.
10. Any shoutouts?
Renita: This band would not have happened if Matt did not like my voice and the first song I sent to him of mine "Wreck" which he reworked. After that I told him we should form a virtual band. and it happened! Matt sends me music with titles and I write lyrics inspired by the titles he gives the files. It's unconventional but it works! We write song after song. Richard the drummer and Michael (Bass and Guitar) are motivated to work also as we all love what we are doing together. We are truly 'Fate Will Come'!!!!!