Five Ways To Nowhere (Hard Rock) - Turin, Italy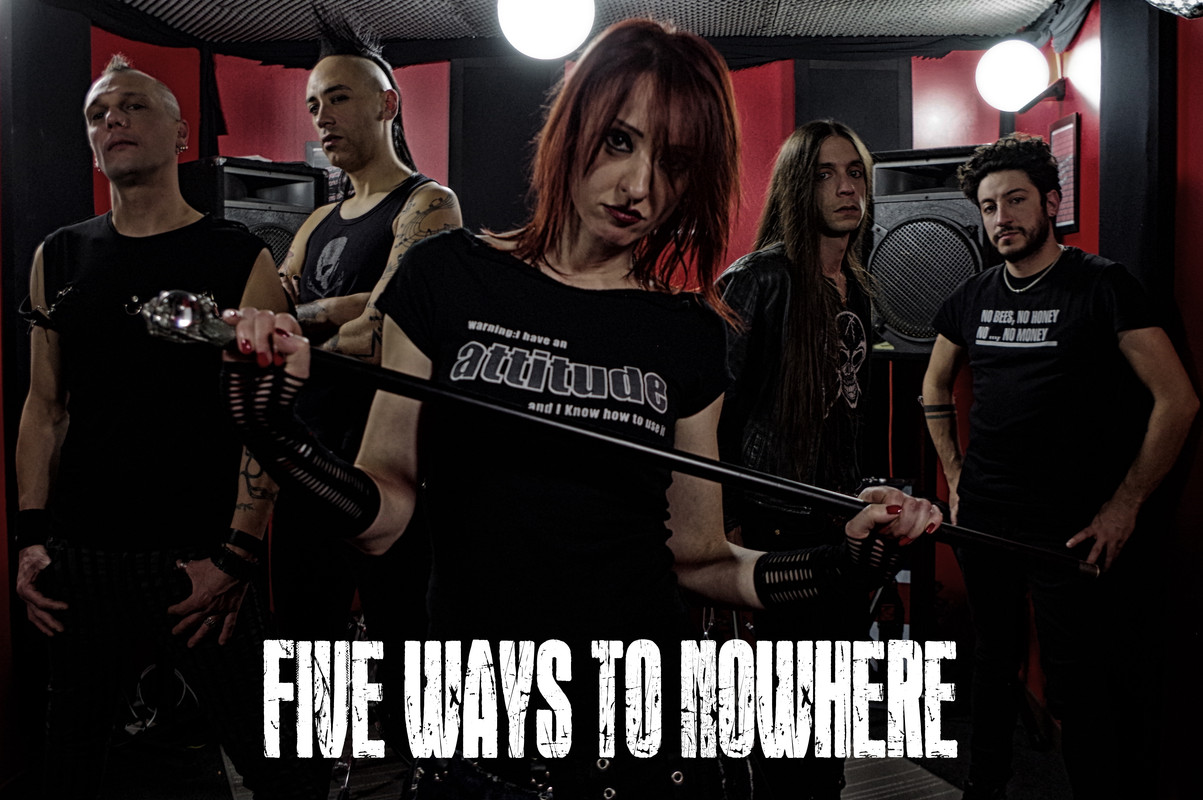 Five Ways To Nowhere is a powerful blend of loud guitars, aggressive and groovy riffs, a scratchy voice with catchy melodies all driven by a neurotic rhythm section.
The first spark that brought the band to life was when Dario Orlando and Charlotte S first met. Their musical journey began with other musicians, other sounds, other names, creating an alchemy that later became the core of Five Ways To Nowhere. Soon other members joined in to complete the line-up: Matteo "TEO" Lassandro with his face-melting rhythm guitars, the versatile drummer Fabio Brunetti and the bassist Silvia "SIXBASS" Casetta. In December 2016 bassist Davide "DAVY" Rocco replaced Silvia Casetta.
That's how this new rock band was born. Their music is a mix of Hard Rock and Alternative that creates an explosive and melodic sound in the wake of bands like Halestorm, Shinedown, Papa Roach and others.
That's Five Ways To Nowhere. 100% Rock.
Upcoming Shows:
More shows coming soon.
"Vodka Queen" Single Review
The newest single from Italy's Five Ways To Nowhere was released a little bit ago to nice fanfare so let's see what they bring to the Rock table since their prior "Bette Davis Eyes" cover. The original single kicks off with a melodic intro that transitions into an upbeat glorious Rock sound. The high energy brings to mind Guano Apes or Halestorm. The controlled chaos mix with melody perfectly and creates an highly infectious single. The guitar solo is simply amazing. Overall. the track is three minutes of pure Rock energy.
Verdict:
Five Ways To Nowhere really know how to Rock out with their newest single.
"Obsessed/Wildstyle" Double Single Review
Five Ways To Nowhere are a female fronted Hard Rock act from Italy who are looking to make a name for themselves by way of their recent double single. Let's dive in and see what they're all about. The track "Obsessed" starts off with a driving, marching riff to get things going. It feeds the fire of the high energy of the track. The chorus is highly infectious and boy are the riffs on point! They describe themselves as having "Rock riffs, scratching melodies and a neurotic sound" and that's dang accurate. The track moves along with the intensity and appeal of high profile acts such as Papa Roach and Halestorm. The track "Wildstyle" pushes the bar even higher as the riffs are even more out of this world. The track pumps adrenaline through the speakers as it's a harder track than the previous one and really takes things up a few notches with its Rock tendencies and catchiness. This track will surely be a fan favorite as its easy to sing along to and rock out to. The guitar solo on the track is tremendous and really makes this a standout track. If you enjoy Rock music, you need to check this band out RIGHT NOW!
Verdict:
Five Ways To Nowhere have a fierce double single that pumps out the Rock jams all the way from Italy.
-Interview- (7/5/17)
1. How did you get started with music and how did you develop your sound? Who thought of the name "Five Ways To Nowhere" and is there any meaning behind it?
We like to define our music as a mix of Hard Rock and Alternative that creates an explosive and melodic sound in the wake of bands like Halestorm, Shinedown, Papa Roach and others. We all come from different genres, from 80's Rock N Roll to Metal, from Punk Rock to Alternative, but that's a very good thing for us: our different backgrounds join together when we write our songs and we love the result! Concerning our name, oh man, it's been a hell! We were looking for a name that could sound "new". Sometimes a short name could be easier to remember, but we wanted to have the "five" concept as we're five people and our sound comes from 5 vibes that play together. "Ways To Nowhere" expresses the idea of a Rock N Roll journey with no direction having our music as a travel buddy.
2. What do you want people to take away from your double single?
We released our double single "Obsessed/Wildstyle" last March 3rd through the German Label FemMeropa and it was a pretty good success honestly! Both songs reached more that 60k streams on Spotify in 4 months, which is not that bad ;-) People love those songs. They represent our band perfectly and we're very proud of them. After the release we've been contacted from booking agencies and from some magazines for interviews, so cool! Moreover, on July 16th we're gonna play at Masters of Rock Festival in Czech Republic, which is the biggest rock/metal Festival in Central Europe. On the same day, on the main stage, there will be artists as Lacuna Coil, Dee Snider, Vince Neil, Edguy, Rage and many more...we can't wait to play there!
3. What can people expect from your live show?
We always give blood, sweat and tears as we love playing live! We're a rock band that loves the "live experience" much more that the studio. Packing and loading tons of gear, driving, no sleeping, sweating, knowing new people...all of this makes us happy and proud of what we do. Playing live gives you a feeling that's more "real": I mean, you can taste it...you can touch it...it's live! There's nothing better, man!
4. What's your favorite track to play live?
Personally I love to play "Wildstyle". We normally play it as the last, so when it comes, I'm tired but it's like a shot, man. Adrenaline rushes to the max and I'm ready to run all over the stage towards the finale.
5. Who are three bands you'd like to tour with?
Well, one of them is definitely Halestorm: I love them and it would be awesome! Of course, it would be a dream come true to play with my teenage idols Motley Crue, eh eh Last but not least, The Dead Daisies: a great band with super cool musicians. It would be an honor to be on tour with these guys. We'll be able to learn a lot from them, that's for sure.
6. What's your take on the current state of Rock?
Rock n Roll is always there! It's everywhere, you can feel it anytime! By the way, there are still a lot of very good bands out there, from US, from Europe and more, so there's a wide choice. There are some new subgenres, but, in the end, it's only Rock N Roll ;-).
7. What's the current music scene like there in Italy both locally and country wide?
Our local scene is cool, but it could be better. Torino (our hometown) has a lot of cool underground bands and it's growing up. The problem is always the same: to attract people to live gigs. You know, Italy never had the so-called "band culture", as it's a country which always had the "singer culture", that's it. Sad but true. Another problem is that a lot of young musicians don't attend to other bands gigs and I don't understand why. I always went to see local bands gigs there were (and there still are) good bands and, above all, because I love supporting our local scene. If all musicians do the same, our scene will be huge: simple as that.
8. What's your take on legal/illegal music downloading?
There's nothing we can do about it. World's moving very fast, so, what can we do? Nowadays is much easier for a band to put their music on the internet and let people listen to it. There's too much in my opinion, too many bands, so you gotta have something really good to grab other people's attention. it's so easy to "skip" today, so...if your music is not good enough from second 1, you'll be skipped. I'm not against legal downloading, of course: I repeat, that's the way it is today ;)
9. What's next for Five Ways To Nowhere?
As I said, we're really looking forward to play at Masters of Rock Festival. We're also working on booking shows for the next seasons. We've already planned to record new stuff and videos, so...check our website (
www.fivewaystonowhere.com
) and our Facebook page (
www.facebook.com/fivewaystonowhere
) to get updated and...stay tuned for more Rock N Roll.
10. Any shoutouts?
Have fun, enjoy your life...and don't forget to Rock N Roll!!!