Forward Order (Metalcore) - Hanover, Pennsylvania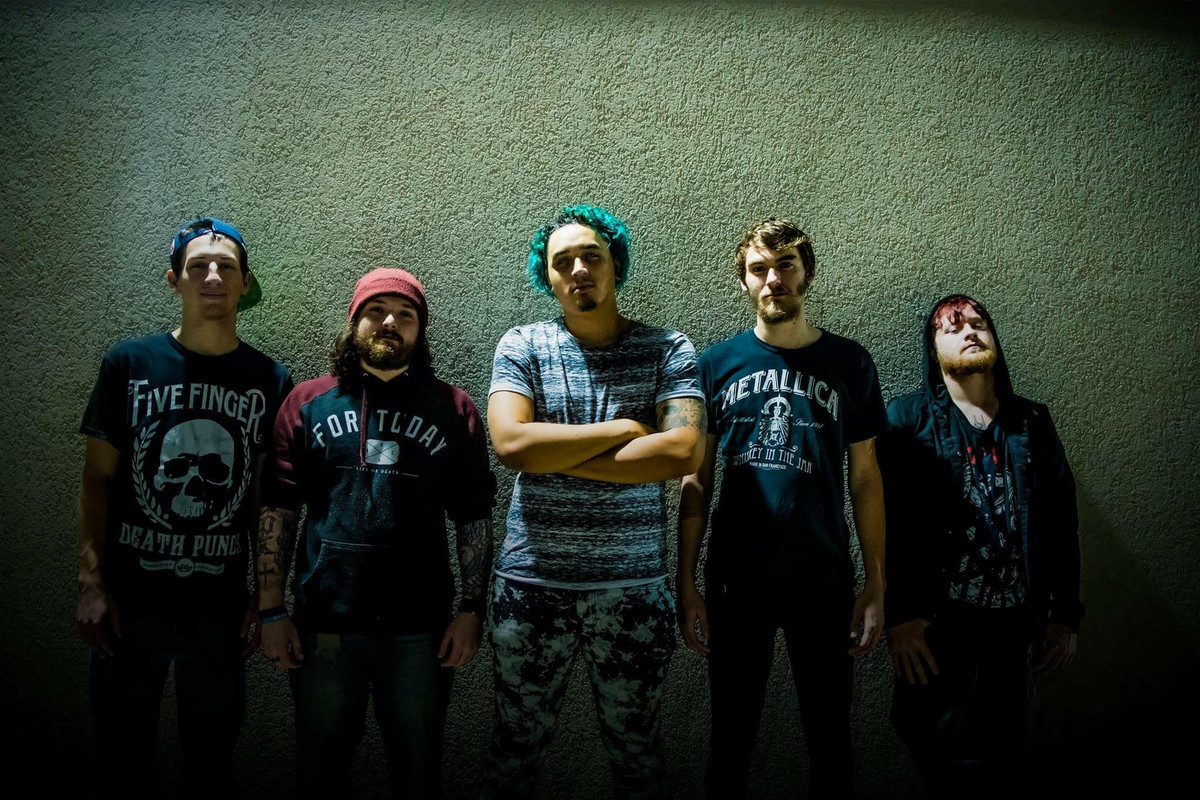 Khali Truitt (vocals), Nick Farinelli (guitar), Donnie Owens (guitar), Josh Moorefield (bass), Zack Lee (drums), are the members of the band Forward Order. Created in the small town of Hanover, PA, all share the same determination and passion for music to make it a career and follow their dreams as musicians. They are currently in the process of creating and releasing their debut EP in 2017, and are also releasing their debut single off their EP in the Spring of 2017. Nick Farinelli and Josh Moorefield were the creating members of the band. Both loving music and having the same interests in the genre, they decided to make a band called Forward Order. They came across Khali Truitt for vocals, Zack Lee for drums, and Donnie Owens for guitar. Coming from the town of Hanover PA, they hope to leave their mark in the music scene with heart felt lyrics and the passion of creating and playing music.
Upcoming Shows:
12/22/18 - Midtown Arts Center - Harrisburg, PA
"Judgement Day" Single Review
Forward Order recently released their beast of a single "Judgement Day" to the Metalcore world. Let's dive right in and tell you why fans of heavier fans will sink their teeth into this in no time. The track kicks off with a monstrous breakdown before breaking into overdrive. The first verse is crushing as it barrels forward with another thunderous breakdown. The addition of technical riffs is a nice touch as the chorus comes and goes. The tempo changes within the song are very nice and shows off a different side of the band compared to their previous material. There's a buildup later on in the track to a breakdown that just blows the doors off of everything. There's an early Hatebreed tenacity to the breakdowns in the track that few bands nowadays can match. Forward Order are up to the task and then some.
Verdict:
Forward Order put the Metalcore world on notice with their new single "Judgement Day".
"Hollow Beginnings" EP Review
Forward Order are a young up and coming band from Hanover, PA which recently released this six track EP to the world in hopes of putting their best foot and sound forward in the Metalcore realm. "Nothing Set In Stone" is the opening track and is 45 seconds full of chaos. The next track "Rock Bottom" rings in with a flurry that older Slipknot had. The anger and passion of the harsh Metal sound is front and center on the track. There's a breakdown early in the track that simply destroys. The track is Metalcore cranked to 11. "Fake It" is the lead single off the EP and is a lightning rod of emotion and destruction. The track brings back the hunger of the early works of August Burns Red and Parkway Drive in its unbridled intensity. It's no wonder why it was chosen as a single. "Remember Me" gets right to it as it is a headbangers dream track. There's a slight Emmure sound to it but overall it transcends the Metalcore genre into a nice mix of Metal, Rock and Hardcore. "Sell Your Soul" is more melodic than the previous tracks. It features clean vocals and has a Bullet For My Valentine vibe to it. It switches things up and keeps things fresh, that's for sure. It's a standout track through and through. "Lost In The Shadows" is the closing track and it sums their signature sound up perfectly. The entire EP is a glorious romp through the wilderness of Metalcore.
Verdict:
Forward Order bring the mosh with their new "Hollow Beginnings" EP.
-Interview- (8/13/17)
1. How did you get started with music and how did you develop your sound? Who thought of the name "Forward Order" and is there any meaning behind it?
Zack - I started drumming during my 10th grade year of high school. I've always been into virtually any kind of Rock/Metal music from classic Rock to Punk to Metalcore.
Nick - I just decided one day to pick up a guitar and start playing. I thought of the name "Forward Order", I was playing a card game with a few friends and a card with a similar name came up, and thought "that would be an awesome band name" I messed around with the name and "Forward Order" was created.
Josh - I got into music while I was listening to country with my mom on the car ride down to Virginia. To develop my sound, I listened to a lot of rock n' roll and heavy Metal with my friends in high school.
2. What do you want people to take away from your "Hollow Beginnings" EP? How's the response been thus far?
Zack - The raw sound and emotion of "This is us and this is where we come from, get ready for more". From family and friends, I've received a lot of praise as well as suggestions for how to improve on the first full-length album.
Nick - I want people to be able to listen to our songs and say "I can relate to that" or "your song saved my life when I was in a bad time". That is an ultimate goal of mine is for our music to help someone or inspire people. The response has been great, we have had so much positive feedback, it's almost overwhelming sometimes.
Josh - If we can do it, anyone can. Hard work and dedication will take you anywhere. The response has been very well, the only bad things I've heard so far is from my friends that do not listen to metal at all.
Khali - I want people to like the sound and connect with the EP.
3. What can people expect from your live show?
Khali - Emotion and they will get to know the band on a personal level.
Nick - Us going crazy on stage and hyping the crowd up and getting them moving with us.
Josh - Get ready for some headbanging and some hardcore rock n' roll.
Zack - Stick spins for days.
4. What's your favorite track to play live?
Nick - "Fake It".
Josh - "Remember Me" for the nice groove.
Khali - "Sell Your Soul".
Zack - "Lost in the Shadows".
5. Who are three bands you'd like to tour with?
Nick - Wage War, Fit for a King, and Parkway Drive.
Zack - Avenged Sevenfold, Wage War, and Metallica.
Khali - Falling in Reverse, Beartooth, and Famous Last Words.
Josh - Wage War, Bullet for My Valentine, and Five Finger Death Punch.
6. Any crazy show stories?
Josh - When I went to the Parkway Drive concert at the Chameleon Club, I went into the moshpit and about three seconds later, my throat got kicked in, and then I got my stomach punched in.
Nick - First mosh pit I ever got in was my very first Metal concert and it was Beartooth playing, not even 5 seconds in, I get punched in the eye, and think to myself "so this is what it's like".
Zack - Bloody nose at Beartooth, Warped 2017.
7. What's your take on the current state of Metalcore?
Nick - It is by far as big as it has ever been and still growing, I always tell the band "we chose the perfect time to start a band".
Zack - It's progressed so much that there are so many subgenres to keep track of, which is awesome.
Khali - There is so much to it and so many different sounds which make it fun.
Josh - It is more well-known now than it was five years ago.
8. What's the current music scene like there in Pennsylvania both locally and state-wide?
Nick - Not many bands around our area, we are really the only Metal band I know of from our hometown.
Zack - Locally there aren't too many Metal or original bands. There seems to be a lot of cover bands in the immediate area around us.
Josh - Metalcore is more well known on the south side of PA because Baltimore is a heavy Metalcore area which we are somewhat close to.
9. What's your take on legal/illegal music downloading?
Khali - Honestly mixed feelings. It hurts the band unless you go to shows but it gets the music out there.
Nick - If you're going to illegally download something, do something to support the band or come to a show.
Josh - I have done it before but I would not recommend it to anyone because it is sketchy due to potential viruses or someone on the other side watching you.
Zack - If you download music illegally, that's okay if you try to make it to the band's shows to make up for it.
10. What's next for Forward Order?
Josh - A lot more shows but writing our album as we speak.
Nick - A lot and I mean.. a lot of shows.
Zack - Shows, shows, and more shows.
11. Any shoutouts?
Josh - I would like to thank all my family members and friends who have supported me so far. I would like to thank my friend Travis who got me into music a lot more during middle school and high school. I would also like to thank my girlfriend Katelyn Toomey for supporting me to pursue my dreams.
Nick - I would like to thank my family for always supporting me every step of the way. I would like to thank my girlfriend Rachel for supporting me and keeping my head high when things get tough or something happens, I don't know where I would be without any of them.
Khali - My family, my band family, my best friend Casey for always supporting me, and my girlfriend Morgan for always being there by my side.
Zack - To all family and friends who show their support, special shoutout/thanks to my girlfriend Jess for surprising me by driving a whole 3+ hours to get to the venue of our first show and for supporting the dream.