Grey Feather (Metal) - Texas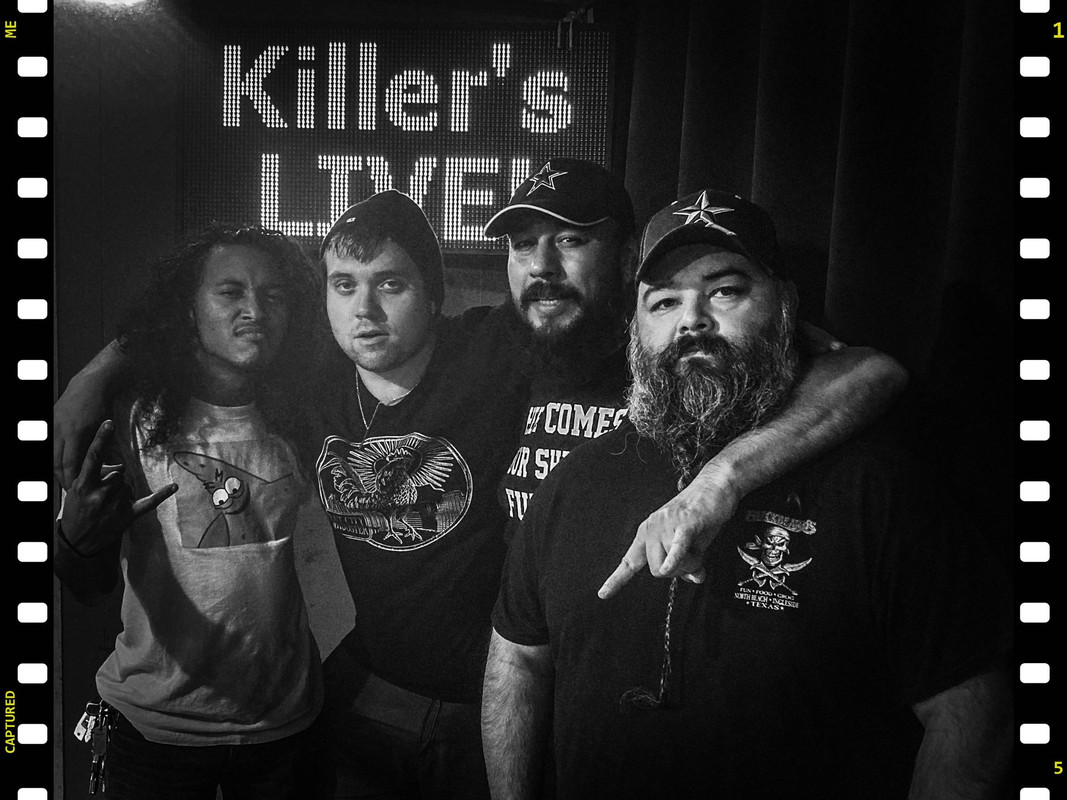 Coming from an assortment of backgrounds and styles, Rory Mitchell, Charles Short, Wesley Sanders and Marcos Villarreal make up the sound, the voice, and the act, Grey Feather. Bringing together Mitchell's pulsating grounded bass, Short's classic metal rhythms and riffs, Sander's snappy double-time speed-metal drumming and Villarreal's thought-provoking lyrics and powerful distinctive front man vocals. They premiered August 2017 at Come and Take It Live and are part of the growing metal scene in Austin, Texas.
-Interview- (2/25/23)
1. How did you get started with music and how did you develop your sound? Who thought of the name "Grey Feather" and is there any meaning behind it?
How our members found their way into music, while the instruments differed, is quite similar. We each picked up different things in our preteen years, found a passion to create and never looked back. Chuck (original guitarist) and myself, wanted to start a metal band that was intense, but was less mathy, yet more groovy.
Andrew (original drummer and my brother) came up with the name "Grey Feather". We wanted to be a smarter metal band and wanted imagery that wasn't the generic skulls and Satan imagery that is associated with most metal bands. Grey Feather means wisdom to us and it was a deliberate nod to geoglyphs and the struggles of the indigenous peoples of the world.
-"El Commandante" Marcos Villarreal
2. What do you want people to take away from your music?
A sense of what it means to be a Texan, multi-cultural, diverse, metal AF and historic badassness. We want people to be entertained first and foremost. Our music is catharsis and we want our audience to be stimulated, we want them to be cognitive. We're not escapists, we're confrontationalists.
3. How would you describe your sound to the average listener?
We're thrash groove riff lords with some prog throughout, Pantera with a modern twist.
4. Who are three bands you'd like to tour with?
Kataklysm, Mastodon and Gojira.
5. How has Covid affected what you do?
COVID made us practice more. Made us concentrate on concepts and visions, knowing when it was time to play out again, we'd be more than ready to display new material. To take our city, our country, this world by storm. That time is now.
6. What's your take on the current state of Metal?
We believe the current state of metal is thriving, constantly evolving, with the largest worldwide demographic as the driving force. Metal is truly an international art form. Much love to the dedicated fan base that doesn't give up. You are the life blood that keeps it pumping.
7. What's the current music scene like there in Texas?
The music scene in Texas is kicking, always a show to catch whether it be an international artist or a veteran local act. There is music here that deserves to be seen.
8. What's your take on the royalties that streaming services pay out to artists?
Frankly we find payouts to artists pathetic, insulting, and parasitic. Artists now have to tour endlessly and peddle merch to make ends meet. The industry doesn't make it easy for a band to profit from said services. This is something we are passionate about changing.
9. What's next for Grey Feather?
Future Grey Feather plans are putting out 2 e.p.s and touring the U.S. Blood, sweat and tears. And endless booty shaking, head banging noise.
10. Any shoutouts?
Grey Feather would like to thank Chuck Loesch of No Control Radio (93.7 FM), the Texas Metal Collective, and Come and Take It Live/Productions.
-"El Commandante" Marcos Villarreal (Vox)
Shout out to Wasp Sting Danger from Seoul, South Korea. You guys helped me be apart of a really unique metal scene. Shout out to my mom for encouraging my musical talents and always being supportive.
- Wes "Whacky" Sanders (Drums)
Shout to Puta Madre, for sacrificing her mind, body, and soul for all the little Hijos de la Chingada.
- Roland "Hijo De Puta" Rosa's (Guitar)
Shout out to my friends, my family and my beautiful gf Reesa. I am fortunate to be surrounded by people who love and support me for me. My strengths, my faults and everything in between. My parents have always instilled in me to follow my dreams and my passions to the very end, to jump when the fear of failure is at its strongest. I try to take those lessons in hand and give them back to every person i'm fortunate enough to play in front of.
-Rory "El Bombero" Mitchell (Bass/Backing Vox)