Hallow 14 (Metalcore) - Fairfax, Virginia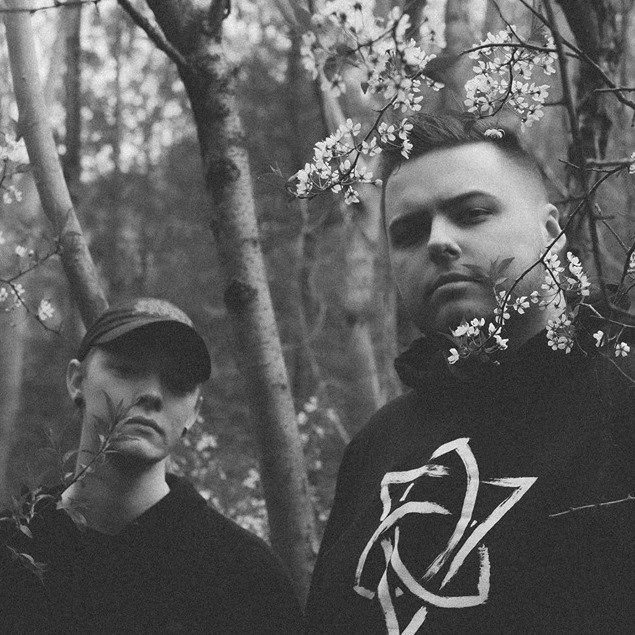 Hallow 14. Definition: the musical outlet of Will Duncan and Caedmon Cooper, a DC-based dynamic duo laying down a fresh mix of hardcore vocals on djenty metalcore riffs; an effort which will squarely remind you why metal is referred to as "heavy."
Now releasing their debut record as a two-man-act, Cultural Condition, the pair aims to truly exploit whatever creative freedoms are offered, and forcefully introduce a new industry meta. In the making throughout the past 2 years, this release features many of the band's friends and fans, and reflects the raw force and horsepower of which Hallow 14 is capable.
Officially formed on Halloween 2014, it began as a "project" that a small group of high school friends would use to hang out and vent their creative ambitions. Over the first 3 years the band would evolve into a staple act in the DC local metalcore scene, and yet despite an all-time motivational high entering 2017, they were suddenly faced with creative burnout, lack of productivity, and lost connection with their community. These issues would drive the lead vocalist and guitarist to depart, leaving Hallow 14 an effective duo.
However, instead of calling it quits, or compromising the sound they'd spent so many years developing, Will and Caedmon decided to embrace the new dynamic. Ever since, the pair has been hard at work polishing their craft, exploring creative directions, and promoting the fresh face of the project they'd formed as dumb teenage friends.
Upcoming Shows:
More shows coming soon.
"Cultural Condition" EP Review
"Veins of Gold" takes a bit to get going but it eventually erupyts with a flurry of Metalcore riffs and vocals. The track has an almost Nu Metal feel to it with its melodic riffs and tones. There's a pretty solid guitar solo later in the track that feels a bit buried within the production. The breakdown to end the track stands on its own as well. "The Radical" is a little too spastic for its own good as switches up tempos, paces and even melodies out of nowhere. It's a bit jarring and disjointed. "Dear Leader" is slow and methodical with its approach. The Korn vibes are heavy on the track and provides a pretty good sound throughout. "Hellzone" is a slow burn of a track. The track is much more slower and only dips its head above the water at the chorus with harder instrumentation and harsh vocals. The breakdown near the end of the track needs a little more punch to it. "Hosticide" is five minutes of more of an It Prevails sound. The pacing is good, tempo is upbeat, riffs are heavy and melodic, vocals keep everything together and overall, it's a banger. The title track closes out the EP and it's seven and a half minutes of ambient tones mixed with spoken word vocals. The track is more like an outro and doesn't burst at the seams until around the six minute mark with heavier instrumentation.
Verdict:
Hallow 14 step their Metalcore game up with their newest EP.
"Island of Masks" Single
Hallow 14 are an up and coming act that are looking to make their mark on the ever crowded Metalcore scene with their most recent single. et's take a listen and tell you what we think in our newest review. The track kicks off with some melodic riffs akin to Smugface/City Sleeps before blasting into a pretty intense breakdown to set up the first verse. The circle pit inducing instrumentation kicks into high gear and takes the energy up a few notches. The breakdown comes back out to play near the halfway mark as it sets up another verse that brings to mind Vanna and their tenacity. The ending of the track is just all out craziness. Clocking in at five minutes, the track is a lot to take in but here's a lot to like and we can't wait for more music from this promising act.
Verdict:
Hallow 14 are out for blood with their "Island of Masks" single.