Helltern (Metal) - Brazil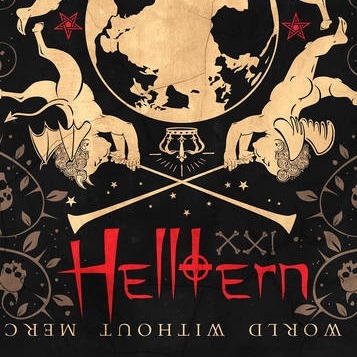 "A World Without Mercy" Album Review
"Decline of Mankind" is an opener that pulls in the listener with ease. The track features shades of Progressive Metal, Thrash and old school Metal to create a melting pot of headbanging fury. The tone that is set with the track helps the overall bar that the rest of the album has to keep up with. "Slaves of Religion" glides along a solid path of Metal and has the chops to keep up with any heavyweight hitters of the genre. "Hope" is pure melodic in its core. The instrumentation is fast, heavy, catchy and the vocals help add range to take it to the next level of awesome. The track should be a favorite in no time. "Starve" is crunchy and sinks its teeth further into heavier territory. The riffs soar and add extreme depth alongside the moody vocals. The track might be on the steadier pace but it still packs a punch. "Bloody Beauty" gets things going back into a Thrash Metal style. The track blasts forward like a runaway freight train and unleashes fury upon the listener. "Breath of Death" is a five minute romp through the signature sound that the band creates. The twists and turns of the track keeps things interesting and showcases their true talents perfectly. "Blood Sea" is more methodical but features Thrash moments that puts the pedal to the Metal, literally. The driving force in its riffs and they keep the breakneck pace with ease. "End of Chaos" lets loose from the get go and doesn't slow down. The track encapsulates everything Helltern and cranks it to 11. The track and album as a whole will stick with the listener and should be a favorite for any fan of Metal.
Verdict:
Helltern's newest album should be a surefire hit for fans of Metal.
-Interview- (9/24/21)
1. How did you get started with music and how did you develop your sound? Who thought of the name "Helltern" and is there any meaning behind it?
Band line up: Maurício Heibel – vocals/guitars, Aly Fioren – guitars/bass
Guest Musicians: Jeff Verdani - drums, Andrey Fillies - guitars
Mauricio Heibel: When I was fourteen years old, I got interested in bands that I used to listen at my friend's house, like Led Zeppelin, Beatles, Nazareth, Deep Purple and many others, but when I watched a local TV show called "Som Pop" I saw for the first time some videoclips of the band "Kiss", I became fascinated by the performance. Instantly, Ace Frehley called my attention due to his stage presence and his resourcefulness in the guitar. As myself, my friends also got interested in this kind of music until one of them asked his father to buy some Kiss cassettes. From then on, other bands aroused my interest in playing heavy metal.
Andrey Fillies: I got into metal when I was around 6 or 7. It started because of an old 90s Super Nintendo game called "Rock n'roll racing. The game was nice but what really struck me was the soundtrack, which was composed of Black Sabbath, Deep Purple and Steppenwolf. At that time, that was enough to get me interested in hard rock and from there it escalated quickly.
Aly Fioren: My first contact with a musical instrument was a Casio keyboard that we use to have at home. I started fiddling with it and my family noticed that I was able to play little snippets of TV jingles, and discovered that I was not such a hopeless case. Then came bass and the guitar and became a point of no return. 25 years later, I am still involved in musical productions, music lessons, concerts, etc. Through these years, I played in several bands, projects of the most varied styles, recorded several albums as musician and producer. As musician and composer I recorded three albums with Shadow Maze, seven with Sad Theory, two with Motorbastards(now Carttada) and several other participations as either sideman or recording guitarist.
Jeff Verdani: First of all, I was lucky to have been born in times when music was really listened to, and in a family that consumed it in its various forms and also played it during leisure time. It was on the guitar that my father entertained us with that I learned my first chords and pretended to be a great guitarist imitating Carlos Cavazo in "Battle Axe" (Quiet Riot). In high school I started to mingle with the kids who carried guitars and wore Iron Maiden and Black Sabbath t-shirts, and at the same time my uncle introduced me to his Iron Maiden discography. Between learning a little with friends and booklets bought at newsstands I went to study at a Brazilian popular music conservatory because it was more affordable. Within this immersion and search for novelty, only when I entered in the first underground concerts I found an identification and union between what I was consuming and trying to do.
HELLTERN From there on, we came up with the name for the project, inspired by the German word 'helltern', which means 'illuminated'. The logo design was created by Carlos Kolb. The biggest inspiration was the band Bathory, whose songs were never played live, thus being a full-time studio project and that would be the goal at least at this point.
2. What do you want people to take away from your music?
'The world without mercy' is a reflection on what human beings are capable of doing to achieve their goals. I searched for themes such as World War II, the difficulties faced by some countries in the last century; for example in Ukraine in 1932 where people died of starvation; the history of Elizabeth Bathory, who supposedly was the first female serial killer. The lyrics also raise issues about religion, the COVID-19 pandemic and the planet in agony. Some of them were written in 1995 and still were able to fit our current reality. Each composition was made in a unique and unhurried way and the whole process took a whole year. The cover was designed by Carlos Kolb who got his inspirations from the lyrics. The angels with bugle mean the good and evil, the melancholic sun represents the conscience, the crown represents the greed, power and corruption, the crosses the religion and, in the center, the planet turned upside down, which is nothing more than the chaos lived in our recent times.
3. How would you describe your sound to the average listener?
Classical heavy metal is where I think Helltern fits in.
4. Who are three bands you'd like to tour with?
There are many more to name a few and it would be a dream to play with International Bands: Accept, Judas Priest, Paradise Lost and Brazilian Bands: Sepultura, Nervosa, Sad Theory.
5. How has Covid affected what you do as a band?
Oddly enough, the pandemic came to slow down our lives and provide more attention to studies and research for the creation of the album. We were able to do it all very calmly and unhurriedly; to create riffs, lyrics and solos. With more weekends at home, there was more time for me to dedicate and make a quality album.
6. What's your take on the current state of Metal?
In my opinion it has never been more alive, look at the number of new albums being released and especially in this pandemic I believe the bands are having plenty of time to create and record.
7. What's the current music scene like there in Brazil?
In my country there are excellent bands but it is not a country that cultivates this kind of sound and it is very difficult here. As an example bands like Sepultura, Angra, Krisiun just to name a few that had their recognition outside our country.
8. What's your take on the royalties that streaming services pay out to artists?
In my opinion, the payment is a derisory amount, but on the other hand, nowadays it is much easier to release an album, especially for small bands like Helltern.
9. What's next for Helltern?
We have already started the creation of the next album with a lot of inspiration and new ideas in order to always improve. We are also working on some video clips, website, and CD release and, if an opportunity comes, we will do some concerts.
10. Any shoutouts?
I would like to thank Aly Fioren, producer and teacher at the FundsHouse Studio where Helltern started, and Carlos Kolb for the design of our logo and the cover of our first album.