Herratik (Death/Thrash Metal) - Australia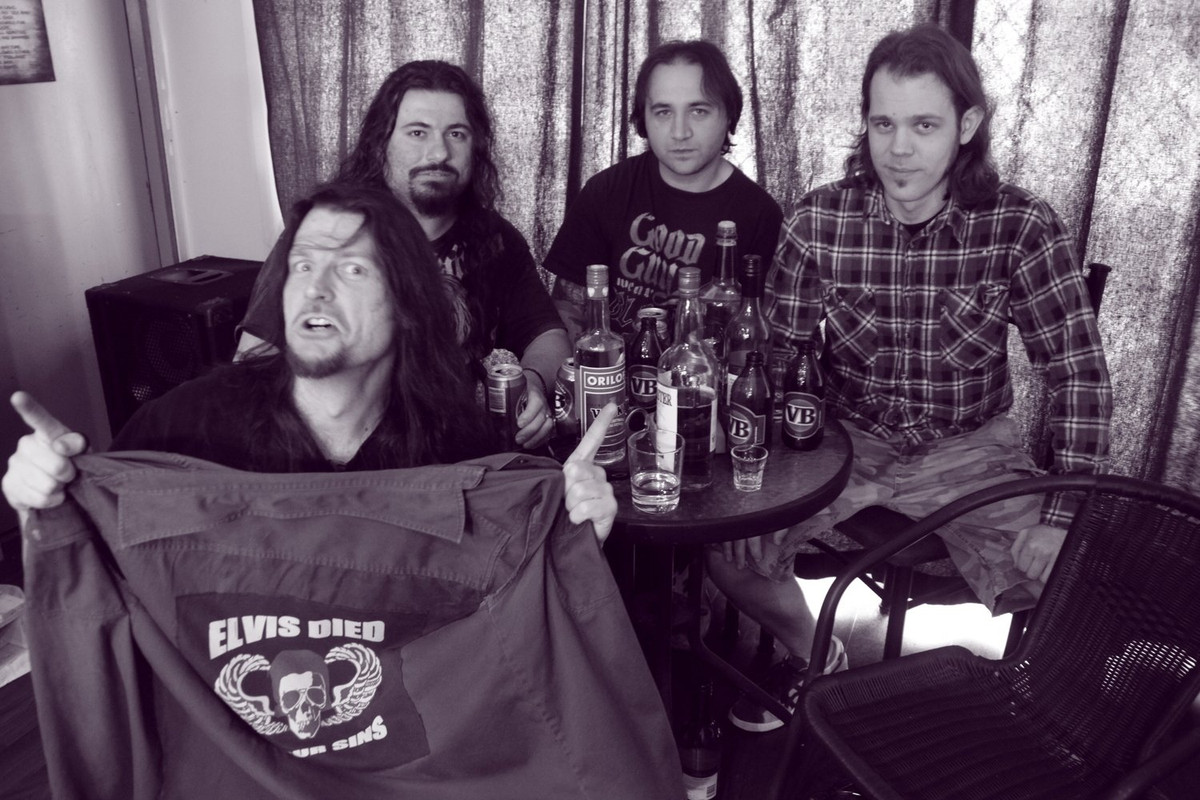 "Compromise Gone" Album Review
"Intro" sets the stage for the album with its buildup of atmospheric, march like instrumentation. The minute and a half long instrumental does a good job of setting the tone. "Enough" blasts right in with the force of a thousand sledgehammers. The carnage it creates is awe inspiring as the riffs swirl to astronomical measures. The guttural vocals bring to mind the early days of Parkway Drive in its aggression. The track grabs the listener and doesn't let go. "Bottom Feeder" doesn't pull any punches as the track keeps the breakneck pace moving at high speed. There's more Thrash like tendencies on the track for sure. "End of Compromise" keeps the circle pits moving. The track has more groove than the previous track but keeps that intensity free flowing. "Closed Book Open Wrist" slows things down a bit. The track takes a more Symphonic Metal tone with its more spoken word vocals and layered instrumentation. There's an eruption of Metal past the one minute mark that gets things back up to chaotic levels. The guitar solo later in the track is a tremendous touch to add that depth even more. The track overall has a lot of different influences. "Talk Much...Say Nothing" has that solid bounce factor to it. The guitar solo takes a bit to get going but once it hits its stride, it really helps transition the pacing even heavier to close it out. "Filth in Numbers" just goes all out for two minute. It's crazy bonkers in its heaviness. The two stepping during the last minute should be a sight to see. "Good Things Come to Those Who Hate" is pure Metal through and through as everything works quite well in staying fresh as the eighth track on the album. "The Fall" continues down the Thrash side of things as the instrumentation is in the forefront more than anything else on the track. The track sets up the closer quite well. "The Zone" wraps up things perfectly as it gives a good summary of what the band is all about. It's been quite while since this album release and with new music set to be released soon, this is a band that heavy music lovers need to keep their eyes and ears on.
Verdict:
Herratik demolish all who oppose with their "Compromise Gone" album.
-Interview- (3/7/23)
1. How did you get started with music and how did you develop your sound? Who thought of the name "Herratik" and is there any meaning behind it?
Gooch: I started playing guitar as a teenager, and at the age of 12 in 1988, I heard Iron Maiden's Number Of The Beast album. I knew then that I wanted to be a student of heavy metal guitar. It wasn't until I was about 16/17 years old though, that I wanted to be in a band. So Myself & George who close friends, went to work trying to start a band & started looking for the right people. After many guys came & went Jack joined the band in 1998 while the band went by the name ABORTUS, while Abortus was in its infancy. It was during this infancy of Abortus that our sound started to develop. I would say the sound developed a as a by-product of our various & extremely different influences we, as a band have. Our influences range from Rock, Hard Rock, Blues, Heavy Metal, Thrash, Death, Black, Power & Speed Metal. Of course as the years progressed, so did the bands sound. So much so, that in the Mid 2000's we felt it was time for a name change & HERRATIK became that name…
I can't recall exactly which one of us came up with the name, but it was certainly one of us three. Now it's coming back to me. It was done at our local pub over some drinks (hence the foggy memory) & if memory serves me right, we were having a discussion about a song we wrote, that Jack named I-Heretic & maybe I suggested HERETIC, but that was too common a word & we felt that surely there's a small chance that there may already be a band out there called HERETIC. So I believe it was after that, that we came up with Herratik, purposely misspelling it and creating a play on the spelling, so it would be unique. HERRATIK was born. I do recall the rationale behind choosing that name though. It wasn't really about religion, but about the fact that the word also means "non conformist" and that's exactly what we are: Non Confirmists.
Jack: I got started in the murky depths of playing in the Underground metal world back in high school when myself and the other 3 metal fans i knew decided to start a band Ignorunce (me on guitar). We wrote some original songs but of course did some covers of Nuclear Assault, Uncle Slam, Slayer and attempted to cover Megadeth as best we could. We played a few shows with the likes of Mortal Sin and Massappeal until ultimately the band disbanded some 2yrs later. To cut a long story short for the next 10yrs i was playing in bands, some memorable some futile. Yet all this was necessary on the journey to meeting two like minded individuals in Gooch and George with the same commitment.
We decided on the name Heretic but it came as no surprise that there was already a band from the states (I believe) as anticipated that this would be possible so we preemptively changed the spelling to HERRATIK, to avoid this possible name clash, which in hindsight, would've happened. The listener can take whatever meaning they like from HERRATIK or take no meaning at all.
2. What do you want people to take away from your music?
Jack: If our music or the lyrics I write can in any way assist the listener in transcending the irritations imposed on them by the bevvy of morons waiting outside their door? Excellent....At the same time if a listener wants to put on HERRATIK Compromise Gone, they turn it up, do some shots and end up trashing their living room? Excellent..Essentially if our music is able to emit 1x one hundredth of the positive aspects that I get from the music that I listen to, and someone listening to HERRATIK feels that? That"s what"s important to me.
3. How would you describe your sound to the average listener?
Jack: To me the music of HERRATIK is 3 people with quite varied listening tastes but there's certainly enough common ground for us to write music together... and those combined influences come through in the music.
Gooch: I would describe it as a relentless aural assault on the listener. Ha!
4. Who are three bands you'd like to tour with?
Jack: KING DIAMOND - Purely so I could see the band live repeatedly... And as DIO (R.I.P.) & LEMMY (R.I.P.) are no longer with us I'll just stick to King Diamond.
Gooch: Megadeth x 3 era's… 1/ Megadeth with Dave, Dave, Marty Friedman & Nick Menza era. 2/ Megadeth with Dave, Dave, Broderick & Chris Broderick & Shawn Drover era. 3/ Megadeth current era. That's my three…
5. How has Covid affected what you do?
Gooch: 2020 to 2022 would have to be the worst years in our lives. It affected the world just like it affected us. People have lost their homes and businesses due to lockdowns an inability to work, while the Filthy rich just got richer. But that's enough about that as I can go on forever. In terms of how it affected us, we all live far from each other. Jack lives one hour South of me and George is 2 hours north of me. You can see how this can be difficult at the best of times, especially made harder during Covid. Adding to that we even had curfews and restrictions on the distance from home we could travel, therefore making life very very difficult, for for what should be perceived as normal day to day life let alone writing and rehearsing. However we are back now and getting together regularly, writing new material so the future is looking good.
6. What's your take on the current state of Death/Thrash Metal?
Gooch: I think the current state of Death/Thrash Metal very healthy. We've seen a lot of awesome releases in the last 12 months, including Defleshed and Darkane. I think that the aggression of the past two years is being displayed in new music that is coming out. I know that the past few years have been very difficult for us (Heeratik) and there is a lot of built up aggression that needs to be exorcised through the upcoming new material.
7. What's the current music scene like there in Australia?
Gooch: There is a lot of live music happening in Australia at the moment. A lot of international acts are touring here now. In terms of the local metal scene, Australia has always had a very small underground metal scene with very limited number of venues that bands can play in. However post COVID things are looking a little more optimistic and hopefully continue to grow. Time will tell.
8. What's your take on the royalties that streaming services pay out to artists?
The market is a completely different place now than what it was 20 or 30 years ago. We have the ability to release material with the push of a button, as opposed to needing record company backing. However this comes at a cost. A lot of music that wouldn't have been taken seriously is now being uploaded to streaming platforms with ease, therefore flooding the music market. Then we have the situation where Napster Was allowing sharing of files with total impunity in terms of people getting free music.
I can never accept this rationale that music should be free and enjoyed by everybody. I'm sure those same people won't enjoy or even tolerate the notion of going to work for free. In terms of royalties? What can I say? Better that artists get something now with the ease of having their music listened to via streaming platforms then back to the days of file sharing for free. I guess it's a case of "You're damned if you do and you're damned if you don't".
9. What's next for Herratik?
Jack: More riffs, more songs, more releases, more HERRATIK!!!!! A big thank you to all the HERRATIK listeners ...stay tuned...THE BEST IS YET TO COME!!!! \m/
Gooch:I would have to concur with Jack on this.
10. Any shoutouts?
Gooch: A big shout out to all those that continue to support HERRATIK. Hope to see you all soon.