Impervious Mind (Hard Rock/Alternative Metal) - Rome, Italy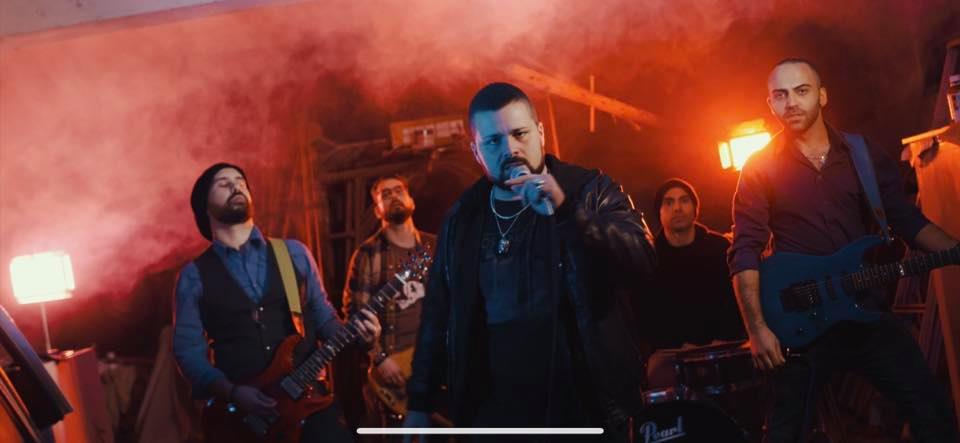 Impervious Mind is a new rock project whose components melted their backgrounds and experiences to create a powerful sound! We'll rock you to the bone!\m/
Upcoming Shows:
More shows coming soon.
"Not a Suicide Note" Single Review
The track starts off with a slower paced riff that sets the tone for the melodic vocals. Once the wall of Rock sound kicks in, the track takes itself to an even higher gear. The huge sounding chorus combines soaring melodies with the crunchy instrumentation. The track dips back down after with its more timid pace. The up and down nature of the track shows off plenty of depth and Hard Rock fans will certainly dig its delivery and guitar solos.
Verdict:
Impervious Mind's newest single is a huge leap forward for the band.
-Interview- (12/20/17)
1. First and foremost, how are things with Impervious Mind coming along?
Everything good so far! We're working on our first album, and we've almost finish it. We are very exited about it!
2. The "Dark Society" music video looked like a lot of fun to shoot. Do you have any plans for anymore music videos?
Yes, we just finished to shoot a video, since it's Christmas Time right now, we wanted to make a nice gift for everybody, and it will be out one of these days!
3. When could we expect an EP or album?
I don't know exactly, I guess in 2018, but since we are a band that works hard on our songs, we want to take all the time we need, since we don't want to make songs that we are not 100% convinced!
4. Italy is such a diverse country full of history and some really really good musicians. What are some things that you wouldn't think people from outside the country would know about its music scene?
Unfortunately I don't have really nice words for the italian music scene… There are lot of incredibly good musicians and bands, and it's just a pity that people don't care so much.
5. How does the writing process work with the band?
We have a really slow process, we start with a simple riff, and we work very hard on it, but in the end it doesn't mean that the song is good for us, so it happens that we work to a song for a long time, and when we've finished it, we're not satisfied with it, and so we won't play it again. As I said, is a very slow process, but we want our 100% on every song.
6. What artists are you currently listening to? Are there any that you'd recommend people checking out?
Well, Foo Fighters, Alter Bridge, but also less famous bands as Afasia or The Cliffhanger.
7. Could you tell us a bit about how the singles "Dark Society" and "Fairy Tales" mean to you and how they're different from each other?
Well the meanings of the songs are really different, if Dark Society was more direct to a Society that controls and "guide" you, Fairy Tales it's, in a way, more romantic. It's about the moment when you realize that your childhood is finish, and when you understand what the world really is, you just feel like you want to go back to the moment where your parents tell you a nice fairy tale to sleep.
8. If you could change one thing about the Rock music scene right now, whether it'd be globally or locally, what would it be and why?
Well, people respecting artists buying their stuff, would be an incredible thing. Being a musician is really expensive in this world, where "bigger" musicians ask you to pay to open their concerts, this kills the bands, and it's not about quality, but only "how much can you give me?". It sucks, really sucks.
9. What do you think about the streaming services such as Spotify, YouTube, etc. and how they pay the artists their royalties?
Not a big fan, but this is the business now, am I right?
10. What do you wish to accomplish in the next year?
We want to go again to play around Europe, it's our main purpose, then finally record this album.
-Interview- (1/27/17)
1. How did you get started with music and how did you develop your sound? Who thought of the name "Impervious Mind" and is there any meaning behind it?
We all started in different situations, but basically it was because we all needed to create something on our own, new songs, our songs, inspired from different artists. Finding our own sound, for us, it's always been a "work in progress", and we're always looking for a strong fresh and passionate sound. We decided on the name "Impervious Mind" together but the reason why is a secret story.
2. What do you want listeners to take away from the "Fairy Tales" single?
A sense of peace. Sometimes a solution to bigger problems is something very simple. Life itself could be much simpler.
3. What can people expect from your live show?
Energy and honesty!
4. What's your favorite track to play live?
It's different for all of us, but "One More Soldier" and the song from our first music video "Dark Society" are our favorites.
5. Who are three bands you'd like to tour with?
Definitely Foo Fighters, it would be awesome. Then Alter Bridge and Steel Panther.
6. Any crazy show stories?
Ryan: I don't know if you can consider it like a crazy story, but once I needed to change my guitar very quickly, so my guitar tech gave me the back up one, but he hit me on my lips. The result was me playing with blood in my mouth for the whole concert.
7. What's your take on the current state of Rock?
It's changing, everything is changing. From the way you record an album to the way people react to music. But Rock music can't die, it's not even close to that.
8. What's the current music scene like there in Italy both locally and country wide?
It's a... strange situation. There's a lot of GREAT bands here in Italy, like with Prog Music, for example "Afasia" or "La Fabbrica dell'Assoluto" are incredibly good and talented musicians.
A lot of people here love rock or metal music, but.. they don't go to concerts. I mean if you are Metallica or Iron Maiden of course everybody will come, but for new bands it's hard. There's no such "culture" about going to see a new band if u don't know them, and that's sad considering the number of people who love this kind of music. Bands, new bands, should help each other, especially at the beginning. Musicians should be the first people to go to see live shows! Sometimes I feel like people forgot how fun is to go to concerts.
9. What's your take on legal/illegal music downloading?
The word "illegal" shouldn't be connected with the word "music". I can understand a person that downloads a song to see if he likes or not the album or the artist in general, but if you do like what you're listening to, you need to respect them and buy their music.
10. What's next for Impervious Mind?
Now we're focused on writing our first album, we're now halfway through it. At the end of May we'll be playing at the "Glastonbudget Festival 2017" in Leicester (UK).
11. Any shoutouts?
We'd like to thank our families and friends, and Mr "Cappellone" our favourite pub to drink till we die!