Jack of None (Art Rock) - Illinois/Phillipines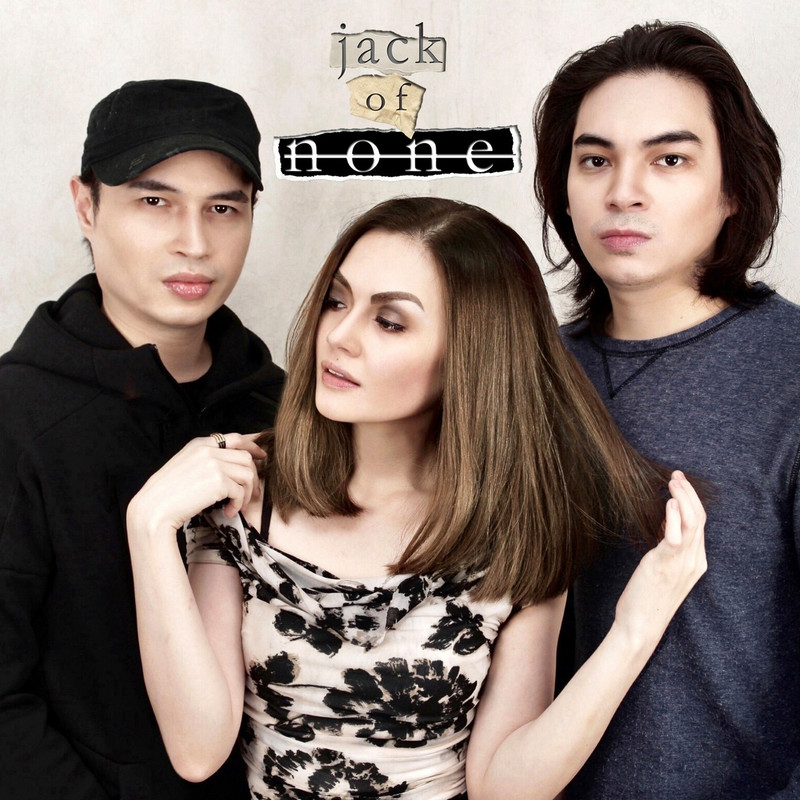 JACK OF NONE is an experimental rock / art band split between Manila, Philippines and Chicago IL, USA. It is composed of siblings A.G. Syjuco (principal composer and producer on guitar, bass and synths), Maxine Syjuco (poet-songwriter and vocalist), and Julian Syjuco (guitar).
To date, the band has released 2 full-length albums -- 2016's "Who's Listening to Van Gogh's Ear?", and 2017's "Who Shot Bukowski?". The band also released a 4 track EP entitled "The Tattle Tale Heart". All 3 of these works have garnered critical acclaim -- described as "haunting and thought-provoking"; "a brave new day for OPM (Original Philippine Music)"; "progressive and bold"; as well as "an odd, fascinating combination of poetry, art, and rock into a satisfying whole".
In November of 2016, the band's debut album, "Who's Listening to Van Gogh's Ear?" received 3 nominations at the 15th Independent Music Awards (including Best Album in its genre) at the Lincoln Center for Performing Arts in New York City. The album was awarded "Best Album Design and Photography".
In March of 2018, the band was honored with an astounding 8 nominations and 2 wins at the 16th Independent Music Awards. These were as follows:
Best Spoken Word Album - "Who Shot Bukowski?"
Best Eclectic Album - "Who Shot Bukowski?"
Best Spoken Word Song - Dear Georges (Vous Petit Monstre)
Best Eclectic Song - Polyamorous Serial Monogamist
Best Eclectic EP - "The Tattle Tale Heart" - WINNER
Best Eclectic Music Producer - AG Syjuco for "Who Shot Bukowski?" - WINNER
Best Album Art – Design & Photography – "The Tattle Tale Heart" by Maxine Syjuco
Best Lyric Video - The Brainwashers
The band's most recent work is a 7 track EP entitled "The Purpose of the Moon". It was officially released in December of 2020, and is inspired by the 7 stages of grief.
MAXINE SYJUCO is a poet and visual artist from Manila, Philippines. She is the youngest daughter of artists Cesare Syjuco and Jean Marie Syjuco. Working mainly with photography, digital collage, painting and installation art, her work "possesses an intimate, philosophical, and often twisted voice in storytelling. Manipulating faces, unveiling poignant surrealities, and probing into abandoned rooms of the subconscious, Maxine authors dark, thought-provoking introspections of the human condition and its fragility -- conjuring a netherworld where ghostly images exist neither here nor there."
Her first book of poetry, "A Secret Life," was published in 2008 and received critical acclaim. Her poems have been translated into Polish and French, and have seen print in several international anthologies including the Asia Literary Review, The Poet's Guild Quarterly, Chopin with Cherries, and the 2011 Rhino International Poetry Anthology. Maxine's exhibits and poetry-performances have taken place in venues as varied as the Cultural Center of the Philippines, the Metropolitan Museum of Manila, the Tokiwa Museum of Japan, the Hangaram Museum of Korea, the Art Takes Miami Exhibition in the U.S.A., and others.
AG SYJUCO is the eldest son of artists Cesare Syjuco and Jean Marie Syjuco. At age 15, he was the lead guitarist, composer and arranger for FAUST!, an art-rock band of prodigious siblings that was discovered by MTV Asia in 1996, quickly signed to a major label, and disbanded 2 years later after releasing 2 controversial albums that included the historic "My Secret Identity" (MSI) in 1998 -- probably the first full-length album in the Philippines to be released for free on the Internet by a group of commercially signed recording artists. Abandoning his professional interest in music for the next eight years, he graduated valedictorian (Summa Cum Laude) with a Bachelor's Degree in Information Technology from San Beda Alabang, and presently holds an executive position in a multinational tech conglomerate.
In 2006, A.G. co-produced the album "A Sudden Rush of Genius", by his Father -- legendary Philippine multimedia artist Cesare Syjuco. Currently, A.G. is the principal composer and instrumentalist for the experimental rock band Jack of None (www.jackofnone.net). To date, the band has released 2 critically acclaimed albums -- 2016's "Who's Listening to Van Gogh's Ear?" and 2017's "Who Shot Bukowski?". In March of 2018, A.G. was honored with the award for Best Music Producer in the eclectic category at the Independent Music Awards in New York City. Jack of None received 8 nominations, and was awarded Best EP (eclectic) for "The Tattle Tale Heart". A.G. currently resides in Chicago IL with his wife, Mica, and their daughter, Muli.
JULIAN SYJUCO is the youngest of five children of Cesare Syjuco and Jean Marie Syjuco. He is both an accomplished painter and electric guitarist of note. He was recently singled out as one of the bright up-and-coming new generation abstractionists, and was featured in the National Artist Jose Joya Retrospective in 2012.
Upcoming Shows:
More shows coming soon.
"The Purpose of the Moon" EP Review
"Maman" opens up the EP with an experimental sound that's out of this world. The track twists and turns with melodies, dual vocals and instrumentation that goes all over the place. It's a nice introduction to the dynamic sound the band is all about. "Pirouettes of Night" continues with the pace set by the opener. It has a touch of Aphex Twin to it with its unique sound. "Mr Lumpus Decides To Die" is emotional with its delivery. The track glides ahead and is moody in all the right ways. "Dark The Star" is super infectious and has single written all over it. "Houdini Whodunit" brings back the experimentation aspect as the track is more schizophrenic than previous tracks. The track takes a break halfway in, and then erupts back in with more chaos. "The Game of Dying" builds a nice tone early and as soon as the beginning riff comes in, the listener is already hooked. The track cranks up a bit and gets more intense with its lyrics and overall vibe. "Monsieur X" closes out the EP with melodic instrumentation that takes the listener on a journey. The outro plays into the vibe of the entire EP and is a wonderful end to a fantastic EP.
Verdict:
Jack of None break down all barriers of Experimental Rock with their newest EP.