Jean Cabbie & The Secret Admirer Society (Rock) - Puerto Rico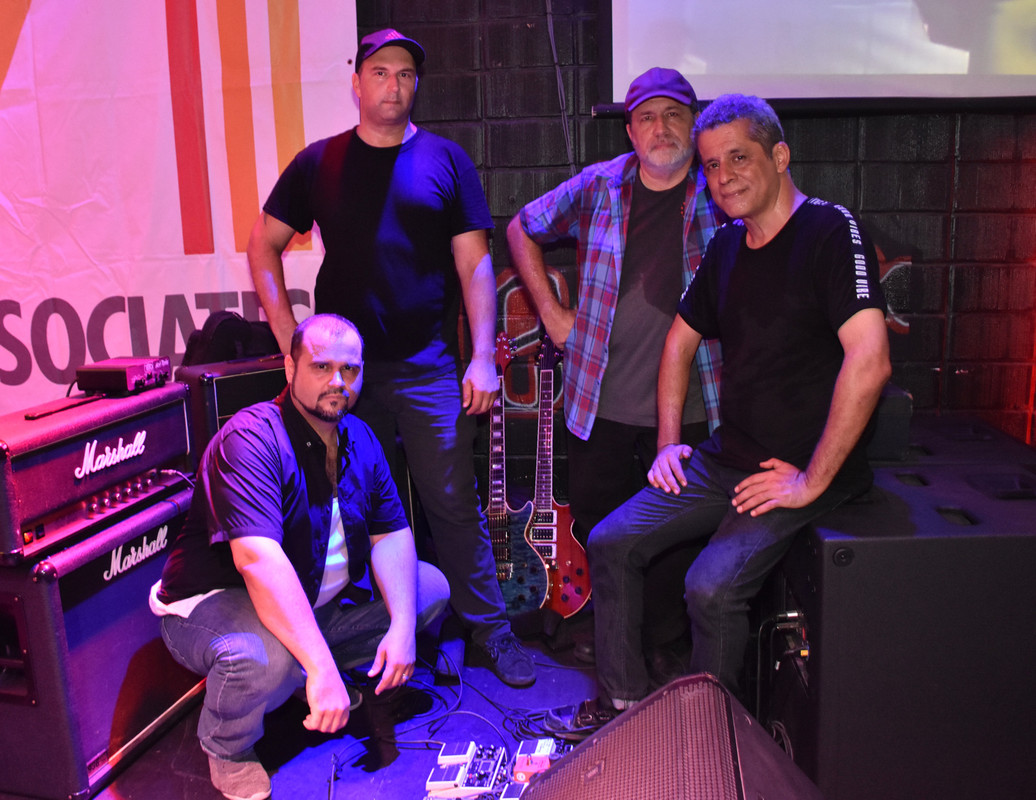 Jean Cabbie & The Secret Admirer Society is an alternative rock group based in San Juan, Puerto Rico. "It's Only Right Now", the band's new single, was recorded and produced by Jean Cabbie & The Secret Admirer Society and Paco Barreras at Mistique Red Studios and currently promoted at online radio stations, radio shows, podcasts, interviews, and live performance.
Jean Cabbie & The Secret Admirer Society have recorded three cd releases including "Anthem", "Good Things" and its latest titled "After Hours". This album marked a new direction for the band as they captured its live sound on record in tracks such as "Red Blue Skies", "Everything", "Do" and "Ride On". "After Hours" is comprised of fourteen songs which reflect musical influences ranging from alternative, classic rock, power pop and roots rock. "After Hours" was produced by the group and Jose Vila at Spellbound Recording Studios. As part of their promotional campaign, the group has promoted tracks from "After Hours" and recent single releases to a great variety of internet radio stations and radio shows including: Museboat Live Channel, Belter Radio, Indie Scene Radio, Lucky Star Radio, CBJ Radio, Spiderwebradio, XRP Radio, Radioactive-Radio and Twisted Road Radio along with featured interviews, music videos and specialty radio shows.
Currently, the band is promoting its new track "It's Only Right Now" as follow up to the "Breathe", "Even Close", "It's Gonna Be Alright", "Oh Donna", "Paper Doll" and "Possession" single releases and look forward to doing additional recordings and live shows during the upcoming months. Jean Cabbie & The Secret Admirer Society is comprised of Jean Cabbie (Lead Vocals/Rhythm Guitar), Eric Cabrer (Lead Guitar/Backing Vocals), Jacob Rodriguez (Bass/Backing Vocals) and Marcos Rivera (Drums).
"It's Only Right Now" Single Review
The track begins with some old school rockin' riffs to get the party started. The steady tempo cranks right into the first verse. The melodic vocals glide effortlessly along the Alternative Rock path. The subtle chorus comes in shortly after and it's super catchy and easy to sing along to. The track wastes no time in getting into the verses and choruses to set up for the bridge. The bridge features an extraordinary guitar solo that transitions into the chorus (with a dash of guitar solo in the background) to close things out on a high note.
Verdict:
Their new single is a perfect example of a rockin' good time.
-Interview- (9/13/22)
1. How did you get started with music and how did you develop your sound? Who thought of the name "Jean Cabbie & The Secret Admirer Society" and is there any meaning behind it?
I started with music on my early teens to this day. I was involved in several cover bands that did very little original material. At some point, I realized that if I was going to leave my mark and do something worthy of myself, I should concentrate on my original music as there were always plans to do an original music project down the road. As a group, we started out recording an ep titled "Anthem" which has a more pop-rock oriented sound. After recording that first release, I decided to write music more akin to my preferred musical influences and the result of those sessions, we recorded our first full length cd release titled "Good Things" and subsequently a second 14 song cd release titled "After Hours" which had very good response from the online radio stations and radio shows where it was promoted. In the last seven years, we have released a total of six new single releases being "It's Only Right Now" our most recent.
The music has evolved at the same time as I have been exposed to different music styles in the rock genre and integrated them to the band's current music style. It is something that keeps evolving and I like it that way for it avoids stagnation and encourages musical growth. The name Jean Cabbie & The Secret Admirer Society came out as a necessity as I did not want to use my real name. The "Cabbie" bit came from my father as it was the nickname he had while he was in college fraternities. The "Jean" is a French translation of my real name which is Juan. The Secret Admirer Society is based on my general interest in secret societies and such. These societies which were established many years ago had very peculiar names. The only thing done to the band's name was to adapt in such a way that did not sound weird and make it approachable.
2. What do you want people to take away from your music?
There is always a lot of hard work when it comes to record and perform live music. It's a musical option for the public to listen to us as an organic rock band and to appreciate the band's music. As a traditionalist, the magic relies on the music and the lyrics. The greatest gift for us would be for the public to enjoy our work in its purest form.
3. How would you describe your sound to the average listener?
Our sound is a very interesting blend of classic rock, alternative rock, power pop and roots rock. If you find any common ground with these musical styles, it is very likely that you will enjoy Jean Cabbie & The Secret Admirer Society.
4. Who are three bands you'd like to tour with?
Volbeat, Foo Fighters, Portugal. The Man.
5. How has Covid affected what you do?
It certainly did during 2020 and 2021. We had several gigs lined up in San Juan, Puerto Rico during early 2020 that had to be postponed. Also consider that many bars and clubs have shut down operations due to the period the Covid pandemic has lasted. There is some glimmer of hope for 2022 as there are possibilities for us to return to live performance.
6. What's your take on the current state of Rock?
There is a lot of urban music and pop music that dominates the commercial radio charts. Now please be advised, that all music styles have a cyclical time span. As I was reading recently, current popular music is losing its grasp on public whereas there is a surging interest in catalog music. Check out all the big record labels buying publishing catalogs from well-known artists and bands. It's only a matter of time where rock music should be relevant again.
7. What's the current music scene like there in Puerto Rico?
The current music scene in Puerto Rico has slowly getting back on its feet after the Covid situation. There are venues that have opened although there is very little access for independent artists to play at them. These are venues aimed to upcoming artists usually supported by established record companies. As a band, we must settle for the rock venues which right now they are very difficult to play there as they are usually booked months in advance. So, in the meantime, I keep recording and promoting and look for other places and countries to perform.
8. What's your take on the royalties that streaming services pay out to artists?
It's always good to stay informed and not get mislead when it comes to streaming services. They can be deceitful and give you a wrong idea if people are really listening to you. Be aware of promotional services and the "bots" as they can cost you a lot of money and most of them are not reliable. I had the opportunity of reading an article which commented regarding this matter, and it also provided a calculator with the approximate rates so you can know which streaming service pays the best and others which do not. You decide in the end which will the best course of action for your promotional efforts.
9. What's next for Jean Cabbie & The Secret Admirer Society?
We have plans, as a band, to record another song before the year ends. As for live performance I'm weighing options: whether to do a self-produced show in Puerto Rico and the other one, which is to perform with the band abroad. I think that people from other countries would like our music and help us establish Jean Cabbie & The Secret Admirer Society as a bona fide musical group. We're heading to record a single with Zachery Primrose in Vermont, in early November. We're going to continue to work on our EP with Jay Maas in Massachusetts. We're about 2/6 of the way there and we're just going to keep grinding with shows, meeting new people, and sharing our sound. We'll see you there.