Killing Rapunzel (Hard Rock/Metal) - Wausau, Wisconsin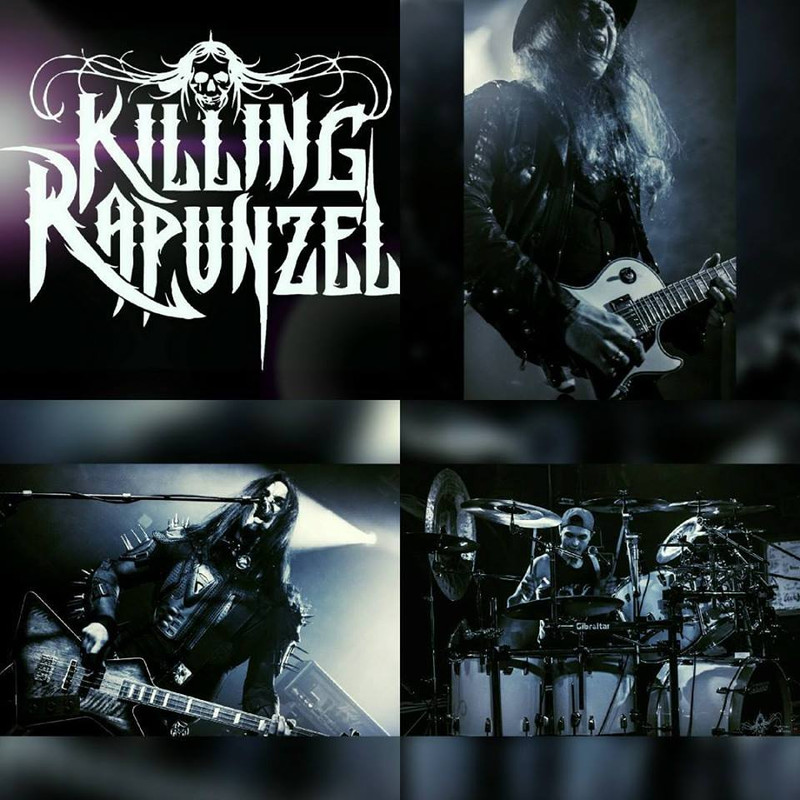 Formed by Dakota Malinowski and Branden Johns in 2012, later joined by percussionist, Emmitt Raczkowski in early 2015, Killing Rapunzel is a hard rock band based in Wausau, Wisconsin. Together, the three realized that they have been given the tools, and shown the wisdom from the leaders of the past. They knew that they could show this new world how to rock their souls out.
The mission statements of Killing Rapunzel are, To make people aware of the problems that are destroying and corrupting the world, and the assurance that no one is alone if they experience one of these problems. That the members of Killing Rapunzel express the "excess" that every human faces. All the while showing the fun, and the adverse side of every situation, they also share a position with many others, that states that if one believes, wants, and needs something, one can, and will, get it. That it is not because of the unique way that they operate, appear, and create music, but it is with the power, and solely, in the hands of the fans, current and future, that Killing Rapunzel will make the biggest, baddest, and most spectacular shows and music in metal history, regardless of anything that gets in their way.
So far along their timeline, Killing Rapunzel has played many shows across the Midwest, many being festivals such The Price County Fair, and the annual Rock The 400 Block Party. Killing Rapunzel has also had the honor of opening up for national recording artists Smile Empty Soul, Powerman 5000, Texas Hippie Coalition, Trapt, Doll Skin, 3 Pill Morning, ONE (The Only Tribute To Metallica), The Fuck Off And Dies, Warrant, Sebastian Bach, Armored Saint and Dokken. They also have successfully carried out their self-sustained Taking Control Tour 2016 across the midwest, throwing down in Wisconsin, Minnesota, Iowa and Illinois. Currently, Killing Rapunzel is a self-governing entity and they record, mix and master their own music. They have recently released their debut album, "Taking Control", which includes the single, S&M. They keep their own books and file for their own claims and records, such as trademarking and copywriting applicable material.
Though the leadership and guidance portrayed by the members of this group is accredited to many people throughout their lives, Killing Rapunzel takes great pride in taking part of the collective mindset of global touring artist, Tom Hess', Music Career Mentoring Program, whose core values are to elaborate on the steps and necessary mindset needed to "become successful" in the music industry. Along with being a growing business, Killing Rapunzel strives to be a national and global touring act. Together, aiming to tear the roof down in venues all across the world, Killing Rapunzel has their hearts set on showing the world that real rock and metal is long from dead.
Upcoming Shows:
4/14/19 - Bos Meadery - Madison, WI
4/20/19 - SV2 - Green Bay, WI
"Taking Control" Album Review
Killing Rapunzel are a balls to the wall Hard Rock/Metal act from Wisconsin that are looking to tear up the scene with their form of Rock/Metal. Let's take a dive into their "Taking Control" album and see if they have what it takes to achieve that goal. The opener "Here We Are" kicks off some incredible riffs and a high energy that is tremendous in its delivery. The Iron Maiden influence is on full display as it simply shreds and doesn't let up. "Witch City" keeps the pace at a high level as the melodic riffs keep the track on a track of sheer brilliance. The dynamic vocals add another incredible layer of awesomeness as the instrumentation blends with it perfectly. The single "S&M" is next and it doesn't hold anything back. It's fast, in your face and brings that Rock attitude right to the forefront. It's sure to attract the Rock crowd with ease. "Your Song" has shades of Guns & Roses. The track has that old school flair that keeps things fresh throughout its run time. "Pissed On" takes a bit to get going but when it finally kicks in, it's heavy and melodic. The soaring chorus combined with the almost marching breakdowns will get the pit moving for sure. The guitar solo on the track is awesome. "The Raven" slows things down for a bit. The two and a half minute ballad shows off a different side of the band and it works quite well. "Six Feet Under" brings the high octane sound back up. The sound will get the head banging along immediately and doesn't let up. The melodies are easily accessible and should garner some sing alongs right away. "Follow" brings back the Iron Maiden sound as it's like a runaway freight train with its awesome sound. "Taking Control" is just downright dirty and heavy. The track will get the live crowd moving along as it's hard and has some serious bite. "Victory" has a slight different sound compared to the previous tracks. While they still have their signature sound, there's a bit of a difference in the approach but it just shows the depth the band has in their arsenal. "Out Of Luck" is two minutes of a "calm before the storm" type Rock sound. It's slowed down and gets the listener ready for the closing track. The closer "One Last Taste" is a single in the making. The track is tremendous and is pure Rock madness. With new music on the horizon, be sure to keep your eyes and ears on these guys!
Verdict:
Killing Rapunzel's "Taking Control" album cements its place alongside the heavyweights of the Hard Rock/Metal world.
-Interview- (6/12/18)
1. How did you get started with music and how did you develop your sound? Who thought of the name "Killing Rapunzel" and is there any meaning behind it?
Dakota, Branden and Emmitt were saturated in music with their parents and families since their childhood years. They each individually had a burning passion to grow up to do what they love, and that was making music for all to hear and enjoy! Dakota and Branden were more influenced by classic rock/metal bands, such as Judas Priest, Iron maiden, Pantera, Motley Crue etc. Emmitt's roots were more modern, such as All That Remains, Killswitch Engage, Lamb of God, Wage War, Periphery, etc. They united together in high school and fused their playing styles together to create the sound of Killing Rapunzel people know of today. The sound is still constantly changing and evolving. Dakota was the founder of the name Killing Rapunzel. The meaning behind it originated back when Dakota was attending middle school. One student, who called him Rapunzel for having long hair, told him to cut off his hair so he would "look better". As time went on, he thought long and hard about the comment and came to the conclusion that if he were to cut off his hair, he would be killing his soul and his passion to play rock and metal music, and it would be Killing Rapunzel, or his looks that drove him to be what he was.
2. What do you want people to take away from your music?
The messages of our songs are about exposing the truths and faults in society, and rebelling against the "social norms" to serve and live by a better standard of life.
3. How would you describe your sound to the average listener?
If you took the best of the 70's and 80s rock/metal music and put a modern spinoff on it, you would get Killing Rapunzel.
4. Who are three bands you'd like to tour with?
Ghost - Brandens Vote
Savatage / TSO - Dakotas Vote
Lamb of God - Emmitts Vote
5. What are your three desert island albums that you'd never get tired of listening to?
Firepower by Judas Priest - Dakota
Opus Eponymus by Ghost BC - Branden
6. What's your take on the current state of Hard Rock?
It could be better. That's why we are here, trying to set a new standard of what true Rock n Roll and Heavy Metal is like, and that is played from the heart and soul.
7. What's the current music scene like there in Wisconsin both locally and state wide?
There are a plethora of bands around Wisconsin. Many of which aren't at the caliber of what we are at, aiming to make a living off of our true passion.
8. What's your take on legal/illegal music downloading?
We think its okay to have a few songs for free download to show people what we are about. But after putting so much effort and time into a record, we feel it's only fair to have people buy the album. Also if you buy the album verses downloading it for free, it'll be more meaningful to you that you've invested your own money into music you desire to listen to.
9. What's next for Killing Rapunzel?
A five song EP is in the works for later this year/ early next year. We are hoping to tour extensively and get our name out there to a wider audience.
10. Any shoutouts?
Any and all supporters/fans of Killing Rapunzel, who keep the dream alive!