Kushtaka (Death Metal) - California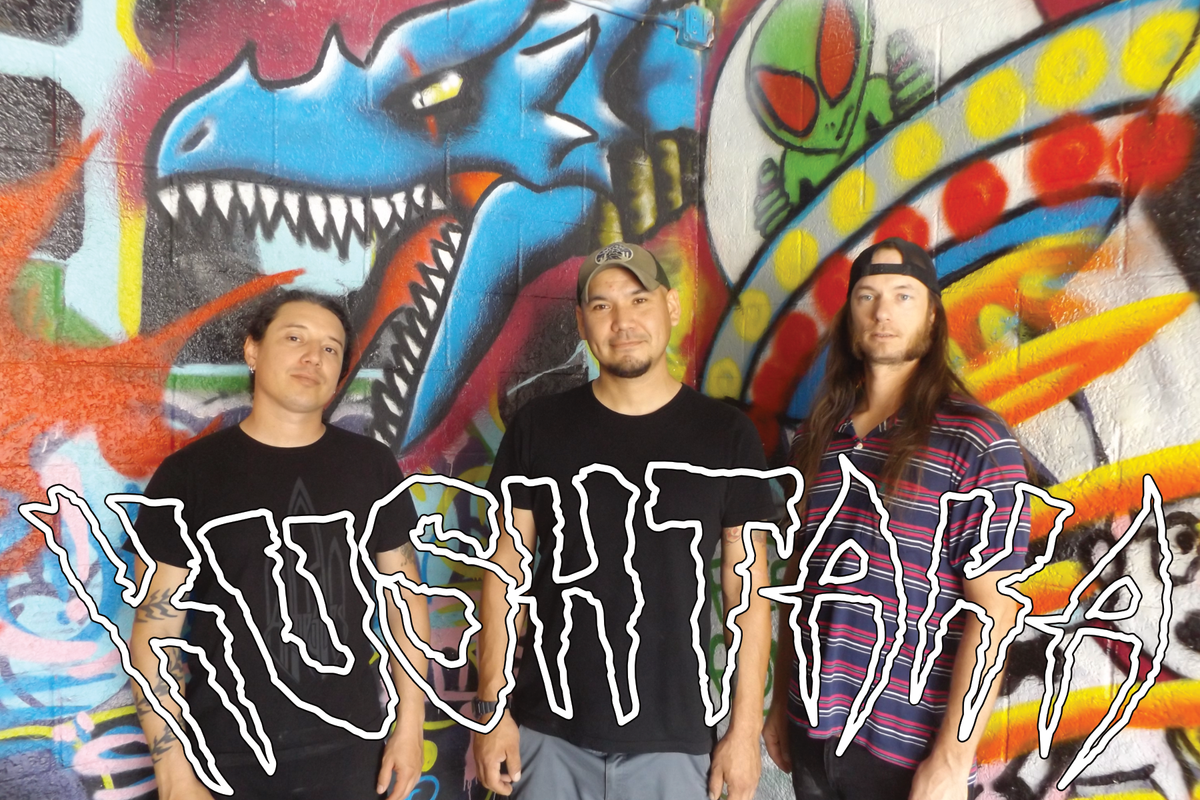 Rising up from sunny San Diego, Kushtaka is a death metal trio consisting of Gabe Fonseca on guitar, Wayne Price on vocals, and AJ Belluto on drums. The three of them have been playing in local southern California bands since they were young teens. Wayne did vocals in Downspell for many years. Gabe played guitar in a local band called Stiletto Silhouette. AJ has played guitar and banjo in Lexington Field, bass in Horde of Sirens, drums in both Fall of Monroe and Beira. Gabe and AJ also currently play bass and guitar in Desert Suns. AJ and Gabe started jamming Kushtaka songs sometime early 2018. Wayne joined the band maybe a year later.
Covid put a little pause on their momentum but on Jan 7th 2022, they released their first EP called Into the Woods. It consists of four face melting songs that sound like a blend of melodic, technical, and progressive death metal. With Gabes hard rocking guitar solos and headbanging riffs, AJ's groovin rhythms and lightning fast drum fills, topped off by wicked vocals telling stories from Wayne's dark imagination. There's a little something for every metal fan in KUSHTAKA.
"Into The Woods" EP Review
The opener "Portals" sets a furious tone early. The standard it sets unleashes with that Death Metal flair that should scare the heavyweights of the scene. The riffs are on point and it's an opener that grabs the listener right away and doesn't let go. "Totalitarian" is a five minute track that showcases a ton of depth. From the opening piano work to the headbanging riffs to the melody around the three minute mark to the guitar solo towards the end, the track displays their talents perfectly. "Sleepwalkers" is more straight forward in its approach. The track is the shortest of the bunch but is filled to the brim with intensity. The closer "Iridium" will deliver some truly devstatating circle pits in a live setting. There's a touch of melodic riffs but other than that, it's straight chaos through and through.
Verdict:
Kushtaka crushes all opposition with their explosive EP.
-Interview- (3/29/22)
1. How did you get started with music and how did you develop your sound? Who thought of the name "Kushtaka" and is there any meaning behind it?
Wayne: Gabe and Aj have been in bands for 20 years and developed their sound separately. When the band formed, it made a unique sound when they got together. I thought up the name kushtaka. Its an ancient Alaskan native folklore or mystical beast if you will, basically a shape-shifter that takes your soul so you cannot reincarnate.
2. What do you want people to take away from your music?
Wayne: We would like people to enjoy something a little different and be open to our sound.
3. How would you describe your sound to the average listener?
Gabe: I think we sound like a blend of melodic and technical death metal. But with elements of hard rocking guitar solos and grooving drums.
Wayne: I'd say we sound like three metal dudes who like to rock out!
4. Who are three bands you'd like to tour with?
Gabe: At the Gates, The Black Dahlia Murder, and Gojira.
Wayne: Pig Destroyer, Necrogoblicon, and Napalm Death.
Aj: Between the Buried and Me, Megadeth, and Meshuggah.
5. How has Covid affected what you do as a band?
Gabe: The last couple years have been weird to say the least. We barely played two or three shows as a band then BOOM covid hit and no more shows. But we've been jamming the whole time and working on new material and ideas for the future of the band. Now that concerts are making a comeback, we've been playing live and really enjoying it.
6. What's your take on the current state of Death Metal?
Gabe: Death metal nowadays is saturated with so much good music it's mind boggling. It's a good time to be alive for metal fans.
7. What's the current music scene like locally there in California?
AJ: I think the scene here in SD has always been a little lopsided as far as number of bands/shows vs number of show attendees goes. There's tons of killer local bands and lots of shows but there hasn't been a ton of crowd support in the past. But ever since covid locked everything down, people are hungry for live shows again and bands are well practiced and playing better than ever. Its been refreshing to see and be a part of. Hopefully we can keep up with this current trend and have a thriving scene.
8. What's your take on the royalties that streaming services pay out to artists?
Gabe: Streaming services are great for exposure and finding new music. But unless you're hitting six digit streams you're not making much money. It simultaneously helps and hinders.
9. What's next for Kushtaka?
Gabe: We have plans to make lots of content for people to enjoy in the near future. Also lots of live shows and hopefully a little tour of the south west before the year is over.
10. Any shoutouts?
Gabe: Just want to give a shout out to Ben over at Wrist Twister Music for mastering our ep and Keith West @hangxfang for the awesome cover art. Also last but not least Mike at From the Depths Entertainment for seeing our potential and giving this awesome opportunity.