Malakye Grind (Rock) - Australia/California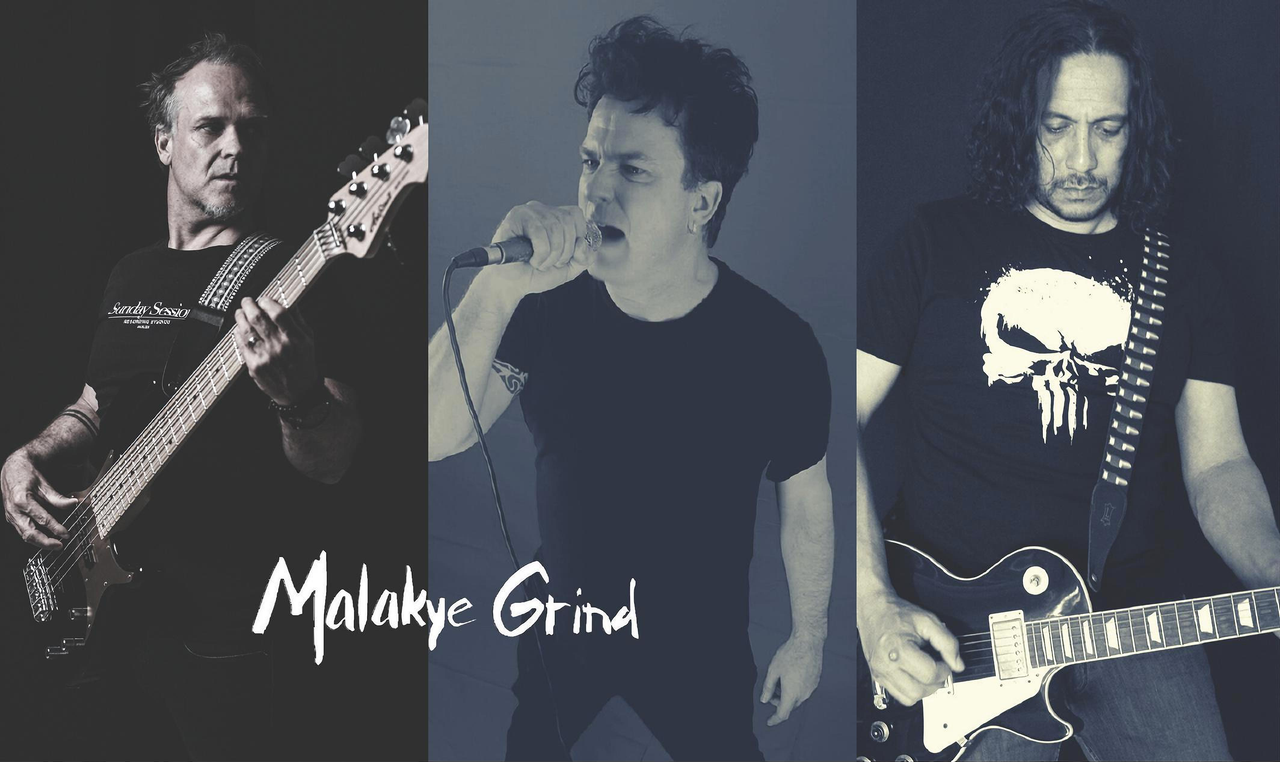 "Music for Midnight People" Album Review
The opener "Watch Them Burn" doesn't waste any time in getting into catchy Rock riffs and melodies. The immediate sounds are infectious and pull in the listener with ease. The track really unleashes a radio friendly tone that treads both the Alternative Rock and Hard Rock line. "Wanna Party" starts with a Red Hot Chili Peppers like opening bass line before blasting into a easily accessible chorus. The first verse drives forward along with the steady Rock instrumentation to keep things at a nice clip. The guitar solo is fuzzy and takes things up a notch. "Say The Words" is more subdued in its tempo. The ballad like track will surely get the lighters up in a live setting. The intensity of its chorus has a wall of sound that hits hard with passion. "Chasing Sunshine" is the shortest track on the album, clocking in at a touch under three minutes. The overall sound has vibes of Grunge to it and cranks up the pacing from the previous track. "Appearances" has a steady sound that expands on the signature sound as the melodies soar along with the swirling instrumentation. The track has Summer feelings written all over it. "All Our Nights Are Wild" takes a bit to get going, as it's more methodical in its delivery. The layers that are introduced throughout add a nice touch and help it pick up the tempo. "Erase The Tapes" has shades of Portugal The Man to it. The down tempo Rock sounds are more prevalent on the track along with a solid guitar solo later on. "Take It All Away" brings with it the Buckcherry/Hard Rock sounds. The track hits full speed with its heavier riffs and melodies and helps it become a surefire fan favorite. "We Lost Control" keeps the Hard Rock path and the riffs chugging along. The upbeat, hard hitting nature is top notch and features awesome melodies throughout its runtime. "Blue Meanies" is more Alternative Rock as the riffs are more laid back but still strong in their approach. "The closer "Another Day" is a six minute epic track that showcases the talents of the band perfectly. The track wraps up the album in a tight bow and creates an album that every track is single worthy.
Verdict:
Malakye Grind exude Rock radio confidence with their newest album.
-Interview- (9/23/21)
1.How did you get started with music and how did you develop your sound? Who thought of the name "Malakye Grind" and is there any meaning behind it?
We each had different forces bringing music into our lives - Rob comes from a musical family, Brook's (bass player) grandparents were musicians and Pat's (guitarist) older brother is an artist but collectively we came together during a time of music explosion on the planet - the early 90's was a massive time for rock and particularly grunge rock. As young kids music and rock culture was everything for us, you couldn't help getting swept up in it one way or another, for us it was starting a rock band.
We needed a unique name as our sound is quite eclectic so it just seemed to stick. Malakye is a very old word that pops up in lots of different cultures with the loose meaning of "messenger" and we are skaters/surfers so the word "grind" was part of our vocab and it suited our music. If there is any message to the music we make it's probably "dig deep".
2. What do you want people to take away from your music?
If our music makes listeners feel anything then we are winning. That's our goal. We all get shivers down our collective spines playing the music and so if someone feels the same that's amazing.
3. How would you describe your sound to the average listener?
Rock with a 90's feel and a punk/funk vibe.
4. Who are three bands you'd like to tour with?
Tool, Red Hot Chili Peppers, and Foo Fighters.
5. How has Covid affected what you do as a band?
It put us into a position where we had to completely record the album "Music for Midnight People " without the four of us ever being in the same room for tracking or mixing. I also think that it forced us to be honest with each other on the musical and lyrical content of the record and we ended up with something we are very proud of. This album was recorded in studios in LA, Sydney and Byron Bay, Australia.
6. What's your take on the current state of Rock?
It's coming back and it's exciting.
7. What's the current music scene like in California?
I can only speak for LA and say that it's vibrant and always surprising to see the level of talent at so many venues.
8. What's your take on the royalties that streaming services pay out to artists?
It's amazing that streaming services mean that our releases are instantly out globally but the remuneration rates are often too low to be viable for bands. Everyone wants a piece of the pie but musicians, bands, artists, they deserve something that sustains them too.
9. What's next for Malakye Grind?
Once Covid ends we want to do some touring particularly in the US, Australia and Japan and then back to the lab for more writing and recording. We are excited to play the music from "Music for Midnight People" live and equally excited to see where our sound will go next.
10. Any shoutouts?
To Extreme Music for their support. Australian Producer/Mix Engineer Forrester Savell and studio gurus Gus Bonic and Adam Barns and also Australian Radio Programmers for giving our single "Watch Them Burn" airplay these last couple of months. And to anyone that has listened to Malakaye Grind, come to a show or helped share our music - thank you!