Minority (Rock/Punk) - Slovakia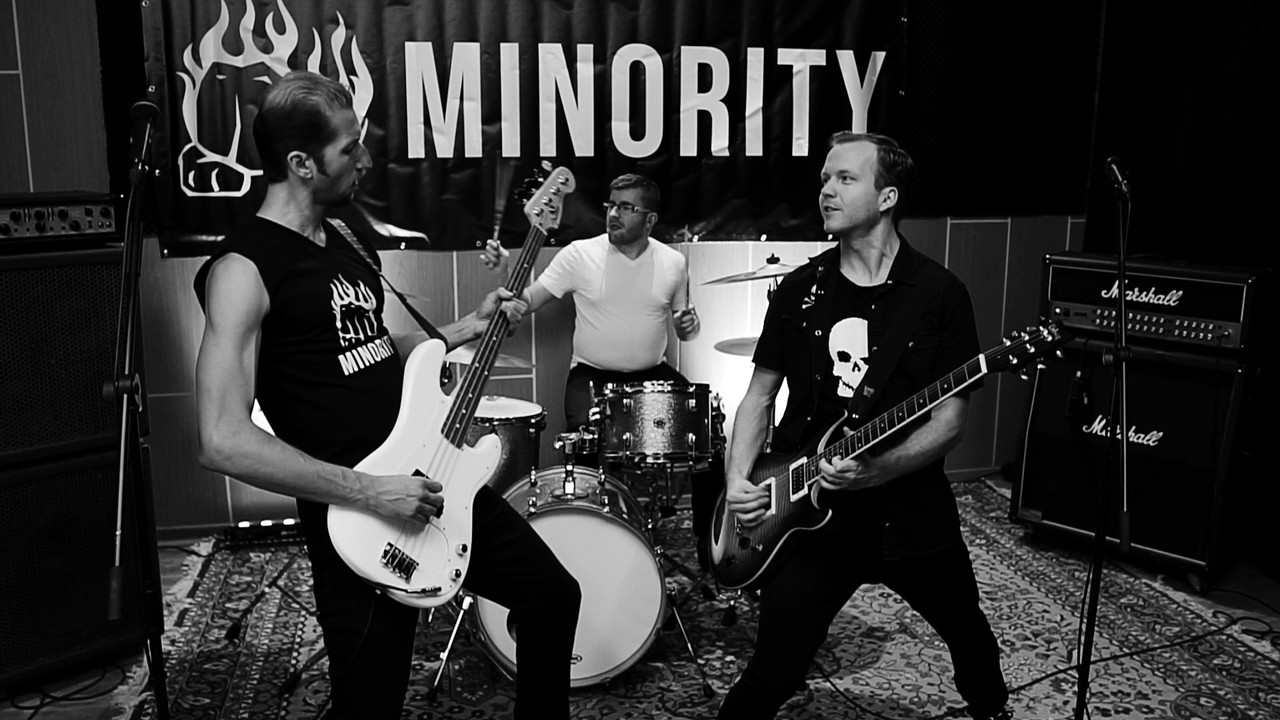 The Minority is a punk-rock group from Bratislava, Slovakia. Formed in 2018, it's still one of the newer acts that have emerged on the map of rock music in Central Europe. They released their debut album "Till The End Of The Line" in 2019 on their own label. Their music is mainly a mix of genres like rock and punk-rock, but it also veers a little bit towards rock'n'roll, folk and country. All their songs are typically straightforward with catchy and melodic choruses.
Right now, the band has released a brand-new single called "Let It Be Sunday" supported also by a video. As the frontman Peter Jarábek says "Getting up early on Monday morning does not always feel right. Especially when you see that another working week is ahead of you and the joyful moments of the weekend are gone. That's the main point of the lyrics and that's what made me to write this song". This tune comes from the new music material that was recorded in winter 2022. The group announced later, that they plan to release a new song every three months to keep their fans constantly fed with a new stuff. Meanwhile they also released one song in Slovak called "Duch rebelov" that has got great response from their fans in Slovakia and Czech Republic so far. The band is currently on summer tour with concerts in Slovakia, Czech Republic and Austria.
-Interview- (8/24/22)
1. What's new with The Minority?
Right now, the band is on tour with concerts around Central Europe. Couple weeks ago we have released a fresh new single called "Let It Be Sunday" supported also by video. It's a straight-forward punk rock song about how it feels so bad to get up early on Monday morning, when the entire working week is ahead of you and the weekend is so far away. This tune comes from the new music material recorded this winter. Now we stick to the plan to release a new song every three or four months to feed our fans with a new stuff on regular basis. At the end of May, we released also one song in Slovak called "Duch rebelov" which got absolutely great response from our fans in Slovakia and Czech Republic. So right now, except releasing new music, it's all about touring.
2. What do you want to achieve with the new music?
We want to reach even more fans with these new songs and get more attention also from the people in the music business. As mentioned before we want to put out new song every third of fourth month and this way keep constant attention from our fans and new potential fans.
3. What's the concept behind the cover art for the new music?
We decided for now to do the cover art ourselves. The creation of cover art starts always with some moment from the video of the new song. Then to this moment, which acts like the main background picture for the cover art, is added collage of pictures of band members taken also from the same video. So, it's quite simple.
4. How's the local live music scene been?
Our local music scene has been born again after these two pandemic years. It was not easy to start again after such tough times for many rock festivals, but the people came and together with the bands made all these events truly unforgettable. It was really hard for our band to get a slot at some of these festivals, as they had bands booked two years ago and there was very little space for us to fit into the line-up. We strongly hope that the things are gonna get better for us in the next year, and of course we wish the same to the entire live music scene.
5. How does the writing process go with The Minority?
The writing process goes like this: Our frontman and main writing force Peter Jarabek usually writes new song on acoustic guitar. He always writes music first. Then when he likes the music and feels like that this new idea could be a good song, he starts writing the lyrics. After he has finished the lyrics and the basic concept for the song is ready, he records a very simple demo of it and then presents this new song to the rest of the band. Then we work on the song together bringing some ideas for drums, bass line, guitar fills or something else. So, in the end it's always a writing process of the entire band that leads to the final version of the song.
6. Any thoughts on more music videos soon?
Yes of course. We want to make music video for each song that we plan to put out. So in couple of months, you can expect a new song and a video from us.
7. What's your favorite tracks to play live?
It is hard to name only few because we like to play live every single one of them. But I would say it's definitely "Unbreakable", "Guess My Name", "On My Feet", "Enemy Line" and of course our new single "Let It Be Sunday". Especially this new song has a very straight-forward punk rock energy in it. We enjoy it so much to play this one during our shows.
8. What are you currently listening to?
Speaking for myself, I'm currently listening to the new album by "The Interrupters" called "In the Wild". For me it's a real masterpiece and so far the best rock/punk-rock album of the year 2022.
9. Why should people check out The Minority?
Wow, that's a great question. So, if you want to hear, how does a "California" punk-rock from the Central Europe sound like, then definitely check out our band. We have got some new music coming out pretty soon and we delivered every single ounce of energy into these new songs, so we hope you're gonna like them. We believe that music gives you wings to fly away from the problems of everyday life and brings some joy and energy that we all need especially during these hard times. This is the main reason why we make music and we want to share it with all of you! So check us out on YouTube, Facebook or Spotify and join us on this thrilling journey.
-Interview- (2/21/22)
1. How did you get started with music and how did you develop your sound? Who thought of the name "Minority" and is there any meaning behind it?
We developed our huge love for music when we were kids, but I think the main breaking point for us was hearing bands like Bad Religion, The Offspring, Pennywise etc. in the 90's. I think that shaped our taste for punk-rock music the most. We try to keep our sound simple. A good straight forward punk-rock sound. Being a three-piece band (drums, bass and guitar), simplicity has worked for us the best. We chose the name "The Minority" because we wanted something simple that would be easy to remember for the people in Slovakia and Czech Republic, but also for the rest of the world. The name should mainly express being yourself, choosing your own path, not thinking or worrying about what the majority thinks and just simply going your own way. The same attitude also represents that burning fist logo of our band.
2. What do you want people to take away from your music?
Mainly the same joy and happiness that we have when we play our songs live. It's as simple as that. We just want to play music that we love and live for and share this energy with the audience to bring some moments to their lives that would help them to forget about everyday reality. Our lyrics reflect how we live, what brings us joy and happiness in contrast to what worries us and calls for change.
3. How would you describe your sound to the average listener?
As mentioned before, it's a straightforward punk-rock sound that features catchy and melodic choruses. In other words, it's a rock'n'roll sound to which we added a little bit more distortion. A good old school rock'n'roll music has always been a huge influence on our sound. That's why we want to keep our sound to be very natural and raw.
4. Who are three bands you'd like to tour with?
There are so many bands we would like to tour with. But if we could pick just three, it would be Social Distortion, Green Day and The Offspring. We grew up on the music of the 90's and bands like Green Day and The Offspring were probably the biggest influences on us and I also think the main reason why we started making music. But we must also mention bands like Bad Religion and The Interrupters. They are such great bands and it would be a huge honor for us to tour with them.
5. How has Covid affected what you do as a band?
Covid has affected us quite a lot. We had to cancel our tour for the summer 2020 where we wanted to promote our debut album "Till The End Of The Line" and also many other gigs throughout almost two years of lockdowns. But fortunately, the tour dates were rescheduled for the year 2021. The good side of these "covid years" was, that we had much more time for songwriting and recording. Because we had received a lot of requests from people in Slovakia and Czech Republic, we recorded and released an album in February 2021 called "Do poslednej dávky" that featured songs only in Slovak language. It's basically a Slovak version of our debut album "Till The End Of The Line". This winter we went back to studio again to work on a new music that's about to be released in the summer 2022. So, the last two years were quite a lot about songwriting and recording.
6. What's your take on the current state of Rock/Punk?
The overall popularity of rock and punk-rock music has decreased over the years, if we compare it to how it was in the 90's. But there are still new rock and punk bands coming out and putting out great music all over the world. So the passion is still there and it is also very hard to imagine the biggest summer festivals without rock bands. We are sure that rock'n'roll will never die. Even though it's not at the highest peak of its popularity right now.
7. What's the current music scene like locally there in Slovakia?
Slovakia is a small country, but we've got bunch of good rock festivals there. Probably the most popular among people in Europe is a multi-genre festival "Pohoda". Then there are some smaller rock festivals like "TopFest" or a punk-rock festival "Punkáči Deťom". Punk-rock music is very popular in Slovakia and it is very hard to find any festival where there won't be any punk band among the headliners. People really like to go to punk-rock concerts and have a good time with their friends. We also have to mention some Slovak punk bands such as "Zóna A", "Slobodná Európa", "Ine Kafe" or "Horkýže Slíže" that we grew up listening to and that really shaped our taste in punk-rock music.
8. What's your take on the royalties that streaming services pay out to artists?
We haven't cared about that very much. We know that we are not gonna make a lot of money from streaming platforms. But of course, it's a great tool for spreading our music to some other corners of the world. Our music can be found on every bigger streaming platform, but we still need to learn more about how to use all its benefits. Right now, we are more concerned about playing as many gigs as possible and let the people know about our band and music this way.
9. What's next for Minority?
As mentioned before, right now we are back in the studio recording and finalizing new music that's about to be released in the summer 2022. We are also planning a tour for the upcoming summer to promote these new songs with concerts across the Central Europe.
10. Any shoutouts?
To all rock and punk-rock fans in the world. We are "The Minority" from the "heart of Europe" - Slovakia and we play California punk-rock. Always do what you love the most and never stop believing in yourself!