N.A.S.H. (Alternative Hard Rock) - New York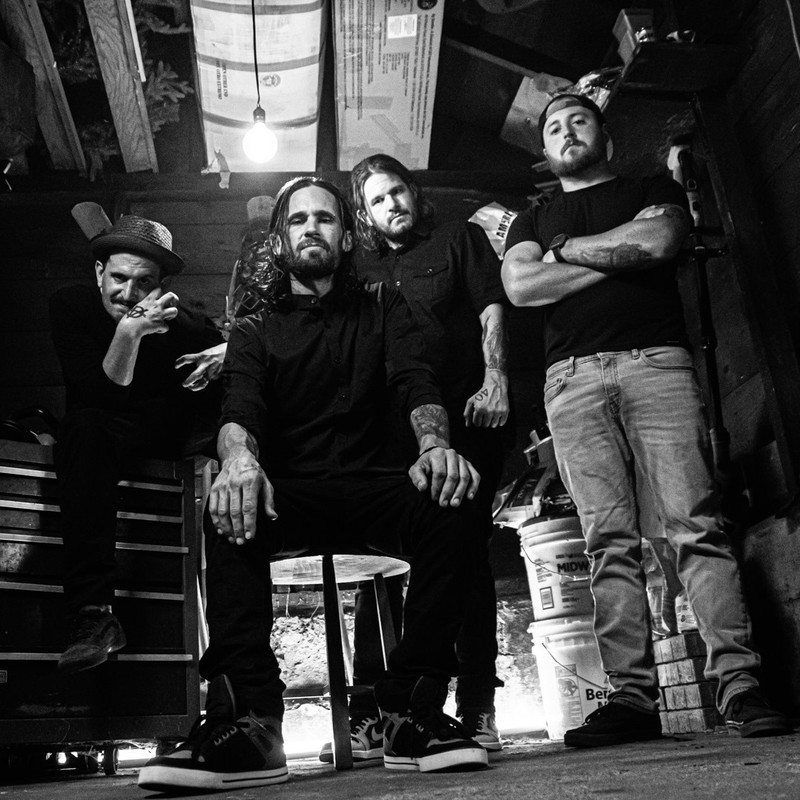 N.A.S.H. is the type of band where all it takes is one note, one beat or one nudge from the fan next to you, a fan swaying to the band's infectious music and charismatic live performance reminding you to forget about the day's stress' and to enjoy the show. Hailing out of a small town not too far from New York City, N.A.S.H. came to fruition when a triad of brothers took their basement jam sessions to a whole new level of musicianship. At a young age - Bryan, Jim Bobbi and Joe began their venture jamming to nostalgic hits from bands like Metallica and Pearl Jam. As they got tighter and developed their own sound, the brothers took to crafting original material that would speak to a wide audience and give them a platform to take their music to the masses.
Their music maintains a blend of hard rock adaptations that heavily incorporate crunchy guitars, epic solos, solid back beats, commanding bass lines and vocal passages that can woo even the most stubborn of music connoisseurs. N.A.S.H. is sure to captivate any fan with their catalogue of music regardless if it's fast and loud, heavy and heart wrenching or a tune you can simply bang your head to as if your sitting in the back of Wayne and Garth's blue flame-painted 76' AMC Pacer.
As N.A.S.H. developed, they brought in the talented Dylan on lead guitars that resulted in an awesome live wall of sound and allowed fans to enjoy the music as it was recorded. The band has independently released their acclaimed debut "Regain the High Ground" and released their sophomore album titled "Incredible Villains" with Heavy Metal Records. N.A.S.H. is set to go back into the studio in the fall of 2021.
"Scary House" Single Review
The track starts off with crunchy riffs and melody to get the track off on an emotional level. The up and down nature of the first verse brings the melodies and culminates in the soaring chorus. The track screams openiner in a live setting. The easy to sing along to chorus goes on for a bit but never feels like it outwears its welcome. The midway mark switches up the pace as the instrumentation takes an A Perfect Circle like vibe with its breakdown. A guitar solo enters the fray and takes the track up a few notches with its intensity. The intensity continues as the chorus kicks back in to close out the track in grand fashion.
Verdict:
N.A.S.H conjure up some awesome Hard Rock vibes with their newest single.
-Interview- (7/31/21)
1. How did you get started with music and how did you develop your sound? Who thought of the name "N.A.S.H." and is there any meaning behind it?
Dylan: I'm sure all 4 of us began jamming in a basement somewhere in New York.
Jim Bobbi: That's true. Myself, Bryan and Joe all lived in the same house, so it was pretty easy to get together and make noise.
Bryan: I think our sound just evolved from our influences. Bands like Metallica, Pearl Jam, Queen, Live and so many more.
Joe: Nash is our last name and we put the periods in between for you to make it stand for whatever you want.
2. What do you want people to take away from your music?
Jim Bobbi: We want people to take away that this is what we love to do. We play our instruments and write out songs together. It is a true partnership. We strive to create music that is real, that evokes feelings. We hope people can connect to it.
3. How would you describe your sound to the average listener?
Bryan: I would say it has hints of Audioslave and Pearl Jam, with a sprinkle of Punk Rock and a dash of Metallica.
4. Who are three bands you'd like to tour with?
Dylan: Rise Against, Shinedown, and Metallica
5. How has Covid affected what you do as a band?
Joe: Covid cancelled an entire year's worth of shows for us, which was a bummer. Things are just now beginning to pick up near us with places opening up and having music. It just made everything more challenging because venues are just trying to survive, but people may not want to come out to live shows.
6. What's your take on the current state of Hard Rock?
Jim Bobbi: I feel that Hard Rock is ridiculously underrepresented at the moment.
7. What's the current music scene like there in New York?
Bryan: Honestly, I think it is struggling. There are few venues left.
8. What's your take on the royalties that streaming services pay out to artists?
Joe: Royalties.. Those must be nice to get!
9. What's next for N.A.S.H?
Jim Bobbi: In August, we are set to create a music video for a song we just got finished recording. In September, we are playing on day 2 of the Blue Ridge Rock Festival down in Virginia. After that, we hope to go back into the studio to finish up some more songs and finish out the year booking more shows.
10. Any shoutouts?
Dylan: Shoutout to all those people still out there looking for new music and looking for new bands to support!