Neostem (Rock/Punk/Metal) - Pittsburgh, Pennsylvania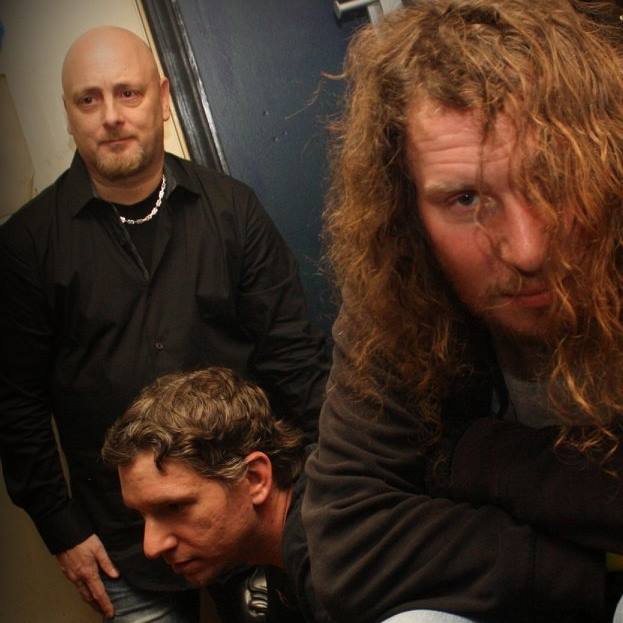 NEOSTEM is a band from Pittsburgh, PA that combines Punk, Grunge, Alternative and a dash of Metal that produces the rustic sounds that embodies the working class town in which they call home. They like their music loud and louder. We hope you do, as well.
Upcoming Shows:
More shows coming soon.
"Germanination" Album Review
"Mudhole" has a guitar riff that helps drives the track forward. The instrumentation sets a steady path once it gets going and the haunting vocals make for a pretty nice opener. "First String Scumbag" has a crunch to it that should help the Hard Rock fans salivate. The track will induce some serious toe tapping with its tempo. "Mirthless" has shades of Grunge to it as the moody Rock tones highlight the track. "Porcelain Skin" is a rollercoaster of sound. The different Rock tendencies shine through as it twists and turns with its pacing. "Scabby Child" is a track that keeps a steady pace and has more of an Indie Rock feel to it. It shows the true depths of what the band is capable of when they want to switch things up. "Rinse and Repeat" is a rockin' track that has hit written all over it. The grooves are awesome and everything works so well. "Creep of the Weak" brings back the Nirvana/Grunge sound. The track features some stellar guitar work as well. "A Moment's Notice" kicks right in with a catchy riff that sets a more Southern Rock tone. The vocals rock forward along with the instrumentation as it cranks up into the high octane chorus. "Shady Lame" cranks up at times and blazes forward with more incredible guitar work. "Syndrome K" switches things up and gets a little fast with its delivery. The Punk vibes are strong but once it gets going, it shifts to a different tempo. "Molly's Lips" closes out the album in a short, sweet fashion. The track wraps things up nicely and pits a tight bow on everything.
Verdict:
Neostem take another step forward with their unique Rock/Punk/Metal sound with their newest album.
"Return To Sender" Album Review
The opener "Reading Puns" has some edge to it. The track features heavier riffs while gliding along a more Grunge path later on in its chorus. It's a solid opener that'll pull in listeners. "Eskimo" cranks up the energy level a bit. The track has shades of Nirvana with its emotion and melody. "Cliche" features a solid bass line and some high octane sound when it really lets loose. There's a bit of controlled chaos to the track as it holds back at times. "Dilapidated" has radio play written all over it. It's really catchy and everything just works well with its vocals and instrumentation. "Elizabeth" is another stand out track that is filled with grooves and melody. "Slew" is straight to the point Neostem. The track is not even two minutes but it's jam packed with their signature sound to T. Heavy, fast and in your face! "Eye Stye" has plenty of grooves to it as it sways along a crunchy path. The track has pretty dynamic in its approach and stands firm on its own. "Gutterfly" tries its hand at more melody. The track has a bit of Bush sound to it and it's pretty infectious with its catchiness. The closer "Bottom Shelf" wraps things up nicely with its heavy tempo and Rock riffs for a solid two minute span.
Verdict:
Neostem unleash a dynamic album that elevates their sound to even greater heights.
"Mr. No Upside" EP Review
The follow up EP for Neostem's "Lipid" EP was recently released and gaining more and more traction as days go by. Let's take a listen and tell you why you should check it out. The opening track "Slouch" has a Grunge sound but also features riffs similar to the Gary Numan classic "Cars". Once the track gets going though, it skates along with a confident attitude and infectious grooves. "Fection" is quite bouncy. The crunchy track will get toes tapping and the live floor moving in no time. "Red Dress" features an infectious riff throughout that'll pull in the listener with ease. The track is single worthy as it ramps up and down with a lase focus. "Die-Version" is a bit of an acquired taste. It has a mostly Grunge sound but also features a bit of Green Jelly type influence. "Relationsh*t" is fast but still holds its own in the melody department. It's two minutes of short and to the point Neostem. The closing track "Shady Lame" wraps up the EP nicely with its ultra catchy depth and overall sound. Every track on the EP (expect "Die") runs in the two minute range. There's a lot to like here and Neostem achieve a lot here with such a short running time.
Verdict:
Neostem's new EP is a tour-de-force of Rock, Metal and Punk for the masses.
"LiPiD" EP Review
Neostem come from the rich music area of Pittsburgh, PA and they bring along with them their newest EP Let's see what they bring to the table. The opening track "Self Entitlement" cranks right in with an explosive sound. The crunchy riffs and dynamic vocals brings to mind Nu Metal and Grunge with its intensity. It's a good opener that helps set a heavy tone. "Driftwood On Dry Land" begins with some nice bass riffs before slowly working its way towards a more melodic style than the opener. The track definitely has the Mudhoney influence as it glides along effortlessly. The title track "LiPiD" is a bit of an anomaly. It has shades of Rock, Punk and Metal and may just get the circle pits going in a live setting. "Common Senseless" is more of a controlled Rock track that has dark tendencies and knows when to turn it up to 11. The closing track "Crass" is two minutes of Grunge. There's a Nirvana vibe throughout and it's perfectly melodic and heavy to really close things out on a high note.
Verdict:
Neostem go all out with their intense sound via their newest EP.
-Interview- (8/31/20)
1. What's new with the band?
2020 has certainly been a wild roller coaster ride and thrown a curve to Neostem, the music community and the whole country, actually. Right as the pandemic hit, we released "Return To Sender". All of our planning to release our new album was altered, cancelled or moved. We have played a handful of online performances during the downtime to feature songs from "Return To Sender", to keep playing. We've been rehearsing and writing songs for a new release for 2021. As we keep our fingers crossed to play a few shows that we've booked for the rest of the year, we are also concentrating on our next release. It will be the our most diverse collection of songs Neostem have released to date. We are excited to bring the new music to the stage, as well as songs from "Return To Sender".
2. What can you tell us about the new music?
It's diverse and daring, but it's Neostem. We strive to push ourselves and not to duplicate what we've done before, so the new music is exciting, a left curve, if you will, but you will know it's us. We are going to put a lot of ingredients in the stew and let it simmer. You'll be surprised, but pleased. We hope.
3. How has the pandemic changed the way you do things in regards to the music and band?
Besides not playing in front of a crowd or on a stage since March, we have not missed, but a couple of weeks of rehearsals. Other than that, we approach the band that when we are able to play a show, we will be more than ready to attack that stage. We want to be more visible on social media to get our music out there, so we continue to look for ways to be visible on those platforms.
4. What's one thing you wish you could change about the music industry, whether it's national or local?
That original Rock music gets a big push again. That album sales matter again, ticket sales and merchandise sales gets bands on the road again to survive.
5. What do you wish to accomplish in the next year?
We want to expand our areas where we play, to new people, new audiences. Record and release our next album of new music.
-Interview- (9/5/18)
1. How did you get started with music and how did you develop your sound? Who thought of the name "Neostem" and is there any meaning behind it?
We come from three different musical backgrounds and each member puts their experience and influences into the music that we call Neostem. Whether it's a riff, a beat, bass line or a jam; a song is then molded and shaped. Ryan came up with the name. Neo = means "new" and Stem = means "typically rising above ground" which fits us that we thrive to create new, original music that will rise above and sprout new listeners.
2. What do you want people to take away from your music?
The realization that everything is not beautiful and flawless. It's real and raw.
3. How would you describe your sound to the average listener?
If you put Mudhoney, Butthole Surfers, Nirvana and The Melvins in a blender and drink it out of a Black Flag mug, you would get Neostem.
4. Who are three bands you'd like to tour with?
Ryan: Mudhoney; Matt: Hyde; Rob: Volbeat.
5. What are your three desert island albums that you'd never get tired of listening to?
Ryan: "Bleach" by Nirvana; Matt: "Presto" by RUSH; Rob: "Throwing Copper" by LIVE.
6. What's your take on the current state of Rock?
It's ever changing and evolving. There are many amazing bands and artists out there, you just have to do a little digging to find new music. Bands like Foo Fighters, Stone Sour, Judas Priest and Metallica are carrying the Rock torch. They are helping pave the way for younger bands that are trying to get their music out there.
7. What's the current music scene like there in Pennsylvania both locally and state wide?
Locally, it's on the rise and there are a lot of very talented bands that are making waves both locally and nationally. With bands like Code Orange, Anti-Flag, The Crowning and August Burns Red that are getting PA more noticed. There is a lot of talent across the state and hopefully it's recognized for it.
8. What's your take on legal/illegal music downloading?
Legal downloading is obviously the wave of the future and the way fans are getting their music. We are seeing more releases of singles and EPs now. The hard copies of vinyl and CDs which you can touch, feel and hold in your hand are now getting harder to find and is not cost-effective as it used to be. Illegal downloading is what it is.
9. What's next for Neostem?
We are gearing up for the follow-up to the"LiPiD" EP for an early 2019 release and we'll be recording at Razorblade Recordings once again! We are also looking forward to our new working relationship with From the Depths Entertainment. Neostem is going to kick it up a notch in 2019!
10. Any shoutouts?
Our fellow PA buds in Oceans to Ash and We The Unwilling; The Electric Crush radio show with DJ Punk & Judy, Rock Rage Radio with Lily Sixx, The Loudini Hard Rock & Metal Circus, Rock Pittsburgh Radio and First Angel Media. We appreciate you all!