NVision (Rock) - Biloxi, Mississippi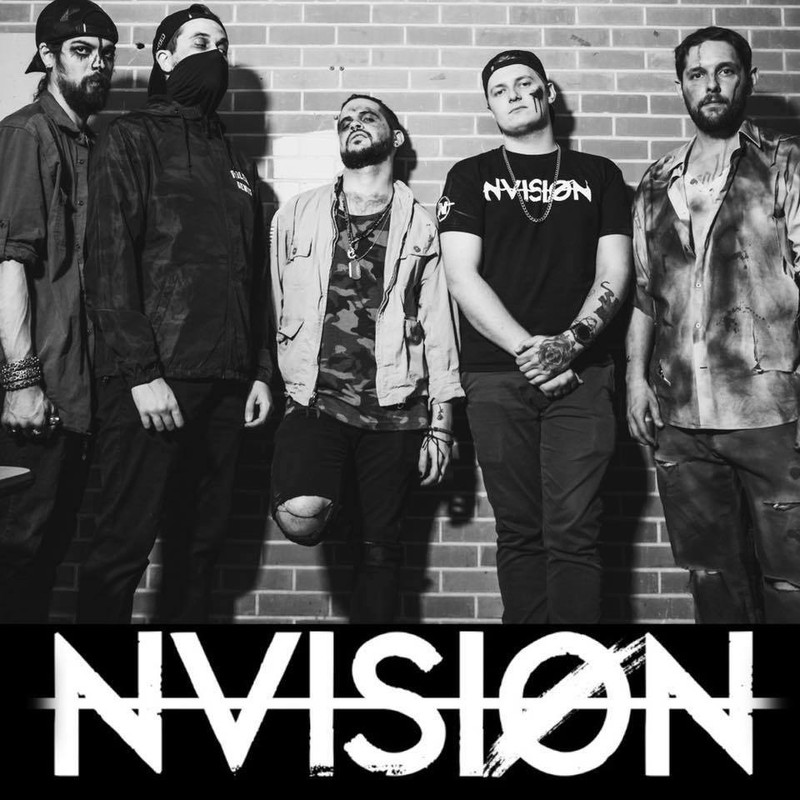 Rooted in hard rock with a casual romance with hip-hop, NVision brings both worlds together with powerful lyrics and catchy hooks. Take a journey in music through the feelings of loneliness, despair and depression while maintaining the positive hope of a brighter tomorrow. An ever growing artist, 2020 seeks to bring a heavier sound with processed guitars and dancing with elements of the ever popular EDM. The debut EP, Reflections of a Broken Soul, earned 32,000 streams on Spotify and there's no sign of slowing down with the heart catching artist's music.
NVision consists of Alex on keys, programming and vocals, Nate on drums, Kevin on guitar and Austin on keys, and turntables. The powerful, lively 4-piece is sure to turn heads as the world opens back up to its new reality. Currently based out of Biloxi, MS, NVision has performed at venues all over the Gulf South including Republic and House of Blues in New Orleans as well as the Mississippi Coast Coliseum.
Upcoming Shows:
More shows coming soon.
"The End" Single Review
The track starts with a moody atmospheric vibe with its vocals and instrumentation to set things off before the amped up chorus takes hold. The chorus is hard, heavy and hits with the passion and emotion the band is known for. The bridge comes through with a guitar solo that helps transcend the track to new heights. The catchy as hell chorus and Modern Rock instrumentation help wrap up the track perfectly. Rock radio should be begging to play this track.
Verdict:
Nvision keep pumping out the Modern Rock jams and "The End" is another banger.
"Perception" Single Review
The track opens with a low tempo beat and some more modern Hip Hop vocals before the Rock riffs enter the fray. The soaring vocals and crunchy riffs create the chorus and take things to a more upbeat tone. The second verse features more of a Tech N9ne like beat and flow. It fits the track more than the first verse. The chorus kicks back in and the bridge is a chaotic mix of Rap Rock that would for sure create some mosh pit moments live. The ending of the track has the chorus play out as it goes into a more somber sound.
Verdict:
Nvision expand their Rock sound with their new dynamic single.
"Last Goodbyes" Single Review
The track kicks off with melodic vocals before the Alternative Rock instrumentation blasts in. The first verse continues the more monotone vocals before building up to the soaring chorus. The Modern Rock feel brings it back to the early 2000's Rock style. There's some edge in the verses as there's a bit of harsh vocals in the background but they're not needed. There's an Electronic Rock laden breakdown two minutes in that seems a bit out of place. The band are trying to incorporate different styles and while that's awesome, sometimes it can feel disjointed. The foundation of the track is good enough and as the track fades out in the last fifteen seconds, there's a sense that there's a lot to like and a lot to look forward to.
Verdict:
Nvision's newest single looks to break the boundaries of Alternative Rock.
"Show Stopper" Single Review
The track starts off with a swirling sound that cranks right in with a nice bouncy breakdown to get things started off with a high energy. The first verse features a lot of different layers to keep things interesting. The chorus drives it home as the instrumentation comes together to form a nice modern Alternative Rock sound. The bridge of the track dips the tone down a bit and it slowly builds itself up and erupts with a nice breakdown and chorus to fully engulf the listener with a highly infectious Rock sound.
Verdict:
Nvision take their ultra catchy Rock sound to the next level with their newest single.
-Interview- (7/21/20)
1. How did you get started with music and how did you develop your sound? Who thought of the name "NVision" and is there any meaning behind it?
All of us had different music projects in our younger years, and our keyboardist/ DJ actually still makes music under the name @mxskedmusic. Alex, the main writer in the band, took influence from many of the 00's era bands as well as some more modern acts and just about every genre. Alex developed the name NVision about 3 years ago from the term being "In Vision," or in line with what you can see in the future. NVision started as more of a thought journal and developed into so much more.
2. What do you want people to take away from your music?
Hope for tomorrow. This world is so dark, and there is so much turmoil in our daily lives. If I can inspire ONE person to not give up for ONE more day, I've done my job.
3. How would you describe your sound to the average listener?
Modern Rock or Hard Rock.
4. Who are three bands you'd like to tour with?
Bring Me the Horizon, Nothing More, and Starset.
5. What are your three desert island albums that you'd never get tired of listening to?
We're Only Chasing Safety - Underoath (Alex), That's the Spirit - Bring Me the Horizon (Austin), and Transmissions - Starset (Nate).
6. What's your take on the current state of Rock?
I think that rock is on the come back. We are seeing a lot of once dying local scenes begin to rise up again. And with Corona, the smaller bands actually have the upper hand if we're working hard right now. Larger artists are limited to what they can do during these times and they have to break away from the touring mold we have all come to understand and accept. There is a new normal in these trying times and it could help shape the future of rock music for the better.
7. What's the current music scene like there in Mississippi?
The music scene in MS is making a huge come back. There is a lot of local talent and a few bands down here have recently been signed to some labels. The most recent one I can think of is Silent Trust. Once corona is out of the way, I believe the MS scene will continue to rise for years to come.
8. What's your take on the royalties that streaming services pay out to artists?
Honestly, I think streaming royalties are bogus. Yes, streaming services in a way saved the music industry. But what it means is that for an artist to actually make a living off of music, they can't do it just making music. They have to sell merch, concert tickets are higher, and we're all working twice as hard. And ultimately, the greater costs of being a musician is unfortunately passed onto the fans through higher concert ticket prices and higher merch prices.
9. What's next for NVision?
We are currently in the ground stages of planning a few weekend tours and a week long tour for 2021. We are currently building towards releasing our debut rock ep and will be releasing new music videos bi-monthly. One thing is for certain: We're an artist to watch out for.
10. Any shoutouts?
Much love to From The Depths Entertainment for reaching out to us and joining getting our name out. Shoutout to James at Blind Anxiety Entertainment (Our booking agency) shout out to Vibers Entertainment in New Orleans, LA for giving us the start we needed and believing in the vision. And shout out to the Broken Hearts Club, our fans, for being apart of this amazing family.