OLC (Overseas Love Crisis) (Pop Punk) - Fort Wayne, Indiana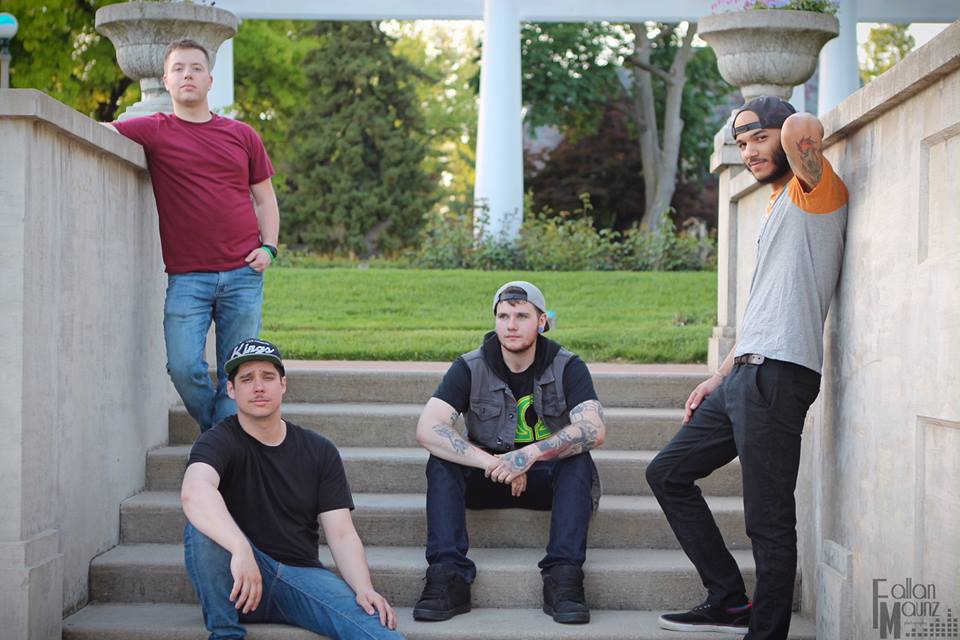 Young and hungry, OLC puts talent and ability into every second of playing. Our punk tunes are raw and bouncing, reminiscent of Green Day or Blink-182. While slower songs bring a funk flavor typically compared to Red Hot Chili Peppers or Cake. Rest assured that no matter where we are, OLC brings the party.
Upcoming Shows:
More shows coming soon.
"Wanna Be Album Review
OLC (Overseas Love Crisis) released their full length album last month so let's not waste anymore time and dig in to see what they offer up. The lead single "Still Okay" is up first and boy does it set the album off right. The upbeat single is perfect for the Summer and blasting full volume with the windows down in the car. The breakdown/guitar riff later near the end is excellent. "Drunk On A Monday" keeps the high energy up. The track is easy to sing along to and dance to. "My Eyes" has a 311 vibe to it. The track is very mellow, has a bit of Hip Hop to it and soothing tones. It's a very nice break from the upbeat previous tracks. "Rescue Me" brings the pace back up to breakneck speeds. The track glides along with its melodic riffs, infectious chorus and incredible guitar solo. "Tonight" is the longest track on the album clocking in at five minutes. The track is a ballad through and through and oozes emotion from the first note. It builds and eventually erupts with passion rarely heard in the scene. "Push My Luck" has more of an Alternative Rock feel to it. The track features stellar guitar work and melodies that'll pull in Rock radio listeners with ease. "Always Falling Down" is fast and Punk through and through. It's a different sound than the previous tracks and really shows what the band can do when they want to turn it up to 11. The title track "Wanna Be" is up next and it continues the onslaught of intensity. The driving riffs make this a track you don't want to miss. The energy is contagious and will make you dance as soon as you hear it. "Journal 1" is a spoken word, acoustic track that touches the soul. The closing track "Every Breath" is a track that could be a single and brings to mind the opener "Still Okay". If you're looking for something new to listen to, listen to these guys. You won't regret it.
Verdict:
OLC crank out the jams with their full length album "Wanna Be".
"Letters Lost" EP Review
OLC (Overseas Love Crisis) are an upstart Pop Punk/Rock band that are looking to cement their place in the scene. Let's dive on in and see what they're made of. The EP kicks off with the opener "Wanna Be". The track comes in like a cyclone and doesn't let up. The driving force are the guitar riffs and the easy to sing along to vocals. The chorus builds and explodes with an Alternative Rock like power that'll pull in listeners far and wide. There's a breakdown towards the end of the track that comes out of nowhere and really takes things up a few notches. "Sunsets" opens with a dirty little funky bass riff and keeps things on track while the vocals kick in. There's a Summery vibe to the track as it just screams for the listener to crank it up loud and proud. It has a Red Hot Chili Peppers vibe to the track. "Dangerous" is a single through and through. The track is extreme Rock catchiness that really helps put it on track to make it a hit in the making. Just listen and try not to sing along, we dare you. "Neon Churches" has a Grunge like feel to it as it moves along at a Alice In Chains type pace. The haunting vocals and moody guitars make it a different kind of track than the previous tracks but it no means does that make it bad. It holds its own and still has that raw Rock sound, especially once the spectacular guitar solo comes in. "Anything, but Everything" picks up the energy a little bit. The track is pure gold and shines bright. It has a slower pace but brings to mind 311 and their soaring vocals and instrumentation on their more slower tracks. "All In" closes out the EP. The track is Pop Punk bliss and will surely get the live crowd bouncing along to its high octane sound. These guys are for real, listen now, listen often and support these up and comers.
Verdict:
OLC (Overseas Love Crisis) hit it out of the park with their "Letters Lost" EP.
-Interview- (4/25/18)
1. How did you get started with music and how did you develop your sound? Who thought of the name "OLC (Overseas Love Crisis)" and is there any meaning behind it?
We were all musicians growing up, and it took us a while but we all finally converged and got to meet and write together. We have such diverse tastes and music educational backgrounds that getting together and looking for a sound was a little unconventional for us, but it certainly has been working. Our sound isn't like anything else; it's reaching and it covers a lot of ground through various genres. Writing one kind of sound wasn't something we've ever been interested in doing. We prefer to bounce around and feel everything.
Our name story is a little silly. We actually had a very hard time even agreeing on something that simple at the time. Eventually we stumbled across Overseas Love Crisis through breaking down other name ideas and finding one we all seemed to have no objection to. We decided to shorten it to OLC as we thought it had more appeal. It's pretty funny that we get asked about our band name all the time and everyone expects us to have a deep story behind the name; for us it's not even close.
2. What do you want people to take away from your music?
As far as what we think we convey, we always thought we like to see involvement in the music from our listeners. We play so many different styles and genres of music that it's important to us to just have everyone leave and know they were a part of the show. Whether they head bang to our heavy blues rock, or dance to our trumpet riddled instrumentals, we try and reach everyone almost individually through the set. We want to make the songs that we all danced to on spring break, and bumped as loud as we could in our cars growing up. It's just life to us, and we want it to be a part of everyone else's life as well! We also like to convey that we're very happy playing all the time. We play some kinds of music that aren't "cool" or in, but we seriously loved it growing up and that's all that matters to us and our fans.
3. How would you describe your sound to the average listener?
We are broad. We are generally in the pop punk world, but we venture out to many other genres, as far reaching as hip hop and blues with alternative rock and funk mixed in. We will probably always have a very diverse sound. We've been labelled as a cross between Cake, The Red Hot Chili Peppers, and Blink-182 before, and people tend not to argue with it! It's hard to nail down exactly what our sound can be. With a guitarist who always played punk, a singer who started as an acoustic singer/songwriter, a bass player down with funk and hardcore, and a metalhead for a drummer, we had a pretty difficult time settling into a sound we could all appreciate. We still think that we're developing it more and more as we play together.
4. Who are three bands you'd like to tour with?
Pop punk greats would be nuts. Legends like Blink-182 or Green Day would be incredible, but we would love to get with any band that can get exciting and is passionate about what they do. Anything we listened to as kids would be a dream come true as well, including bands like Clutch, The Gorillaz, All Time Low; bands from all genres and backgrounds that we all loved.
5. What are your three desert island albums that you'd never get tired of listening to?
We all have so many to pick from, but here is each of our top three albums for desert island survival:
Chase's Picks – Bayside's "The Walking Wounded" ; Blink-182 "Take Off Your Pants and Jacket" ; Pedro the Lion "Control"
Ben's Pick – The Gorillaz "Demon Days" ; Beck "Mellow Gold" ; Clutch "Blast Tyrant"
Blake's Pick – The Foo Fighters "Wasting Light" ; anything from the Beastie Boys ; Bouncing Souls "Anchors Aweigh"
Brett's Picks – Say Anything "All My Friends Are Enemies: Early Rarities" ; Fall Out Boy "From Under the Cork Tree" ; Red Hot Chili Peppers "Stadium Arcadium"
6. What's your take on the current state of Punk?
Punk today seems to be coming back! With a lot of the greats putting comeback albums together, it's nice to see the diverse genre of punk getting back into the limelight. It's certainly coming back to more mainstream music; it feels like a good time to be rocking punk music. But honestly, do the punks really care how well it's doing? They'll probably play punk regardless, because punk rock is a lifestyle, not a pop genre!
7. What's the current music scene like there in Indiana both locally and state wide?
Indiana has a growing scene in all genres, it's kind of bananas. In the Fort Wayne area, we are now starting to see a shift in people getting more excited about local acts, and followings are growing from solely the venues to the bands themselves. A few years ago it was harder to get people out to local shows, and now new venues are getting access back, with people finding new places to rock out and appreciate local music. The so called "all ages" scene is still a scene that isn't quite there yet, but slowly venues are opening up their doors to more people all over. The big clubs in town are opening "all ages" shows up and bringing big bands back. New venues like The Clyde Theater and the reopening of Piere's with new management has really surged an interest in all kinds of music lately, and it looks like Fort Wayne is definitely becoming a center for great music. We're very happy and lucky to be a piece of a scene that's fighting to get back up. Especially in the last couple of years where local bands (at least in the Fort Wayne area and beyond) are taking more initiative in expanding the reach of local artists. There is a push to get music in the hands of more people in this region, and we're lucky to be over-saturated with talent in Fort Wayne.
8. What's your take on legal/illegal music downloading?
Of course we are a little disappointed that people don't necessarily pay for artists' music anymore. Record sales are down through online streaming and illegal downloading, and that's certainly something we have to deal with in today's online music market. In this age, we can't plan for album sales to support us, we have to get creative and find new ways to engage with fans at shows, on the internet, and beyond. Accessibility is super important to us, we feel as though getting our music everywhere we can is key to spreading our message and our brand. We know that the game is changing, and we've found new ways to support ourselves and our fan base. But it is disappointing to see that there are a growing number of fans of all music genres out there that don't support artists the same way they used to. This is their livelihood, and that's not quite something a lot of people understand. It's not a greed thing, but bands need that income to support their projects. It's difficult to support a project financially when fans don't pay for the music they're downloading illegally, but at the same time there are other bonuses to free downloading and streaming. To be honest though, even at this stage in our careers, it's a cool feeling to think fans even want to download our music at all! We have our music available for free download often, because accessibility is something we've stressed from the beginning.
9. What's next for OLC?
Next for OLC is breaking through more and more ceilings. We don't want to ever stop! We just want to ride the wave and let it take us wherever we go. We would love to get some exposure across the country, we feel as though we are ready for the challenge that the next level of performing will take us to. We want to play music with more people across the country, meet bands that we idolized growing up (and bands that are out trying to make it like us), and to spread OLC as far as people allow! In the short term, we are recording and touring our new upcoming record in the summer (our first full length album as OLC) and we've got a full slate of projects to go with it. We are very excited to debut what is hopefully the first in many full length albums to come. We're extremely fortunate to have a group of guys that works well together, and still likes to work together too. Not every band has that chemistry and that drive to succeed like we have with OLC, and we can't wait to see what it brings us in 2018 and on. With an album on the way, we've already begun to write the next one. It's just something we can't shut off!
10. Any shoutouts?
We have way too many people to shout out to, but for starters; thanks to the boys Matt and Tom at Kerosec Productions for recording and dealing with us! We'd love to thank our visual artists Alex Maiden of Odd Maiden Productions and Ethan Stilian. These guys have done everything from photos, to videos, to graphic designing. Danielle Arbuckle for designing our first ever album cover. Macho Man Randy Savage (RIP we draw your inspiration every day). We want to thank our fans, family, and all of the people who have come out to a show, or bought our EP or a shirt. Without the excitement for our project we get from all of you, we couldn't continue to create this music. It makes the OLC experience one hell of a ride. And for anyone we've missed we are tremendously sorry, but we appreciate all the support we've received so far!