One Minute Shy (Metal) - Guelph, Ontario, Canada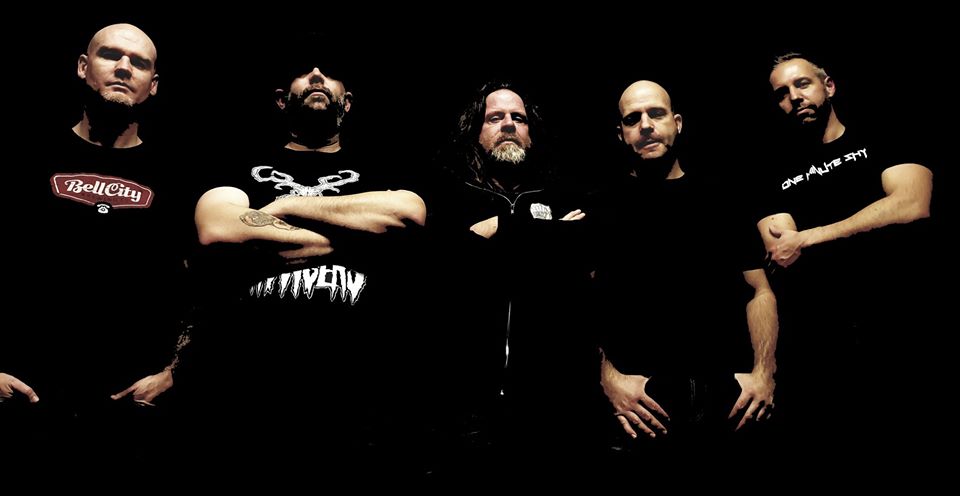 One Minute Shy started as two brothers from Guelph, Ontario, Canada. Craig Laffin and Scott Laffin created a project band named after one of their instrumental compositions, to show their original music as they wrote and recorded it. Not wanting to always be an instrumental band though, they kept their eye out for a vocalist and in May of 2016 they found him in powerhouse vocalist Leo Flint. They also brought on board their long time friend and previous band member, Dwayne Benoit, to play rhythm guitar. How the guys discovered Leo is a really cool story. Fate came knocking on One Minute Shy's door when Craig and Leo seemingly met at random at the gym one day and started up a conversation about guitar and music. This conversation quickly revealed that One Minute Shy was looking for a vocalist and Leo was a vocalist looking for a band. From the very first meeting and jam together, they realized that Leo was a great fit and who One Minute Shy were looking for.
Over the summer of 2016, the guys set out to record some songs and in September of the same year, they released their first three song EP called Steal The Pain. It was well received and this motivated the band to write and record their first full length album and for the next year and a half they worked hard week after week putting it all together. Everything involved with the whole process from writing, recording, and producing, to artwork and promotion, to the final release of the album in January 2018, it was done by One Minute Shy themselves. One Minute Shy's self-titled debut album has been well received and played all over the world and has also received numerous rave reviews. This motivated One Minute Shy to start rehearsing for live shows so they could bring their music to more people. Performing live is what One Minute Shy love to do so they set out looking for a 5th member to play bass. They wanted a full time member for recording and for live shows, and they found him in Sam Davies.
Sam grew up in the same area as Scott and Craig when they were in high school, and he was in another metal band back then called Bloodshot. The brothers always thought Sam was a great bass player and had great stage presence and thought it would be cool to find someone like that to play bass. Then Craig remembered that he had heard Sam was living in the same area of Southern Ontario as them and the light bulb went off. Not really knowing him that well, Craig reached out to him over Facebook to see how he was doing in life, if he still played music, and if he would be interested in coming out for an audition.
After Sam finally remembered who Craig was, he said he hadn't been playing much but music was something that he was missing in his life. He came out to meet the brothers and they jammed on some tunes and again it was another great fit. Sam accepted the full time bass position shortly after and has been a valued member since. After the release of the album in January 2018, One Minute Shy spent the next six months rehearsing, and then at the end of July of that year, Leo unfortunately left the band for personal reasons and to pursue other interests. So One Minute Shy were now left without a front man and the live shows had to be delayed until they could find a replacement.
For the next couple of months they held a few auditions and met some great local musicians, but they weren't quite the right fit. Discussing this, Scott and Craig both had the thought that maybe their previous vocalist, Josh Cornelius, would be interested in joining again. 15 years before One Minute Shy came about, Scott, Craig, and Dwayne were in another band with Josh who sang and played guitar. That band ended for various reasons and the guys moved on to other things for a while. They kept in touch with Josh here and there over the years on social media but their relationship had largely grown distant. So Craig once again reached out on Facebook with a very similar message to Josh as he did to Sam. Luckily, Josh was interested in coming out to try some vocals and when he came to the first rehearsal, it felt like no time had passed. He once again fit very well with the guys and he officially joined shortly after, bringing with him his signature growl and powerful vocals.
At the onset of 2019, One Minute Shy, who how have a complete line up again, are forging ahead strongly with rehearsals for live shows and writing new music for upcoming releases. The best description of One Minute Shy's music is a throwback to classic thrash metal with their own modern twist on it! \m/
Upcoming Shows:
More shows coming soon.
"My Enemy" Single Review
The track starts off with some ballad like tendencies while slowly building with an excellent guitar solo. The vocals kick in with the fury of Iron Maiden as it's melodic but still has aggression to it. The chorus has shades of Metallica with its riffs and melodies. There's a guitar solo in the four minute mark that excels in its delivery and closes out the near six minute track in style.
Verdict:
One Minute Shy continue to blaze their own Metal path with their newest single.
"Rise of the Ancients" Single Review
The track kicks into high gear from the get go. The high octane sound is fast, heavy and right away pulls in the listener. The riffs drive full speed ahead while the melodic vocals keep things rockin'. The chorus kicks in around the minute and a half mark and is super easy to chant along with. A guitar solo follows it up and shreds it's way into the next verse. Another solo and melodic outro follows to help close out the track.
Verdict:
One Minute Shy knock it out of the park with their new single.
"One Minute Shy" Album Review
The opener "Deception" starts right in with the force of 1,000 tornadoes. The top notch riffs and driving vocals immediately bring to mind Iron Maiden and their tenacity. It's a tremendous opener and helps set a high octane tone. "All Out War" cranks things up a few notches and is a tad heavier than the opener. It'll for sure get the live crowd moshing along. The guitar solo on the track is out of this world as well. "Broken" is six and a half minutes of a trek through the wilderness of the One Minute Shy gauntlet of sound. The twists and turns are impressive and the track really keeps things fresh through its runtime. "The Threat" has a bit of Thrash to it. The riffs churn along at breakneck speed and induces some serious headbanging. "Forever In Black" brings the Metallica vibes to the forefront. The track drives along like a runaway freight train and blasts on all cylinders. "Cast A Shadow" keeps things going at a steady pace. The track continues the audio onslaught and doesn't hold anything back. "Destiny Dies" builds with its instrumentation and blasts things into the stratosphere before the vocals even kick in. It's a track that'll be a fan favorite in no time with its riffs, vocals and chant along to chorus. The title track "One Minute Shy" is next and lets loose. The track barrels ahead with a force akin to Queensrÿche and their force of Metal. The next tracks are all remastered past tracks and start off with "Cruel And Unusual". The track takes a bit to get going but once it erupts, it stays on the track that the band is known for. The high tempo Metal that's easy to sing along to and rock out to is on full display. "The Morning After" is a near seven minute long track that brings to mind the earlier track "Broken". It has so many layers and such depth that multiple listens are in order right away after it ends. The closer "Steal The Pain" wraps things up nicely. The track perfectly showcases the overall talent of the band and puts a nice melodic, Metallic bow on things.
Verdict:
One Minute Shy aim to blast the doors off the Metal scene with their newest album.
-Interview- (11/16/20)
1. What can you tell us about the new album?
We're actually not doing a full length album at the moment. We're basically just writing, recording, and releasing new songs as they come about. More like singles which we may eventually put on to an album when there are enough songs finished. We're currently almost finished with one new song with another one not far behind. On our first album, it was just Scott and I and our former vocalist Leo who recorded everything. After Leo left, Josh came back to take on vocal duties again and the first couple of years with him was getting him up to speed on our tunes and playing live shows to support our debut album. We also brought Sam and Dwayne on board to complete our lineup and get out there playing shows but all three of them hadn't been on any recordings until now so we are very excited to have something recorded and released with them on it. The new songs we are writing have that One Minute Shy feel to them but they are a bit heavier and darker with great energy and melodies.
2. How did the recording process for the album come about? Who produced it?
Everything is produced, recorded, mixed, and mastered by us. We basically do everything ourselves. We have a pretty sweet setup in our rehearsal space that allows us to record whenever we want. Our first album was all digital but this past summer we picked up a huge Mackie analog mixer so the new stuff is a mix between analog and digital. There is definitely a different sound on the new stuff. On the first album, Scott used his electronic drum kit but this time we mic'd his acoustic kit which was quite the undertaking and took a lot of tweaking and playing around but we managed to come up with a sound that we're happy with. My guitar amp is mic'd and then run through the mixer so my tracks are recorded that way while Dwayne and Sam use the line outs of their amps to go directly into the mixer.
Our recording process basically starts with Scott laying down his drum track while playing along to a guitar scratch track. Then the good guitar tracks are recorded separately. I'll lay down the first rhythm track and then either Sam or Dwayne will come in and record their bass and guitar tracks respectively. I will typically record my guitar solos at this point and then Josh will record his vocals. This isn't always the order we do it in since the guys all live in different cities and have different schedules so we basically just record when they're able to come. The drums and the first rhythm guitar are always done first though to have a foundation to build on. We run everything through the Mackie mixer to a Boss BR-800 digital recorder and then from there we load the tracks into our Sonar DAW program to mix, EQ, and master.
3. What was the writing process like?
Scott and I are the principle songwriters and we have so many demos of songs that we've written over the years. We basically take the song demos that really vibe with us and craft them into finished versions. All these songs came about by just jamming and playing around. We start jamming on some guitar riffs and if it sounds cool and vibes with us then we start fleshing out some arrangements and create a good flow. We all contribute ideas to the song until it's crafted into something that we really like. Oftentimes it'll just be Scott and I writing and jamming together so we'll record demos and send them off to the other guys to have a listen and get their input. Josh will take this demo and come up with some lyrics and vocal melodies and if anything needs to be changed to fit the vocals better then we will try different things until it all fits and flows together nicely. At some point we will all get in a room together and write a song from scratch. That is something we are looking forward to doing.
4. What's your favorite track(s) off the album?
Our favourite track is the one we are currently putting the finishing touches on. It's a high energy tune called "Rise of the Ancients" and it's got some great riffs, a really good groove, and great melodies.
5. How has Covid affected what you do as a band?
Covid sucks! We were on a really good run of playing shows regularly before covid hit and then everything came to a screeching halt. With quarantine and the uncertainty of everything we basically just stopped getting together to practice and everything was put on hold for a few months. I still played guitar at home and did a bit of writing but it wasn't until some of the restrictions eased up that we could get together and play again. It was at this point that we really started to focus on recording and getting some new songs released.
6. Is there plans for an upcoming single?
Yes the new single will be "Rise of the Ancients" and then we plan on releasing another single called "My Enemy" not long after that.
7. How did the artwork come about for the album? Who designed it?
Since we're just releasing singles at the moment there isn't any specific album artwork. Our main logo was designed by me and I am working on lyric videos for the new songs. All that is designed by me with Josh contributing a really cool OMS grim reaper drawing that I plan on using for the first video. Along with being a really awesome vocalist, Josh is a super talented artist and tattooist. I recently got him to tattoo the OMS reaper on to my arm!
8. What's next for One Minute Shy?
Going forward we will continue to write, record, and release new songs and at some point we plan on maybe doing some live streams. We are really looking forward to getting back out and playing live shows again but we have to wait and see when things will somewhat get back to normal.