Opposition Out (Metal) - Minot, North Dakota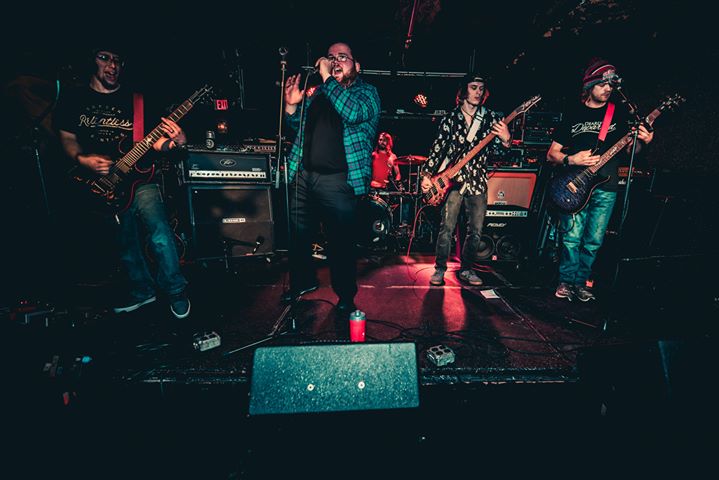 Upcoming Shows:
More shows coming soon.
"All Alone" Single Review
The single starts off with a furious barrage of all out Metal. The eventual breakdown prior to the clean sung chorus is extremely crushing. The chorus is catchy and easy to sing along to. The driving riffs, melodies and heaviness keep things going at a steady pace up until the utterly explosive breakdown on the bridge. The chorus and driving instrumentation ends the track on a high note to wrap things up.
Verdict:
Welcome to the next evolution in the Opposition Out sound.
"Opposition Out: Vol. 1" EP Review
North Dakota isn't a place that usually gets talked about as a hotbed for Metal music but Opposition Out are out to change that with their recent EP. Let's dive in and tell you why you should check these guys out. "Anew Beginning" opens up the EP in hard hitting fashion. The track is fast, heavy and the melodic chorus doesn't overpower things. The instrumentation is the driving force behind the track and makes it really shine. "Close Your Eyes" is extremely heavy and pit inducing. The track is like a runaway freight train as it careens down the path of Metal/Metalcore at a fast clip. The sound brings to mind early As I Lay Dying in its style. "Awaken" is another banger that keeps the riffs coming. The rawness of the track is what really sticks out. There's a guitar solo on the track that puts the cherry on top of the utterly explosive melodic Metal track. "Evacuate" goes off the rails with breakdowns galore and melody. The stand out track does a great job of keeping things fresh and exciting (especially with the guitar riffing later on). "End Of Me" closes out the EP with upbeat Metal sound that really goes all out. The guitar work on the track is top notch and overall the track will leave you yearning for more.
Verdict:
Opposition Out explode onto the scene with their newest EP.
-Interview- (4/6/19)
1. What's new with Opposition Out?
Well, there's quite a bit that's new actually. Firstly, we got a new bassist, Eddie Joe, and he made his debut show with us at our show here in Fargo, ND on March 1st. Great addition! The local hockey team, The Minot Minotauros, use our song "End of Me" to skate out onto the ice for their home games, which is pretty cool! We also moved down from a 6-piece act to a 5-piece after losing our 2nd vocalist, Cody. Currently fronted just by our boy, Steven! Steven also just recently shared the stage with Breaking Benjamin vocalist/guitarist Ben Burnley to help him sing their song "Breath", that video is on our Facebook page and YouTube if you wanna check it out! Lastly, we have our first set of shows booked in Minnesota starting in June and July at the newly built, Tak Music Venue, in Dilworth.
2. What's the word on new music?
We are constantly trying to come up with new ideas for our music and I'm happy to say we officially go back to the studio at the end of April to start working on our 2nd EP release. Lots of heavier jams on there to start the pit and plenty of choruses that will make you sing along. Expect the new EP to come out late 2019.
3. What are some highlights within the past year that you guys had?
There's been quite a few highlights this past year. One of them being we finally had a chance to play our local bar, The Original, which is most known around here for bringing acts like Pop Evil, Nonpoint, 10 Years, Mushroomhead etc. We played our show with national/international metal act, Ghost Bath and local Bismarck band, Sequences. Another highlight would be adding Eddie to the band. He has seen so many of our shows as a fan and was thrilled when we offered him the spot. We also played our first show in Fargo, ND at their local venue, The Aquarium. They have also brought bigger acts such as Volumes, Born of Osiris, The Black Dahlia Murder etc. Our show there was played with some great up and coming bands as well; Dearly Departed, Wildview, and Strange Co.
4. If someone listens to just one of your tracks, which one would it be and why?
Well for us that would be a 2 part answer. If we would be talking about our new music we would have to say listen to "Exposing The Victim". Its a song that has quickly become a crowd favorite and we find it as a good closer to our sets most times. The energy and vibe of it is real fast and will get you jumping with everyone else in the crowd. For our older stuff, we would say go listen to "Close Your Eyes" as its probably one of the heaviest tracks on that EP, but we also feel it was put together quite well.
5. What would you like to change about your current local music scene?
We love our local music scene, statewide and local to Minot. There is so much hidden talent up here that we believe everyone should be trying to listen to or go see. It would be nice to see some more metal acts come out of Minot though! All in all, great scene, tons of support from not just local musicians but also just the local people in general. All of us local bands statewide try our hardest to promote each other!
6. What are you currently listening to?
There is quite a few bands that we have been liking lately. Marcus has really been getting into Our Last Night's music. Kyle is into two metal bands called Invisions and While She Sleeps, and him and Evan both like Fit For A King, Emmure, and Fire From The Gods. Steven has been listening to the band Royal Tusk lately and Eddie is into alot of classic Hendrix, Pink Floyd, and Tool.
7. If you could play one place, anywhere in the world, where would it be and why?
If we could play one place in the world I think it would have to be Download Fest in the UK. That festival is notorious for bringing all of the big rock and metal acts to their 120,000+ people concerts. Locally to the U.S. though would have to be the new Sonic Temple Fest, previously known as Rock on The Range, in Columbus, Ohio. That festival has had acts favorited by all members of this band over their years. Evan and Kyle actually attended the 2016 Rock on The Range and kept telling the rest of the band how great it would be to play that show. Our close friends in Righteous Vendetta have played that festival.
8. Do you have any pre-show rituals? If so, what are they?
As far as pre-show rituals Evan usually gathers the whole band about 20 minutes before our set and we all go take a tequila shot to loosen the muscles up, we get each other hyped up and ready for the stage, and then we go do what we do!
9. What's next for Opposition Out?
After this EP we will focus on more heavy booking and marketing to branch further than what we have previously done. We want to start getting out of state more and playing shows in the bigger cities and all other places in between! We will keep writing music as we always do, but as far as the next musical project we hope to do our first official full album of 10+ songs. We also hope to record our first music video this summer! Make sure to track us on BandsInTown and you will be in the first group of people to know where we are going to be. The band is also down to return to a 6-piece act of dual-vocalists, if the right person shows up. Hope to see you guys out there this year!
-Interview- (5/28/18)
1. How did you get started with music and how did you develop your sound? Who thought of the name "Opposition Out" and is there any meaning behind it?
The band started in 2011 under the name BreakTheSylence but in 2012 we renamed it to Opposition Out. Evan came up with the name with some of the original members. Basically we changed to Opposition Out because the BTS name was taken and we wanted to avoid any future issues. So far, were the only Opposition Out! We actually weren't always a heavy band. We started out a little softer more rock oriented while still having slight metal accents in the songs, slight screams etc. Over the course of a couple years members were in and out and we eventually developed the sound to be more metal oriented. We turned to metal because we love the energy of metal shows and music and that's what we wanted to bring to the table. The meaning behind the name is because in a community where metal bands aren't really around a lot and punk is more available, were the opposition, the "stand out" against the rest of the local scene. Don't get us wrong, we love our local music scene and wouldn't change it. But were the odd ones out and we try as hard as we can to spread our sound as much as possible.
2. What do you want people to take away from your music?
We want people to feel pumped up with our music and take away a good experience and good vibe from our music. Not all of our songs are "positive vibes" per say but we do have songs where the message is "don't stop pursuing your goals and dreams". Always stay level headed and remember where you started. You can do whatever you want to in life.
3. How would you describe your sound to the average listener?
Well, we kinda draw our sound from A Day To Remember, I Prevail, Bullet for My Valentine, Parkway Drive, and other great bands. You may not be able to hear those influences on our EP "Vol 1" as those songs were all old songs that we finally got around to recording and releasing, but the new CD were working has new songs where our influences will be more noticed. We like to bring some heaviness to the table at shows that gets the crowd jumping and involved but also have choruses that make you sing along. We run with 2 vocalists, so we feel it adds a nice element to our set.
4. Who are three bands you'd like to tour with?
Hmm. 3 bands are hard to choose with all the great acts out right now. A couple would be Wage War, ADTR, and Like Moths To Flames. Hard question to answer.
5. What are your three desert island albums that you'd never get tired of listening to?
With 6 members in the band it was hard to narrow it down to 3 albums, but for the sake of this we agreed on ADTR's "Homesick" album, Wage War's "Blueprints", and for a lighter taste every now and then, Our Last Nights album "Selective Hearing".
6. What's your take on the current state of Metal?
Metal has been backlined it seems with the rise of all the new pop/rap/hip hip songs and artists that are coming out. But as we all know the hard rock/metal community is very much alive and will hit its rise again soon. We hope that at our shows people will see that metal is doing well and people need to get back on board!
7. What's the current music scene like there in North Dakota both locally and state wide?
The local scene around Minot is mostly punk and country artists with the exception of some softer rock bands and some metal acts. Our local scene is very active if your involved with it a lot. Its nice to have good people that keep our scene alive. We give credit to our local organization called Pangea House, which is ran by Jazmine and Zach Schults. The whole Pangea House team are great. They are really good people that always accomadate anyone looking to showcase what they love. The statewide aspect of music is country music and classic rock we would say, but we do get really good rock/metal shows around Bismarck, Fargo, Grand Forks and sometimes in Minot.
8. What's your take on legal/illegal music downloading?
Just like any other band, we want our music to be shared and heard, however, we do not support illegal downloading. Bands work really hard to get their stuff out and that costs a lot of money. No matter what level your on. If we put our stuff on streaming sites, then yea so be it, free listening. As well as YouTube. But in terms of selling stuff, please go out and buy the CDs or pay for digital downloads. We made our digital download of our EP cheaper for that reason. Support bands work and help them get to the level they dream of being at.
9. What's next for Opposition Out?
We've got the new CD were working on that we hope to release later this year, shows lined up in ND and hopefully out-of-state, new merch coming out soon, music video soon, and we hope to be an opener on some small festival slots by next year! Stay up to date on all our stuff by liking our pages across the internet!
10. Any shoutouts?
Thank you to everyone that has shown support in us so far and we hope you continue to follow us on our journey! And to all the people just now getting on board with us, welcome to the show.