Reaction Jacket (Alternative Rock) - Glendive, Montana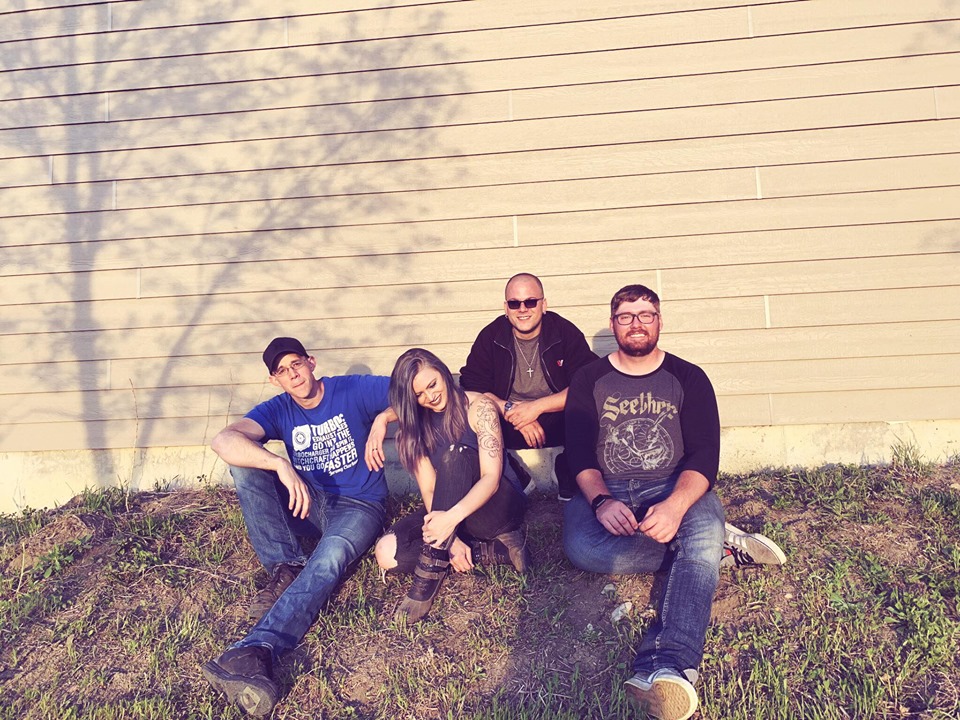 Upcoming Shows:
More shows coming soon.
"Aimless" Review
This is a review of the three single that Reaction Jacket have released off their upcoming "Aimless" album. Let's dig right in and see what the band is all about. "Stories" opens up with an early Creed sound. The Hard Rock crunch of the intro keeps things going as the first verse picks up the pace to a nice uppity level. The vocals are catchy on the verses and highly unique on the very memorable chorus. Overall, it's a solid track will easily pull in Alternative Rock listeners. "Disease" has a Southern Rock tinge to it. There's a ballad like tone early on before blasting into a straight up, no frills Rock sound. It's easily accessible and the guitar work is top notch (especially the bonkers solo later on). The track is unpredictable and is worth multiple listens to hear all the depth it contains. "Rewind" is a track that will captivate listeners as soon as they hear it. The Alternative Rock sound that the track features is something that's rarely heard nowadays. The tracks so far have so many layers and depth that it's hard to ignore that Reaction Jacket are a band on the rise. We can't wait to hear more!
Verdict:
Reaction Jacket have an ultra catchy Rock sound that'll make you keep coming back for more.
-Interview- (3/30/19)
1. What's new with Reaction Jacket?
We've acquired more Jakes and some better equipment.
2. What's the word on new music?
We're competing with Tool to see who's album can come out last.
3. What are some highlights within the past year that you guys had?
We got an underwater dog calendar for the studio.
4. If someone listens to just one of your tracks, which one would it be and why?
"Disease", because it showcases our vast musical influences.
5. What would you like to change about your current local music scene?
We wish there was more of a music scene locally, and more support for local musicians.
6. What are you currently listening to?
Papa Roach's new album. And Hey, Simple Creatures is a cool thing....and Taylor Swift. Always Taylor Swift.
7.If you could play one place, anywhere in the world, where would it be and why?
Pretty much any outdoor festival. We really dig playing outside.
8. Do you have any pre-show rituals? If so, what are they?
We drink the whiskey drink,
We drink the vodka drink,
We drink the lager drink,
We drink the cider drink.
We sing the songs that remind us of the good times.
We sing the songs that remind us of the better times.
9. What's next for Reaction Jacket?
Lot's of gigs. Lot's of drinks. Lot's of new equipment.
-Interview- (3/18/18)
1. How did you get started with music and how did you develop your sound? Who thought of the name "Reaction Jacket" and is there any meaning behind it?
We really all grew up with music. Suzy and Jake come from a very musical family and Ross' parents played in bar bands when he was a kid. So when Suzy and Ross got together, he ended up teaching Jake how to play the guitar, and it just kind of fell together from there. Dietz and Jake had been friends since childhood, so he was just always in the picture; he played drums on Rock Band once and was like, "yeah, I think I can do this!" And here we all are.
Our sound kind of just developed itself. You can definitely pick up on Ross' classic rock riffs, and the 90's grunge in the vocals. We all came from really different backgrounds, as far as musical tastes, so everybody brings their own thing to the table.
For all of us being artistic minded people, nobody could come up with anything good, Reaction Jacket came from an online random word generator… so, no deep meaning.
2. What do you want people to take away from your music?
The beauty of music, and all art really, is that everyone can take from it what they need. Whatever the songs mean to us, they may not mean that to someone listening. We just want to make music that people can connect with.
3. How would you describe your sound to the average listener?
Blues meets grunge with metal guitar riffs and weirdly aggressive female vocals.
4. Who are three bands you'd like to tour with?
Seether, Them Evils, and Stone Sour.
5. What are your three desert island albums that you'd never get tired of listening to?
From Under The Cork Tree by Fallout Boy, Finding Beauty in Negative Spaces by Seether, Yourself or Someone Like You by Matchbox 20.
6. What's your take on the current state of Rock?
We think Rock is really making a comeback. There are so many awesome songs and albums being released right now, its definitely on the rise.
7. What's the current music scene like there in the Montana both locally and state wide?
Locally, pretty dead really; the state as a whole has a lot going on, it's just a long drive from where we're at.
8. What's your take on legal/illegal music downloading?
I mean, we are just happy if anyone is listening to our music at all. Personally, we all (as musicians) believe in supporting musicians, and we all buy both digital and physical copies of a lot of music. But we aren't going to fault someone for downloading something for free, we all come from the Napster generation…
9. What's next for Reaction Jacket?
A tour would be neat. Right now we're just grinding on our upcoming album release and playing locally any chance we get.
10. Any shoutouts?
Melissa Rae, Raina, Mike, Mark, Jake Damm, Crow Daddy, Suzy's Mermaid, and Auvil. We couldn't do it without having such an awesome bunch of people behind us!