Revelation Attic (Symphonic Metal) - Latvia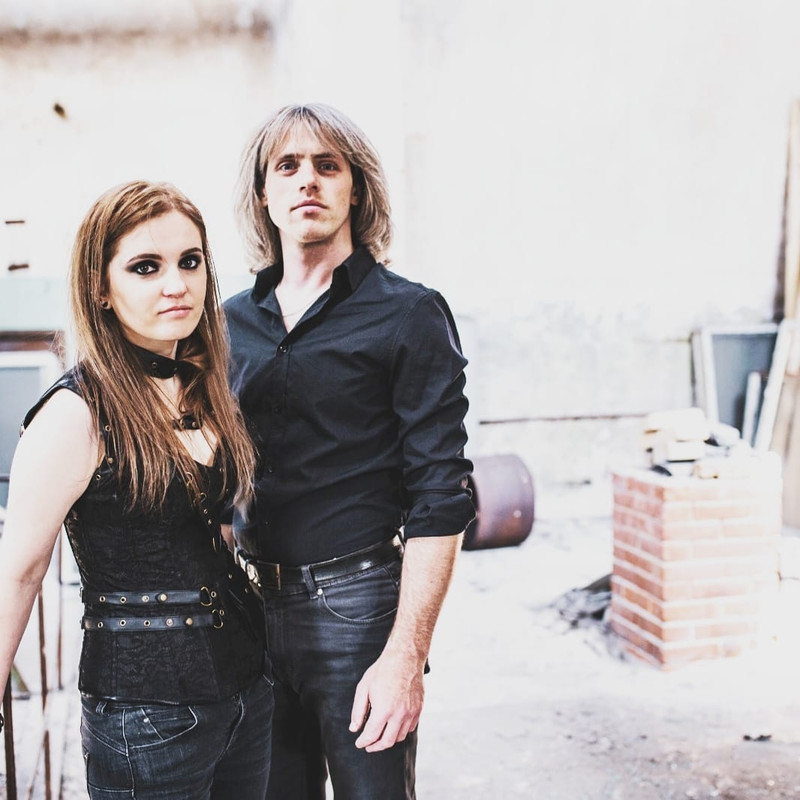 "Future Being Invented" Single Review
The track builds and unleashes fury right away. It wastes no time delivering melody and a steady upbeat pace. The aggressive vocals take hold as the track barrels ahead only to listen up a bit with a more melodic tone. The chorus is bouncy as it twists and turns with soaring clean sung vocals and symphonic takes that elevate it even further. There's a nice little breakdown around the minute and a half mark. The back and forth between harsh and clean vocals are excellent. The bridge features a dip down with the Symphonic Metal instrumentation being in the forefront. The vocals slowly creep back in as it builds and builds until the chorus breaks through around the four minute mark. The chorus leads the way in the last minute as it goes off the rails in all the right ways to close out the track.
Verdict:
Revelation Attic looks to take their Symphonic Metal sound to even greater heights with their newest single.
-Interview- (3/31/21)
1. How did you get started with music and how did you develop your sound? Who thought of the name "Revelation Attic" and is there any meaning behind it?
Guntis started to learn guitar playing in 2009. He liked it so much that he started to look for band members. At the beginning they played cover versions for popular songs, after a few years he discovered that he can create original songs for all band members. Then in 2013 Rasa joined the band. Rasa has been singing since she was 9 years old. She successfully participated in many singing contests until she became 18 years old, then she quit singing for some years until a friend of hers suggested her to look for a band and re - start singing. Then on the internet she found a band which was looking for a singer, and joined them (the project where Guntis was playing). For a while everything seemed ok - we played few so called underground concerts, and even won one prize at one band contest (the only one we attended to) but the band started to separate because of differences of opinion about the musical style in which the songs are written, all the band players left (except for us), and that project called "Crystallize" ended. We formed Revelation Attic in 2017. We released our 1st album in 2018 ("The Cradle of Life") and wanted to perform our songs on the stage, so we rented rehearsal studios for 2-3 hours a day, once or twice a week, and found some guys who wanted to play with us. But everything didn't go so well…Our players (again) changed a lot, and we could not complete a full band. So we decided to quit rehearsing and went for just playing at home.
Actually we both came up with the name. Rasa came up with "revelation" and Guntis with "attic". Maybe our views are a bit different (possibly in visual aspects of our imagination, and whatnot) but the main idea is common – "up there" you can look for and find a revelation.
2. What do you want people to take away from your music?
We know that there are people who like/love our music, so we'd like them to take from our music the musical feeling that vibrates through physically and mentally and, of course, the message we're sending them! We write music which we like ourselves not concentrating and thinking about radio standards, commercial principles and so on. We are creating music with joy! We are writing music so we would like it ourselves and with great pleasure we're sharing it with others. It is so great to hear from people good words about our music, to see that we have some new followers on social media, etc. But the main thing, as we think, is that the music we create firstly needs to be close to us both, because if we wouldn't like it, how can we hope the others will?
3. How would you describe your sound to the average listener?
Melodic/symphonic metal with clean female vocals.
4. Who are three bands you'd like to tour with?
Lacuna Coil, Volturian, and Insomnium.
5. How has Covid affected what you do as a band?
As our band consists of two people (husband and wife) who live and write/play/record music together at home studio, covid hasn't affected us in a musical field.
6. What's your take on the current state of Symphonic Metal?
Some of the bands that used to call themselves symphonic metal bands have changed their scene a bit – using more modern, techno-style elements in their music, some are getting closer to rock music maybe. Classical female fronted metal bands with soprano range opera voices are still very popular but now there are a lot of bands with female vocals similar to those we can hear in rock, maybe even pop music (including us). We think that now there are more amazing symphonic metal (female fronted) bands than ever!
7. What's the current music scene like there in Latvia?
Latvia is totally not a metal music country. Here people mostly listen and play various kinds of pop music. Here are a few very famous composers who are very loved, so most of the singers, players are much honored to sing or play their songs.
8. What's your take on the royalties that streaming services pay out to artists?
Actually we don't know whether it's a lot of money or not because at the moment we have only a few followers, so we can't really make the money by making music.
9. What's next for Revelation Attic?
We're working on our 2nd album, entitled as our latest single "Future Being Invented". WE really hope that everything will work out as planned and we could release it in fall.