Rezilient (Rock/Metal) - Kentucky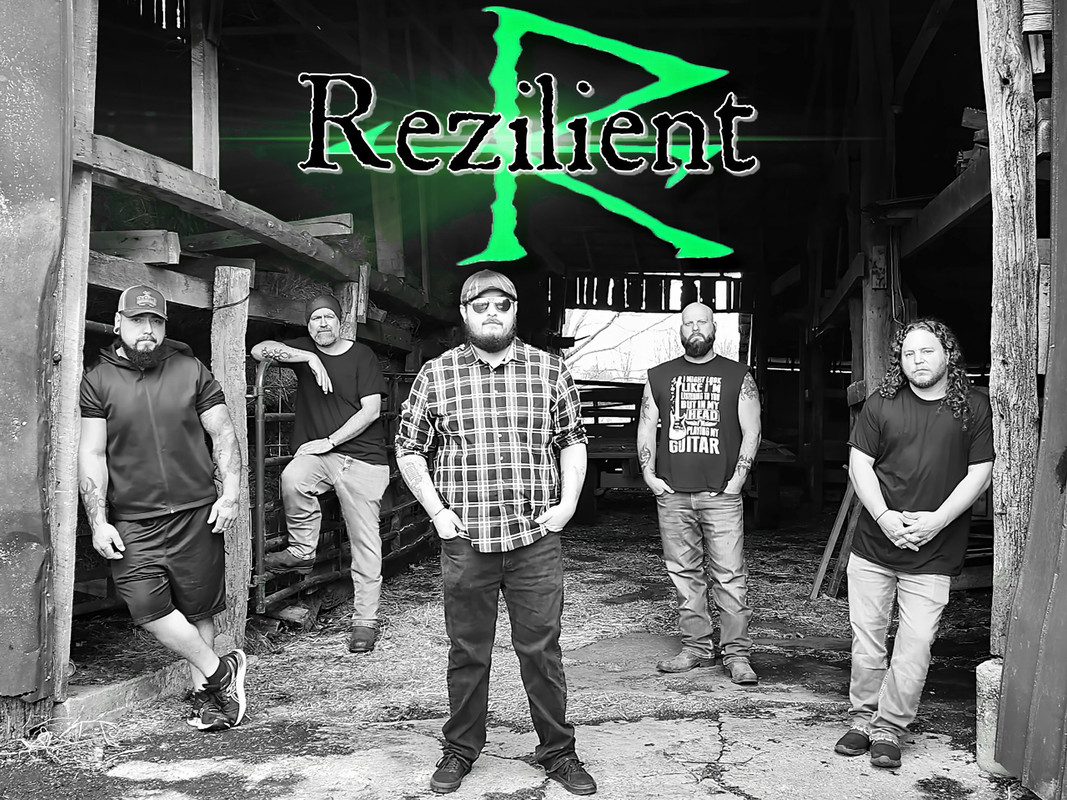 Our story starts in the small town of Loretto Ky, in the shadow of bourbon distilleries. Small, quiet town with peaceful days and an active nightlife, with two taverns that played host to many different varieties of live music. In the middle of all that was a tiny garage where you could find us, working away at getting better and better at being one of those bands that you could hear from down the road at the taverns. Over the years we have all played in various genre bands and have done different projects. Nothing ever seemed to fit, so a few years ago the four (Joey, Chase, Pat and Jake), now five (Chris) of us got together and decided we wanted to do something different musically. We were tired of the cover band scene and wanted to be heard and known for our own music, not someone else's.
Montage …(Eye of the Tiger plays softly in background).
Jake Nalley - Lead Vocals: Jake is from Marion County, Kentucky and has been into music his whole life. He draws much of his inspiration from Chris Cornell and Jack Black. You would definitely see that shine through if you spent an hour with him. He is also a HUGE fan of The Beatles….he even has the yellow submarine tattooed.
Chris Nalley - Guitar/keys/backup vocals: Chris is the older brother of frontman, Jake, and has also been into music from a very young age. The man can just pick up and play pretty much any instrument that he touches. Chris is also active in living healthily and staying in shape. His biggest major inspiration is James Taylor.
Joey Mattingly - Lead Guitar/Producer: Joey started playing guitar when he was young and dumb at the ripe old age of 13. It all started when he once got grounded for several months and the only thing he was allowed to mess with was his guitar that he didn't yet know how to play. He gains a lot of his early inspiration from Kirk Hammett and Slash; he is also completely self-taught in playing and producing music but always learning.
Chase Broyles - Bass: Chase met Joey at work roughly 20 years ago and decided to work together off and on through the years on different musical projects. A few years ago, Chase came back to be an important part of Rezilient. He is inspired by bands like The Black Crows and Blues Traveler.
Patrick Nalley - Drums: Patrick ranks highly among the friendliest of people you could ever meet. When Patrick isn't playing the drums, you'll find him in the garage building cars or building his other dream, his own winery. He has been a drummer most of his life and is a fan of bands like Seven Dust and Black Stone Cherry.
We're proud that our music is a mixture of many different musical backgrounds and inspirations, which is apparent in our upcoming album, "Break a Leg" which is set to release within the very near future…. stay tuned for release date. We continue to work hard at making good music in hopes to inspire and connect with everyone out there who enjoys Hard Rock/Metal. To all the fans of our hard work, Thank You. Rezilent
-Interview- (4/3/23)
1. How did you get started with music and how did you develop your sound? Who thought of the name "Rezilient" and is there any meaning behind it?
Well, we all kind of grew up around the same area and were into the same kind of music. When you're from a small town you know everybody in town so us getting together was going to happen anyway. For some reason coming up with a band name was always the hardest thing for us to do and one day Joey, our guitarist, said "all the things we have been through we are pretty damn resilient, so what about that?" And we all agreed. Rezilient was born.
2. What do you want people to take away from your music?
It is our hope that everyone that hears our tunes can find something in our music that they can connect and relate to.
3. How would you describe your sound to the average listener?
Over the years our individual taste in music has changed and when we got back together to form Rezilient, we had so many different background inspirations, so it would be hard to label us to one set genre of sound. We try to blend all we know and like to make something new.
4. Who are three bands you'd like to tour with?
It would be extremely difficult to only pick three so I'll say Breaking Benjamin, State of Mine, and Metallica
5. How has Covid affected what you do?
We took precautions but didn't let it stop us or slow us down since we have our own home studio, so we stayed focused on our music and releases.
6. What's your take on the current state of Hard Rock/Metal?
It is definitely ever evolving; we always enjoy hearing where bands are going to take the genre next, and we are excited to be a part of it.
7. What's the current music scene like there in Kentucky?
In the larger cities, like Lexington and Louisville there is a larger scene, but locally it is more about cover bands. This makes it difficult to have a localized following of fans for an original group like us, but we're thankful to everyone who is supporting us now, and who will support us in the future.
8. What's your take on the royalties that streaming services pay out to artists?
Right now, it's not about the royalties for us, it's more about getting our music out to the people to enjoy and relate to.
9. What's next for Rezilient?
We are putting the finishing touches on our very first album "Break a Leg", and already working on the next masterpiece of an album for your earholes.
10. Any shoutouts?
Huge shoutout to all our friends, families and fans; both old and new. Keep kicking ass.