Roi and the Secret People (Rock) - Pennsylvania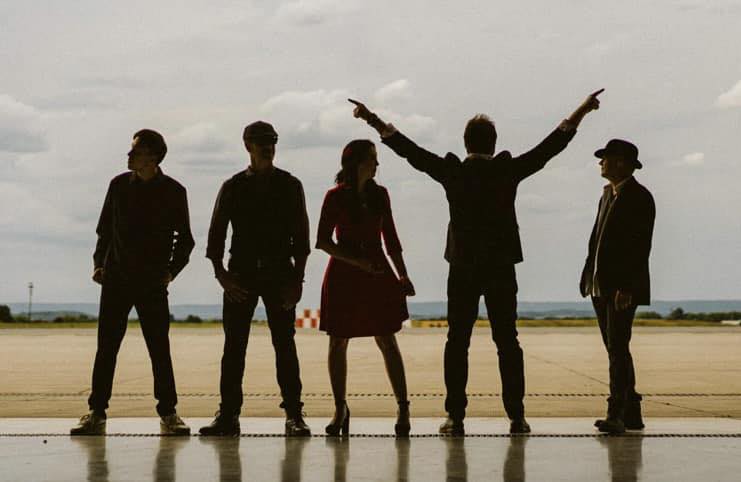 Renowned for their exhilarating live shows, award winning rock band Roi and the Secret People (RSP) features songwriter Mike Roi on lead vocals and guitar, Ed Golden on guitar, Glen Radomski on bass, Madelaine Elizabeth on vocals, violin and keys, and Pete Ciccone on drums. Roi, who hails from South Florida, has toured all across the country, lived and rocked in the cities of Philadelphia and New York, and finally put his roots down in Easton, PA where he set out to assemble a group of talented, experienced, and like-minded musicians to create the version of rock-n-roll he was raised with, a mix of sultry swamp, classic rock, and alternative music. RSP has done numerous festival shows such as Musikfest, Libertyfest, Baconfest, Make Music NYC, Heritage Day, 5 Acrefest as well as many others. Their music has been described as somewhere between the Black Crowes and David Bowie.
-Interview- (2/28/23)
1. How did you get started with music and how did you develop your sound? Who thought of the name "Roi and the Secret People" and is there any meaning behind it?
Mike Roi started music in elementary school with the clarinet in orchestra and then the drum line in the marching band. Discovering Rock and Roll, he then moved onto the bass guitar and then as a lead vocalist. Our sound has developed based on the diversity of each members musical backgrounds resulting in a dynamic live show and sound recordings. The Name "Secret People" came from never knowing in the early days in NYC who was going play in the band at any given time as all the members were a rotating cast of local musicians in the city.
2. What do you want people to take away from your music?
We want people to connect the music with different aspects of their lives.
3. How would you describe your sound to the average listener?
High energy Rock music that lies somewhere between the theatre of Bowie to the soul of the Black Crowes.
4. Who are three bands you'd like to tour with?
The Rolling Stones, Greta Van Fleet and The Rising Sons.
5. How has Covid affected what you do?
We spent the Covid years recording and making online content.
6. What's your take on the current state of Rock?
We feel currently its an exciting open market with new Rock acts coming back into the mainstream of music.
7. What's the current music scene like there in Pennsylvania?
While there's not a thriving original music scene, we have been busy playing all the same venues as the cover and tribute bands in our area.
8. What's your take on the royalties that streaming services pay out to artists?
What royalties?
9. What's next for Roi and the Secret People?
A new record, music videos with live shows both on the East Coast and overseas.
10. Any shoutouts?
To all our our Secret People who continue to support and believe in what we do.