Saints of Death (Metal) - British Columbia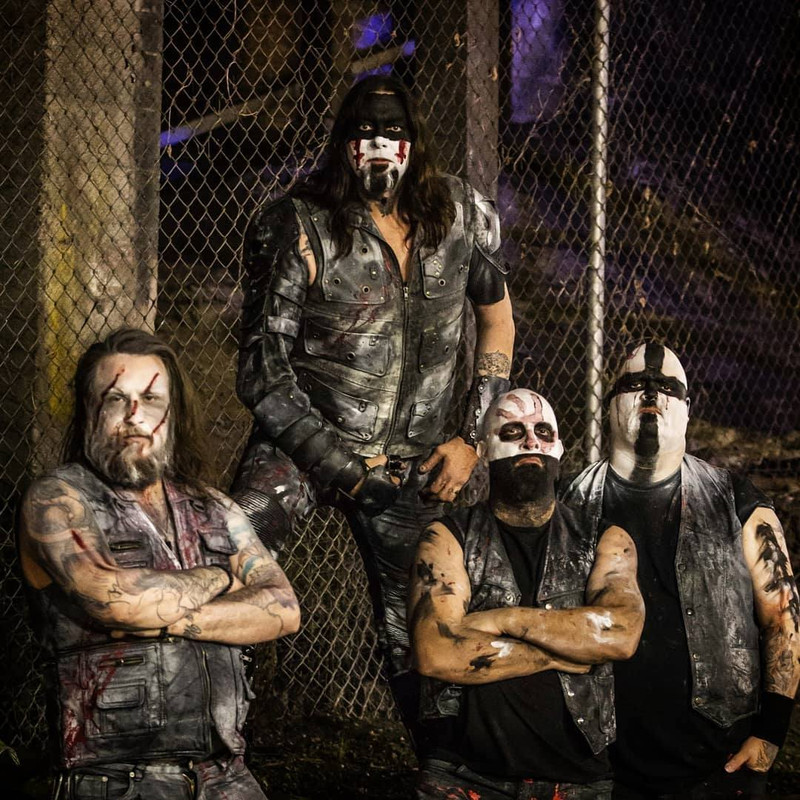 Vancouver, BC's SAINTS of DEATH are a four piece that has taken the reins to write original material with a double bassist attack and set themselves apart from the pack with their unique heavy sound of thrash, doom and hardcore metal. Inspired by the Mexican folklore of Santa Muerte (Spanish for Holy Death), SAINTS of DEATH is fronted by vocalist and eight string bassist Twan Holliday, a giant standing nearly 7' foot tall who can also be recognized for his acting credits in some well-known Hollywood movies and pro wrestling (credits below). Holliday is joined by his partner in crime Christopher James on Drums with five string bassist Juan Helluva & lead guitarist Ashley Blue to complete this ferocious line up.
Taking their experiences from past bands (Snaggletooth, Scissortooth, Tides of Honor and Annora), these veterans of the Vancouver debuted their self-titled EP on September 25, 2015 and hit the road on a series of follow up tours! Getting great reviews with both online sources as well as physical press the band quickly climbed to the top of the west coast local scene. After almost 2 years of slumber, the band has re-emerged with a brand new line up and is finally ready release their first Full-Length Album and second release entitled "Ascend to the throne"! The band embarked on it's first international tour of Mexico Nov 2018 followed by more Mexican Festival dates in June and Aug 2019 where they co-headlined along side Dee Snider (Twisted Sister), Niel Turbin (Anthrax), Dave Evans (ACDC) and many more acts.
"We think this EP should be listened to with open ears. Breaking the mold of typical sub-genre based metal, we try to cover all types of metal with lyrical content aimed at the problems with today's government, moral value, and the supernatural occult. We think it should be received as another solid attempt to raise awareness of the wrongs of society and another conscience effort to make change along with wanting new fans to listen to our music and enjoy the quality of musicianship, engineering and lyrical content. We chose our favorite 5 tracks out of the first 7 we wrote to put on this self-titled EP." comments vocalist/ bassist Twan Holliday. Even with their debut being released, fans can expect a lot more from Saints of Death in the near future. "We plan on recording a full length album in November 2019 entitled "Ascend to the Throne". Aiming set the bar higher, backed by a custom light show, SAINTS of DEATH are pushing forward to take on the biggest stages and crowds and win over fans who enjoy headbanging to such bands as Black Sabbath, Lamb of God, Overkill, Motorhead, and Pantera.