Shadows At Bay (Alternative Rock/Grunge) - Melbourne, Australia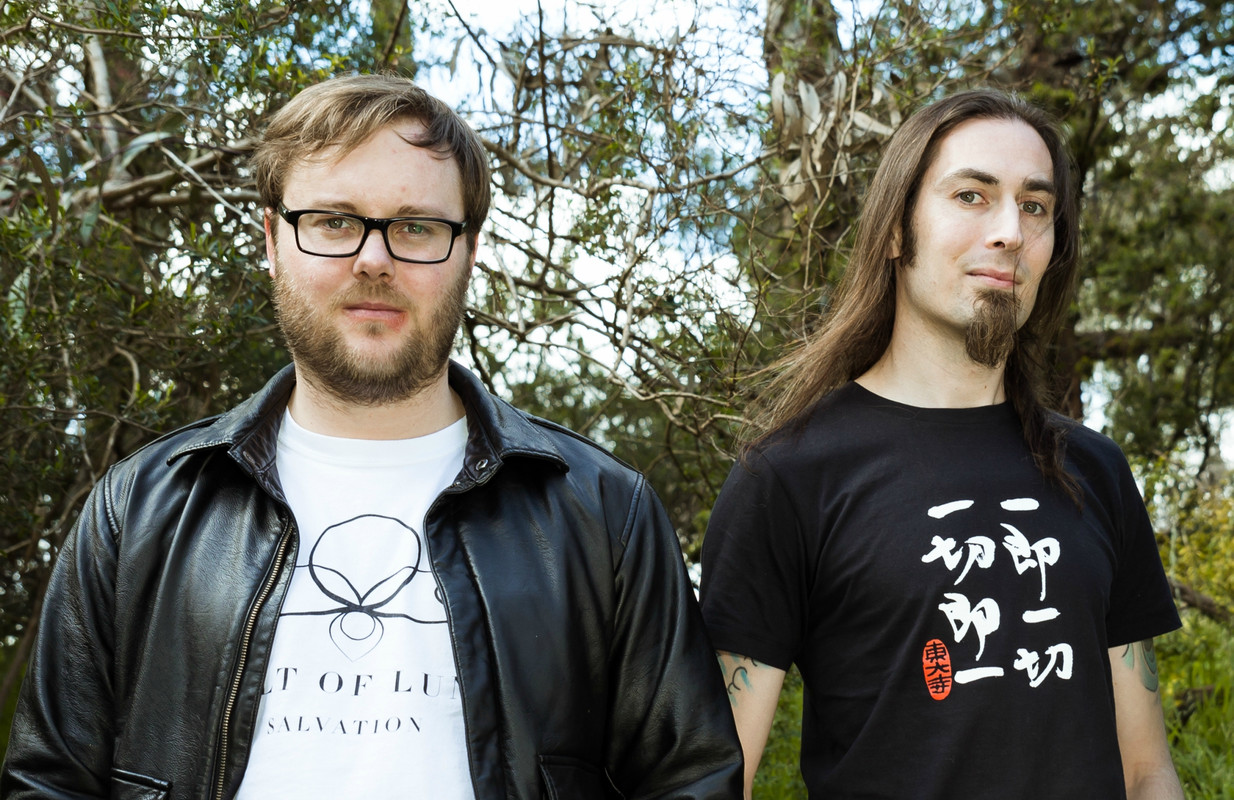 "Shadows at Bay are an independent three-piece Alt-Grunge band from Melbourne. Brought up on a diet of Nirvana, Smashing Pumpkins and Silverchair they are a refreshing a bi-product of the post-grunge era, without losing modern feel and perspective. Their recent release "This is What We're Made Of..." is a great snapshot of the band and a great platform for the band for future releases. Mastered by David Briggs, from Little River Band fame, the Alternative and Hard Rock style is at the forefront and with up tempo choruses, catchy riffs and driving rhythm section they present their music with a flurry of attitude.
The prodigious group of three and their post grunge alternative sounds has been building a fan base in the Melbourne music scene since they started sharing Melbourne over the past year couple of years. Originally starting in 2011 when singer/guitarist, Lee Cheney began writing in his studio, along came friend Clinton Broomhall (Bass), both fueled by a mutual interest in 90's grunge, the two began writing and recording original material. It was clear right away that they had something worthwhile after the first few demos and made the decision to let the sounds out and into the ears of the Melbourne music scene.
Lee & Clinton started as an acoustic duo bringing their sounds out to the public. After receiving a positive response they decided to progress and go on to create a three piece band. The band was soon joined by drummer Matthew Williams, who beefed up the sounds with both his powerful playing and enthusiasm to bring Shadows at Bay to light. The combination worked, and it gave the band the edge that defines the band's post grunge sound, complimenting Lee's unique vocals. Starting to play live and planning on an album, Mathew (Drums) got ill and had to give up his music career, before it had begun. Clint was forced to part from the band as a Bass player due to family reasons, but still plays a big part of contributing where he can. Excited with the new line up with Alex on Bass and Evan on the drums the band went on to release their first EP "This is what we're made of", the band never anticipated the enthusiasm that was then received by the Melbourne music scene. Since the release of the EP the band has been attracting a fan base all over Melbourne.
Upcoming Shows:
More shows coming soon.
"This Is What We're Made Of..." EP Review
This is a brand spankin' new EP from the Melbourne, Australia based Post Grunge/Alternative Rock band Shadows At Bay. Fresh off their EP release show, let's dive in and see what the band is all about. "You Are Not A Hero" opens up the EP right away with a flurry of attitude. The Alternative Rock style is in the forefront of the track as it cruises along while bringing along an uptempo chorus which sticks in your head for days. On top of all of that is a tremendous little guitar solo later in the track. It's a fantastic opener that sheds light on the catchy sound that the band churn out. "This Is What We're Made Of..." is the title track and doesn't disappoint. The track is a funky number that is groovy as well as heavy in its own right. It's easy to sing along and jam out to. It has a bit of a haunting Post Grunge style to it that really sticks with the listener. "River To The Sea" is a roller coaster of emotion as it bobs and weaves through the landscape of Rock music. Their own style is on full display here as it's extremely melodic yet still has the hard Rock tendencies. The guitar solo on the track comes out of nowhere and is pure gold. "Game Of Life" closes out the EP in a harder style than the previous tracks. The track really shines as it chugs along at a high clip. It's still highly infectious while still have the tendencies to churn up a mosh pit (especially the gigantic breakdown later in the track). With only four tracks on the EP and the closer being as mind blowing as it is, listeners will certainly be salivating for more while having this on repeat for some time to come.
Verdict:
This new EP from Shadows At Bay features four tracks of Post Grunge/Alternative Rock bliss.
-Interview- (5/1/18)
1. What's new? How's the work on the new album coming along?
We are currently working on our debut full length album with an anticipated release date for around the middle of the year. Our new album came about while collaborating with our guest drummer. We've been friends for years and have played live together countless times with their primary band (Elusive). Lee (vocalist for Shadows At Bay) also recorded their previous release for Elusive, so when the opportunity come around for him to help out on the drumming for the next Shadows at Bay EP, he was a perfect fit. The vibe, the opportunity, the amount of songs we had unrecorded/unreleased all led us to a place we couldn't resist. Our original 5 track EP has now turned into a 11 track album.
2. How's the new music different than your previous work?
This album is a bit more melodic and heavier than our previous release and we are very excited to see how it turns out. It will include both older and brand new songs, and even a sneaky cover which we hope people will dig. We are constantly wanting to evolve as music composers. With our guest drummer we've really expressed how we wanted to challenge ourselves and take these next songs to a new level. We're experimenting a lot with different Bass lines and effects while not making the guitars too busy. We're also trying different styles of vocals to help create different results. Lyrics have always played a large part of our composing and there isn't any song we've composed and not cared about the lyrics. We're really focusing on writing smoother and more digestible lyrics for people to enjoy and relate to.
3. What was the music video shoot like for "River To The Sea"? Who thought of the concept?
It was a different experience for us compared to previous film clips. Most film clips bands produce all come with an interesting story, and "River to the Sea" is no exception. We worked with a local film producer here in Melbourne, who really drove the direction of the film clip. This worked out great guns for us, since our expertise has always been behind the musical instruments, not in the directors chair. A fun fact about the film clip; the actress is actually the guest backing vocalist for our EP! We felt lucky and honoured to be working with her. We've also shot another video clip for "This is What We're Made Of…" also being released in the upcoming months which we're stoked to share with you guys.
4. What do you want people to take away from your live show?
We give everything when we are on-stage and absolutely love what we do. We also love that we are a bit different to what people might be used to. There is an amazing electric energy on stage when we play live, knowing that people are not only watching us, but they can feel us play. They can see and feel the raw emotional experience when they hear the tunes out in the open. Playing live to us is such a thrilling and humbling experience. It's also always been important to us to stay back after a show and hang out with the people who came to watch us.
5. Where should people check out if they came to Melbourne?
Melbourne is great city for live music, and a forefront of the southern hemisphere in our humble opinion. The Tote, Corner Hotel and Brunswick Hotel are probably our favourite venues to play and see live music. There are also so many great record stores in Melbourne for people to check out. Melbourne supplies a huge variety and styles of music to cater for everyone's whims and desires. With so many festivals in the streets, concerts every night from stadiums to corner pubs - there is never a night you can't catch a great band. Melbourne is also a huge supporter of many arts, from paintings to comics to acrobats in the streets it's hard to keep up with. And if you are a sports fan, then hold on to your hats - Melbourne is huge on live sports!
6. What are some artists you'd recommend that people listen to?
There are countless number of local bands we have shared the stage with we love and recommend them to anyone we talk to. From Calling Utopia, SheWolf, Elusive, Batpiss, Animal Hands, Katana Cartel, Suburban Profits, Follow No Rules… And so many more!
7. What's one thing you wish you could change about the Rock music scene?
There are so many little ticks in music production people think are dead; music without auto-tune, music without digital guitar, music without sampled tunes running in the mix, music without a commercial friendly touch… The recording technology has changed over the years and made things a lot easier and the quality amazing! But the old school style of playing and recording can still be captured with the same type of energy and approach as they used to. You don't need countless number of digital patches and sound manipulators to be able to make a great record.
8. What do you think of streaming services and how they pay out royalities to artists?
There are positives and negatives to everything. We would always love for more of a cut to go to the artists obviously. But on the other hand we probably wouldn't have increased our reach to overseasfans without it. We have a number of tracks on Spotify, YouTube and a few more platforms. It's great that our music can reach beyond the local neighbourhood. And if we were offered more of a cut of the royalties, we would use it to make more music! Win win for us!
9. What were some highlights in the past year for you guys as musicians?
Travelling around and meeting new fans, always a hard thing to top. We released our second video clip, which is always a great night. Setting up the venue to play your hard work on a big screen for everyone to see first (before sharing it online) can keep you going for weeks! We were stoked for our EP launch as well. One of the supporting bands Follow No Rules were focusing on writing and recording their new album and had been turning down proposals to play live at the time. They heard about the launch and broke their own rules to get involved.
10. What do you wish to accomplish in the next year?
It's hard not to get excited about our first full length album, and everything that will follow from that! Firstly the album, and then some new video clips- keep an eye out for those. We'll also be sharing the new tunes with everyone live! We love the whole process of it all.